Local
Arlington's Sarah Kamya spearheads Little Free Diverse Library Project to amplify Black voices through books
As of Saturday, Kamya has already raised over $9,000 in just 11 days.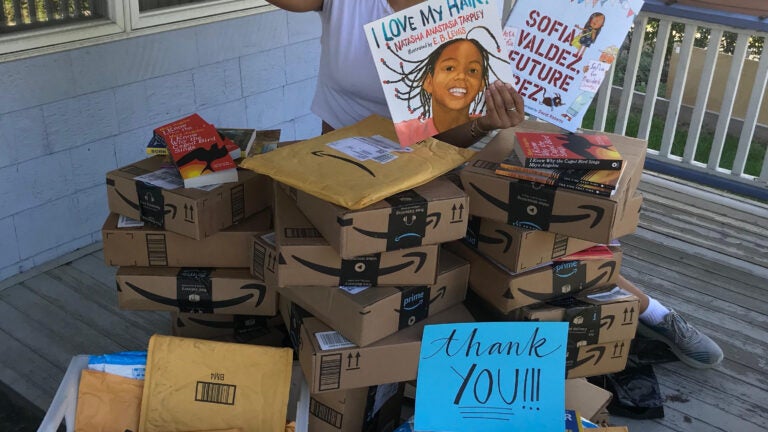 When the 3-year-old Sarah Kamya was babysitting told her she didn't like her because of her skin, Kamya was stunned.
"It was probably one of the most hurtful things I've heard, simply because I love children and I believe in their innocence and the questions they ask," Kamya told Boston.com. "That was really hard for me to swallow."
The girl's mother showed her daughter a Black doll and reminded her of the friends they have who are Black. While Kamya, a 2013 Arlington High School graduate with degrees from Syracuse University and New York University, appreciated the mother's sentiments, she knew she had much more educating to do in the community.
Kamya, who is a school counselor in New York City and a devoted book aficionado, launched the Little Free Diverse Library Project. The incident with the child was the tipping point, but she's been passionate about education and social justice for years.
As of Saturday, Kamya has already raised over $9,000 in just 11 days. She's purchased over 300 books from Black-owned bookstores, written by Black authors, and received about 250 through Amazon Wish List, to disperse to Little Free Libraries around Arlington and beyond.
She's now sending books to friends, and even strangers, in other communities to fill little libraries in their own communities. Eva Chen, the head of fashion at Instagram, encouraged Kamya to create a Wish List account. She then shared Kamya's idea to her 1.4 million followers, and the results multiplied exponentially from there.
"What started out as a little mission," Kamya wrote on Instagram, "turned into something much bigger."
Growing up in a predominantly White town, Kamya longed for books that represented students of color and of different backgrounds. She always felt as though she wasn't depicted as much as her peers.
Those peers constantly inquired about her hair, and she didn't have any literature to turn to for guidance on how to process and cope with those questions. Now she turns to the book "Hair Love," which celebrates different textures and modalities that Black hair can take.
Another book, "Amazing Grace," chronicles the journey of a girl whose classmates tell her she can't be Peter Pan because she's a girl and Black.
"The book was written nearly 20 years ago, and that's still the story we're told today, that we can't be certain things," Kamya said.
Rather than sit idly at home, Kamya has taken initiative. The first night, her parents donated $200, and they bought 16 books. She decided to post the idea on Instagram, and she promptly raised close to $1,000 in an hour.
People donated in waves the next day, then again the following day, and the results have been fruitful ever since. All the money that's raised through Venmo is going to Black-owned bookstores, and every text is written by a person of color.
Participants who have ordered books include personalized notes thanking her for taking action. "'But it began with the dream of one person – just ONE – who laced up her shoes and led the way…' Thank you for your dream, your vision, and your work," one person wrote.
Kamya has enjoyed traversing Arlington and stocking the Little Free Libraries with an eclectic blend of books from all over. She's even finding a use for the cardboard she's compiling, as she's refurbishing them to make signs for peaceful protests in town.
She's amazed at how much traction the idea has gained in such a short period of time, and she's hoping to keep expanding and spreading the initiative.
"It's incredible," she said. "From being this one and only Black girl in class, who didn't think she was capable of doing much, to where this has gone, I really have no words for it."
Those interested in supporting the cause can do so here.