Local News
7 local non-profits to give a helping hand this holiday
'Tis the season for helping your neighbors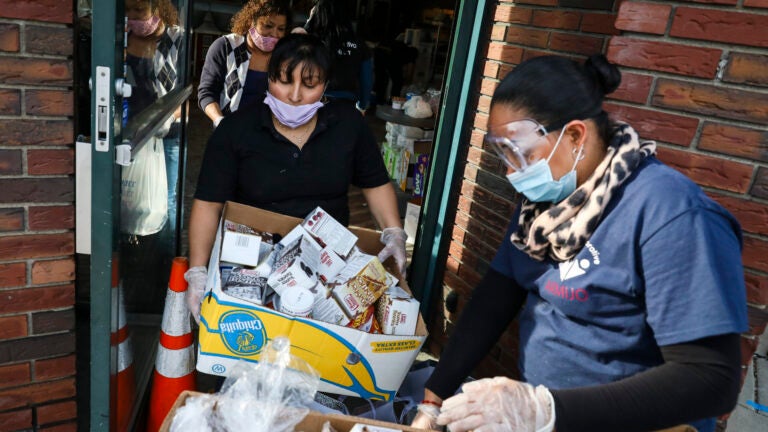 The phrase "2020 has been a hard year" is basically the understatement of the century. While we all have walked a hard road, there's no denying that already vulnerable populations—the displaced, those in recovery, people experiencing food scarcity, communities of color—have been hit hardest, with fewer support systems to fall back on. If you're in a position to donate, take a look at the missions and needs of these seven local non-profits who can use the help of the community this holiday season.
Located in Back Bay, the Boston Living Center is a haven and resource for members of the HIV/AIDS community to access treatment information, support, and education. The Center is seeking bottled water, cell phone battery chargers, toiletries, travel-sized snacks, and travel-sized personal hygiene products to support both members and the work of the street outreach team. Monetary donations are accepted through their website, and gift cards to retailers like Amazon and Old Navy are also a convenient option during COVID. The organization's detailed needs are outlined in their holiday donations page and Amazon wishlist.
As the largest food bank in New England, the Greater Boston Food Bank has nearly doubled its distribution during the pandemic, with about 2.5 million pounds of food passing through the South Boston facility and on to families across eastern Massachusetts each week. In light of the pandemic, the food bank is no longer accepting walk-in donations of food. Monetary donations may be made online, and the funds help the food bank's partnerships with local agencies and programs, including school-based pantries, mobile markets, and grocery delivery programs for seniors. If you would like to give food directly, please see the GBFB partner agency locator, where you can find local food banks that are accepting donations.
Joseph "Dodo" Nee South Boston Collaborative Center
It's been especially hard for people who struggle with substance abuse to connect with avenues of support during quarantine, leading to an increase in both relapses and overdoses, according to Andy Ward, the director of the South Boston Collaborative Center. The Boston non-profit—which had to cancel all of its in-person fundraising events this year, leading to a loss of about one-third of its operating budget—provides substance abuse and mental health services, and does not bill those who can't afford to pay. The Center is currently working toward getting their community members, many of whom struggle with technology or don't have access to the internet, up to speed with telehealth options, including getting iPads into residential programs. Monetary donations are accepted through the website, and those struggling with their mental health during quarantine are encouraged to place a free call to the Center.
While we are caring for others during this unpresented time, MSCPA-Angell is also looking out for needy pets and their guardians. With animal adoption and veterinary care centers and in Jamaica Plain, Centerville, and Methuen, MSPCA-Angell has noted an increase in members of the community looking to the organization for pet food support. Sealed, unopened packages of pet food may be dropped off at the outside bins of all three of their locations. Recent efforts by the organization have included a pet pantry drive-thru to help needy owners with their pet nutrition needs. Monetary donations are also accepted online, and will be matched through Dec. 31.
This South-End shelter's mission is to end the cycle of homelessness through emergency shelter, permanent housing, street outreach, and educational training. Monetary donations can be made at their website and staff and residents are also looking for donations of toiletries. Pine Street Inn also provides over 1,000 meals to residents a day, and donations of oatmeal packets, granola bars, beans, regular-sized whole-wheat spaghetti, diced tomato cans, and more are appreciated. Please be aware that the organization can't accept donations of used clothing. A full list of in-kind goods can be found at their website and you can also purchase directly from their updated Amazon wish list and select to have items delivered right to the facility.
St. Mary's Center for Women and Children
St. Mary's in Dorchester provides shelter for women and families, as well educational opportunities for women facing barriers toward employment and self-sufficiency. With a wide range of services, the organization has a broad range of needs at this time: hygiene supplies like body wash and soaps, new clothing in a variety of sizes, toiletries, gift cards, and more. A full wish list is online, where you can also donate money. In-kind donations may be dropped off Monday-Fridays from 8 a.m.-3:30 p.m. at the reception desk.
This LGBTQ-inclusive shelter based in Harvard Square provides critical support for young adults ages 14-24 who are experiencing homelessness and housing instability. The organization is looking for adult-sized clothing across the gender spectrum, especially: winter coats, winter boots and sneakers, sweatpants and sweatshirts, thermals, long- and short-sleeved shirts, pants, and new packages of underwear and socks. Lightly used shoes, blankets, and camping gear including sleeping bags are also in need. Along with clothing, staff members will be distributing gifts such as grocery store gift cards, headphones, makeup sets, and bath products during street outreach starting mid-December. To coordinate an in-person drop-off, please e-mail Mandy at [email protected].
Get Boston.com's browser alerts:
Enable breaking news notifications straight to your internet browser.