Local
'It's become all encompassing': One reader details an emotional process of getting her elderly parents vaccinated in Massachusetts
"I know if he could've given up his spot for her he would have, but they only had one and they said it had to be him."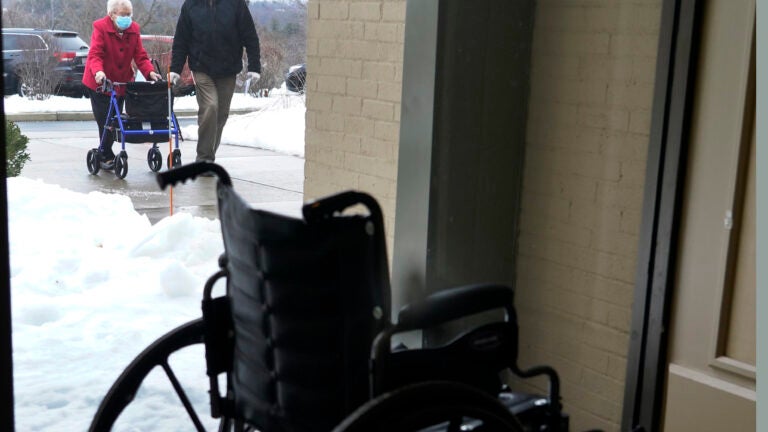 Boston.com is looking to share COVID-19 vaccination stories from readers throughout Massachusetts. If you'd like to share your own experience and what being vaccinated or having a loved one vaccinated means to you, you can fill out our survey below or e-mail [email protected]. 
---
More than 1.3 million people in Massachusetts have received their first dose of a COVID-19 vaccine, according to the Mass. Department of Public Health.
Though for many eligible residents, and even for their loved ones, finding a vaccine shot has been met with obstacles, whether it was a website crash, or availabilities filling up before a user could input all of their information. Appointments at mass vaccination sites are already booked for the next week, the state announced.
When one reader, Michelle, 46, of Fitchburg, first wrote in to Boston.com, her 92-year-old father already got his first dose and was awaiting the second. Her 88-year-old mother had a first dose scheduled three weeks in advance in Leominster, and she felt there was a light at the end of the tunnel for them. Then, one week before her mother's appointment, it was suddenly canceled.
In a follow-up phone interview, Michelle, her parents' only child, shifted toward feeling angry and disappointed. "You still have so many people who have canes or walkers who are just not willing to sit in a car for an hour to drive to Boston or to drive to Greenfield. There has to be a better way of getting it out to these people," she said. "It's become all encompassing for caregivers, for children, or for the adults that are of age that are able to get it now." At one point, Michelle said she was checking the state's website for availabilities "literally 500 times a day." 
They'd lost nearly a year of memories already. This past Christmas was the first time in 46 years her parents spent the holiday apart from extended family, missing an opportunity to meet a new family member. "All my mother wanted to do was to be able to hold that baby. And she couldn't. They were able to see her over Zoom. But it wasn't the same."
Recently, a Hannaford supermarket that Michelle's parents visit began offering the vaccine. Both have since secured their appointments. "They frequent that pharmacy often and they know them," Michelle said. "I honestly think it's the only thing that helped."
We spoke with Michelle about the frustrating, emotional process of securing her parents' appointments, what it means to her that they're vaccinated, and what she hopes for after the pandemic.
How did it feel when you found out that your father got the first dose?
I was definitely happy he was able to get it. But because my mother has more health problems than him, she's younger, I was kinda like, "Oh I really wish they would've been able to get it together." I wish that all of these sites would be able to make, not group appointments but just couple appointments because you've got elderly people that have probably been married for 50, 60, 70 years and it pits one against the other. Anyone that's been married that long is gonna want their spouse to get it before them. I know if he could've given up his spot for her he would have, but they only had one and they said it had to be him.

What will it mean for you once your parents are fully vaccinated?
I have two children, one who's graduating high school this year, and that's their youngest [grandchild]. The biggest thing is just wanting to be able to celebrate with them in a way that's less stringent than we've had to deal with. You know, taking pictures at Christmas, because when you have all of these holidays, you also have limited time left with people. You don't want to give that up.
I would love to have a picture without a mask for my kid's graduation. I would hope that maybe by June or whenever, things will be lifted a little bit so they can attend her graduation, and we can have a party and celebrate.
That's the biggest part, just trying to get back to some kind of normalcy so I can spend quality time with them in the years they have left … People that have parents that are ill or older, I think that's the biggest thing that we're missing.
What do you hope for after the pandemic?
I hope people appreciate family more and what is given to them, and just to hold onto that a little more. Just because society is so materialistic sometimes, and I'm hoping that maybe this has given people a chance to pause and really understand what's important …
I just hope that we would get on the other side of this … actually reflect on it, and realize what the good things we have are.
Get Boston.com's browser alerts:
Enable breaking news notifications straight to your internet browser.