Local
Here's what Boston.com readers shared as their silver linings from the COVID-19 pandemic
From finding more opportunities to explore the outdoors, to saving time without draining T commutes, readers reflected on the positive impacts of the past year.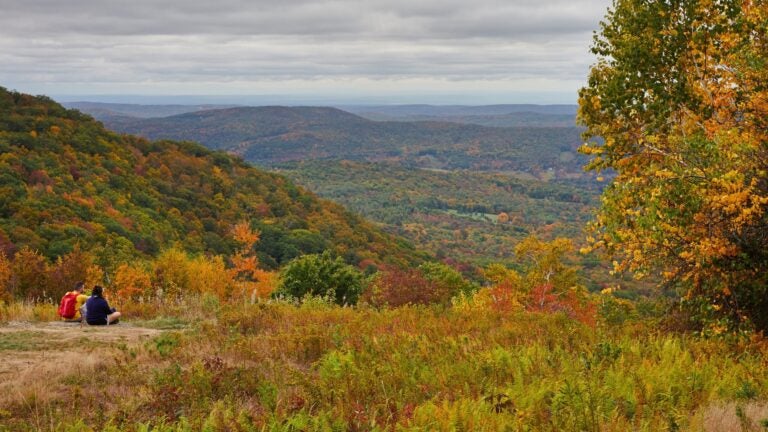 From a new bird watcher spotting a snowy owl, to finding solace in meditation or family time and daily movie nights, many people shared similar positive changes in their life that have been spurred by the coronavirus pandemic. 
We asked Boston.com readers to reflect back with us on the past year since the COVID-19 outbreak began in Massachusetts, and share any of the possible positive impacts it has had on your life.
And you responded. 
"I work in healthcare and doing direct work with COVID-19 patients has been very traumatizing and scary and exhausting. I've seen a lot of people suffer and die and I've shed so many tears. My silver lining is that my husband and I are both essential workers and we've been lucky enough to keep our income so we've continued to pay my federal student loans at 0% interest this whole time," one reader shared. "This has been HUGE for paying down debt and getting us into a financial position where we decided we could afford another baby. I'm due in July!"
In a realization that life is too short, and that it could be years before a big wedding would be safe, one couple got engaged and decided on an intimate 20-person outdoor ceremony. "It was perfect," Anna, of Cambridge, said. 
Many people said they found opportunities to explore the outdoors or create a better work-life balance, while others saved time no longer needing to commute on the T, traveling through traffic or long distances for their job. 
A few readers also said they experienced zero positive changes in the last year. 
"Nothing positive at all for me," Ernie, from Bridgewater, wrote. "If anything, I'm getting somewhat depressed (winter contributes to that)."
Another said there were very few upsides for them, but shared a new hobby they had picked up:
"As a mom to three young children that barely go to school I can't say there have been many 'pandemic gains for my family,'" Kellie, of Quincy, said. "I did however buy myself my first pair of roller skates. I'm 38 and I can do 'shoot the duck!'"
A few people noted they were able to get more sleep, implement healthier eating habits from home-cooking, and took up new hobbies like biking, playing guitar, or quilting to help make the deprivations of the virus a little easier to manage.
One reader detailed how the pandemic and the shift to working from home allowed them the chance to spend the last three months of their Great Dane's life together.
"He lived out the end of his life happy with his favorite humans catering to his every need and keeping him comfortable and comforted day and night," they shared. "The pandemic likely extended his life by months."
Below, find 7 other stories from fellow readers sharing their most uplifting aspects of the COVID-19 pandemic. 
Initiating a lifestyle change 
"I finally quit the job that had been sucking the life out of me for 12 years – without having another job lined up. Got a call for an interview the very next day. Started a new job at the bottom of the barrel, was promoted twice in less than 4 months and now I'm an office manager. Since I wasn't traveling 2+ hours each way to Boston for work anymore, I was able to go for bike rides or hikes every day after work. I started hiking every weekend. My favorite thing has been doing solo sunrise hikes. I feel proud of myself, and happy again." — Alana, Westford 
Moving on from a toxic marriage
"The pandemic gave me the perfect cover to leave a toxic marriage. I had been wanting to leave for quite some time, but was too fearful to pull the trigger. Since I am immune-compromised and my ex-husband works at a job that's high-risk for covid, it gave me the perfect excuse and push I needed to move out of our home, and from there, tell him the marriage was over. Since I had to self-quarantine during the peak of the pandemic, it was nearly impossible to jump into a rebound relationship and/or meet anyone new. Therefore, a second silver lining came in the form of forcing me to take the time to reflect, heal, and learn the necessary lessons to grow and evolve in a way that would lead me to healthier relationships moving forward. As tragic as 2020 was, there were so many nuggets of goodness that propelled me forward mentally, emotionally, spiritually, and physically. For that, I am grateful." — Emilie 
Watching a son grow 
"I got to spend time with my two-year-old son that I never would have gotten unless I had quit my jobs. I'm a teacher and work multiple jobs throughout the school year. While pandemic teaching has been a nightmare (for students and teachers), the time I got to spend with my toddler was indelible. We explored about twenty state parks and beaches and I got to see my son grow and develop during a time when he would typically have been in daycare. While the pandemic had many times of sorrow and loneliness, this will always be something I look back on fondly." — Abby, Abington
Finding time for extra rest after being diagnosed with Crohn's disease 
"The work from home order as a result of COVID was job & sanity-saving for me. In March 2020, I started having health symptoms that required frequent, urgent bathroom access. Throughout the summer, I was hospitalized 4 times to treat and diagnose my disease (Crohn's) and throughout that, I was able to work from home and still complete my job. If the Pre-COVID work rules had been in place, I would have had to be on long-term leave or had to quit, and this work would have not been done. I appreciate the extra time I have that previously a commute from the suburbs to Boston took up, and I have been able to have less stress due to no commute. Having never worked close to home before, I was able to appreciate being home soon after the end of the workday. That extra time is memorable and cherished. I can get extra rest needed due to my disease, spend more time with my spouse just talking, and more time to do a craft like crochet or cross-stitch. These are moments I would not have had pre-Covid." — Catherine Stochaj, Lowell
Looking back on a scene from October 2020 
"It's 8:45 on Monday morning. My husband and I just finished our workout in what used to be our sunroom, but is now our home gym. I just got my kids' school day started in what used to be our playroom but is now their classroom. They're both logged on to Google Meet, while their masked teachers are in the real classrooms with this week's in-person cohort, starting their day with a virtual morning meeting. A few minutes later, as I'm making my first coffee of the day, my husband comes downstairs dressed in a suit jacket, dress shirt, tie…and shorts. He casually flashes me a smile as he walks into his home office to begin his court hearing. My kids start asking me for a snack when it dawns on me: over the past few months my home has turned into a Gym, Court of law, Elementary School, and Restaurant. It all happened pretty gradually, so it didn't hit me until this morning just how multi-functional our home has actually become. And how grateful I am for it, and for all the little things I used to take for granted. How lucky are we that during this scary and horrible time in the world, our home is able to provide a place not only for comfort, but also for work, school, strength, and sustenance? I have always been a homebody, and that has certainly been exacerbated since the pandemic began. But now, when I talk to someone in person rather than over text, I really appreciate it more than I would have in the past. I ran into a friend at Target this weekend, and even though we spoke to each other at a distance and with our masks on, it really filled my cup just to catch up and make eye contact, even if it was only for a few minutes. Although I will say that if I spend more than an hour outside my house these days, I need a full day to recover from the outing. And so I've been working on renovating all of the spaces in our home, and now I can honestly say that if we are put on lockdown again this winter, I won't be mad about it." — Kissy Rakhlin
Sharing joy and uplifting spirits 
"I began an early morning writing practice back in April, and this led to my blog and then a weekly column in the Sudbury Town Crier (started 6 wks ago). This month [February] seemed especially hard for people, so I started a #joyburst challenge to build a community where people can share positive moments throughout their day. I have written about these moments which I call 'joy bursts.' I share these #joybursts on my Instagram and now have a private Facebook group that has picked up a lot of traction. I work as the Director of Alumnae Relations for the Dana Hall School, so this project is in my limited free time. But I think it is important to help each other highlight the bright spots in our days and share them with each other." — Samantha Greenfield, of Sudbury
Discovering community support
"I am the founder of a non-profit called Tommy's Place. I am in the process of renovating a former historic inn into a vacation home for kids that are fighting cancer.  When the pandemic first hit back in March it was devastating for us for several months. Fundraising had completely dried up and there was nothing that we could do to change that because people suddenly had other priorities — including their own survival. Then in August, I changed course from fundraising to actual construction with the belief that if we started building they would come. Ever since, the outpouring of support has been nothing short of astounding! We have received over $500K in financial donations and at least $750K in in-kind materials and labor donations. It's nothing short of a complete miracle turnaround and we are so grateful for every business and individual that has stepped up to support us. Covid-19 has given ordinary people an opportunity to do extraordinary things and we are so appreciative that they have chosen us to be the beneficiary!" — Tim O'Connell
Responses have been edited for length and clarity.