Local
'Snobs and proud of it!': Boston.com readers react to Mass. being named snobbiest state
"I never want to be in the same category as West Virginia … for anything."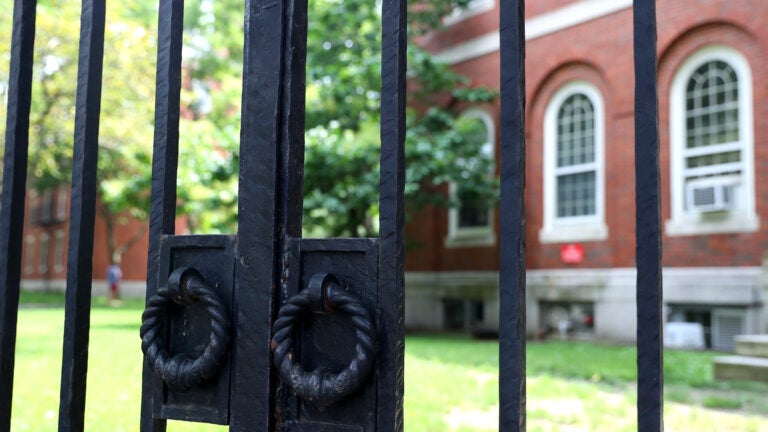 We realize it's probably beneath us to even respond to the peasants who thought it up, but Boston.com readers had plenty to say about the Zippia.com ranking that named Massachusetts as the snobbiest U.S. state.
You'll recall that Zippia claimed to base its findings on criteria such as "colleges" and "wine," but it's clear to anyone paying attention that they're simply jealous of us, and who wouldn't be? We're indubitably superior, and we say that with no disrespect intended to those beneath us.
Many of the more than 1,100 Boston.com readers who responded to our poll would seem to agree: A full 47% copped to being snobby, and beyond that found plenty of reasons as to why we should be. "We should be proud of our colleges, our love of beaches, wine, museums, and the finer things of life that we have earned," said Mary Ann of Fall River, while Dan from Yarmouth Port put it more succinctly: "We're just wicked bettah than you."
(Several readers also took it upon themselves to throw shade at the supposed least snobby state: Pete from Sandwich, for instance, noted that he'd rather "be perceived as snobby than settle for West Virginia." Ouch.)
Meanwhile, a good number of respondents — 34% — said that while they themselves are not snobby, almost everyone around them most definitely is. Scott from Chelsea faulted "the whole East Coast elitist attitude," and Paul, a former Waltham resident who got while the getting was good, opined that, "A lot of people out there are taken with their self perceptions of superior intellect and sophistication." (To which we out here respond, harrumph!)
And a stalwart 15% are adamant in saying that Massachusetts is not in fact snobby at all, and they have no idea where people could have gotten that idea. "We're not snobby. But we recognize quality when we see it," wrote Frederick from Cambridge. So, maybe a little snobby.
Almost 200 readers left individual responses at to why Massachusetts is snobby, or not — you can read a sampling of their comments below:
Responses have been edited for length and clarity.
'Yes we're snobs, so sue us'
"By their definition we are. Though I believe that they are confusing level of general affluence with snobbery, so be it. It is all how you frame the question." — Chris, West Roxbury
"I prefer discerning, not snobby. Born and bred here. Did a several-year stint away and simply missed the Yankee sensibility. We do not suffer fools well. I'm extremely polite to tourists but, honestly, prefer to keep to myself." — Dan, Quincy
"We are the better drivers, have the best accent and the best sports teams in addition to the best schools, opportunities for work, etc. We are snobs and proud of it!" — Tracey, Burlington
"Well bred and well read! Best public and private schools in the country. The rest of the country talks funny."
"It's inherent; it's in the blood of those of us who were born and raised here. I've always felt it, even as a child! And yes, I have a bachelor's degree in the arts, and yes, I enjoy a nice Pinot Noir." — Cher, Brockton
"Good breeding and intelligence." — BB, Wellesley
"1. We've been heah foevah
2. Best schools, value intelligence
3. Best healthcah
4. Ouah sports teams
5. People come to us"
— David, Boston
"Red Sox, Celtics, Patriots. Need I say more? OK: Harvard, MIT, Tufts, Wellesley, Williams, Amherst. True snobbery: Phillips Andover, Deerfield, Groton Academy. We fight way above our weight in venture capital, life sciences/biotech, finance, technology in general, entrepreneurship, medicine/teaching hospitals, philanthropy. Reasons we shouldn't be snobs: Enduring systemic racism, advantages handed down every generation (schools, wealth, property), tremendous town-to-town disparities in wealth, healthcare, and education."
"Smarts, arts, history, culture and firsts; Sox, Pats, B's C's and knowing how to use a semicolon!" — Tom, Newburyport
"Why shouldn't we be proud? I put myself through college, when it was possible to do so. I'm a senior citizen. I earned my undergraduate degree and once my children were in high school l went back to school to earn my master's degree. We should be proud of our colleges, our love of beaches, wine, museums, and the finer things of life that we have earned." — Mary Ann, Fall River
"New England states are home to 4.5% of the total U.S. population, but if you look at the number of people of influence over the years in politics, academia, arts and industry that came from New England, we easily punch above our weight." — Dan, Brookline
"Just a fact that Massachusetts is number one, end of story!" — Jodi, North Shore
"People must perceive us as snobby since we have so many good things going here. I'd much rather have a great education, an amazing state to live in with so much going for it and good wine to drink and be perceived as snobby than settle for West Virginia." — Pete, Sandwich
"Proud to be Boston born and raised. There are many things that are just beneath us, as we gaze out from our perch in this world!" — Anne, Norfolk
"On the whole, we tend to be highly educated, more open minded and cultured and more well-travelled than people in other regions in the country (I would say that is true for most of the northeast, however)." — Ella, Boston
"If saying that New England is the best place in the country is being snobby, then I'm OK with being called a snob." — Daniel, Warwick, R.I.
'We're not snobs, but everybody else here is'
"Yes, just look at all of the BLM signs out front of their houses while they send their kids to elite private schools so they can get into Harvard or Yale to continue the legacy. Ever try and have a conversation with a longtime resident of Mass. and potentially be critical? Yup, I know, it does not happen. Snob is the wrong word, there are snobs of all kinds, but elitism is how the hypocrites should be defined." — Jon, Lincoln
"I've said this for years! Especially for people moving in."
"Boston thinks that it is the center of the universe." — Joe, Roxbury
"You'll never get invited to someone's home for dinner here. Born and raised here and lived around the country and in a few short stints in other states I've been invited to people's homes for dinner more than my entire life in Mass."
"We Mass. dwellers are definitely wicked education snobs. When someone from Mass. is like 'Yeah, I went to UConn,' we're all like 'Jeez, what'd you do that for? We got UMasses up the wazoo here. Going to UConn from out of state is wicked expensive!'" — Lisa, Chelmsford
"The whole East Coast elitist attitude. 'We are so much smarter than those rubes in the middle of the country or in the South. Ours is the only opinion that matters because we are better informed, better educated, and we have those smarmy bumper stickers.'" — Scott, Chelsea
"Look at towns like Cambridge, Andover, Winchester and Harvard. Heck, even Somerville's mayor thinks his town is better than it is with his ridiculous mandates. Snobs galore."
"One reason why I left Massachusetts — entitled, overgrown babies. A lot of people out there are taken with their self perceptions of superior intellect and sophistication. It can be very silly at times." — Paul, formerly of Waltham
"It might have something to do with all the sanctimonious, condescending busybodies. The commonwealth is rotten with them."
"The fact that Boston teams have won so many titles makes the sports fans snobby and insufferable."
"Massachusetts. A land where luxury SUVs fail to properly navigate rotary traffic. A place where eyebrows arch over iced coffees. In January. In shorts. Massachusetts … stay for the snark and pass the vino." — Heather, Sterling
"It is the city of the cliques. Bostonians and its suburbians make their group of friends by high school and that's that. They don't open their circle to newcomers for the rest of their lives."
"We think we're smarter than everybody. The ivory tower mentality permeates everything. Boston has sold its soul to yuppies and elitists. No blue collar left in the city."
"What makes Massachusetts snobby is the way Bostonians, when I say, 'I'm from Western Mass.,' say 'Where?' Some people even deny that west of Worcester even exists! It's called the Happy Valley for a reason — we're friendlier out here!" — Shari, Amherst
"Bostonians are rude, and never say hello if they don't know you. Ever. And can't take the same criticism they dish out."
"Some of the snobbiest people in Mass. have to be the out-of-towners who moved here for school and now associate themselves as being 'from' here. Many 'locals' can't afford to live in their hometowns anymore. It's very sad. If things are on the same path after the pandemic ends, soon we will all just be uber snobs but we won't know we are snobs. There will be no wicked smart Matt Damon characters to shout 'How do you like them apples?' at the snobby rich kids." — Mary, Somerville
'What? We're not snobby at all'
"Massachusetts residents are friendly and polite. We greet each other with a smile, nine times out of 10." — Philippa, Duxbury
"We are not snobs, we are unfriendly and cold." — Craig, Wilmington
"I have two degrees and drink quality red wine. I didn't realize I am a snob, but maybe it's because I have several friends with doctorates and they seem down to earth to me." — Tim, Needham
"We're accepting of all points of view and all non-hateful lifestyles." — Cynthia, Marion
"How can home ever be snobby?"
"No way snobby. We do tell it like it is. Mass. is a no BS state, sure is."
"People here are not snobby for the most part, but they are not as outwardly friendly and welcoming as some other parts of the country." — Carey, Boston (formerly a midwesterner)
"Maybe be uppity and somewhat privileged, but not snobby." — Jack, Somerville
"Most of the folks who claim Massachusetts as their home are not snobs — in my opinion. But, I would add that within the more well-to-do communities one will likely encounter a higher degree of snobbery. With wealth often comes an increased amount of snobbiness, but that is not limited to Massachusetts."
"I don't agree with 'snobbiest,' but we definitely have a lot of pride. We believe, and in many cases rightly so, that we have the best schools, the best hospitals, the best sports teams, lots of cutting edge industries, four seasons of weather — though many might detest the winters, we are close to beaches as well as ski resorts, and there's a rich history here. Okay, maybe reading that out-loud to myself makes it seem very snobby. Fine, we're snobs." — Chris, Boston
Readers who appear to have a sense of humor:
"Damn proud that we are wicked smaht and go to wicked smaht schools, and drink wine with our pinkie sticking out." — Robb, Quincy
"We are 100% snobs because we have the BEST of everything! Just ask Boston.com — hardly a day goes by without an article about [Boston or Massachusetts] being selected 'most' or 'best' of something … Thank you for contributing to the snobbery!" — Lori, Boston
"Massachusetts is not snobby at all. Why, I am even pleasant with the neighbors who have to drive a Range Rover!"
"I prefer a Starbucks latte over a Dunkie; I only use Grey Poupon mustard; I shop at Whole Foods for gluten free bread and free range poultry; I drive a Land Rover and the wife has an Audi; I'd never sit in the bleachers; isn't the leather best from Bottega Vanetta; marble over granite; Coleman over Yeti; chardonnay please; Orvis over LL Bean; summer on the Cape; Sirius over FM." — Jamie, Falmouth
"Not snobby at all, anyone with a couple million, an elite degree and wine cellar can live here. As long as you add to our property values and test scores you're welcome with open arms." — Mary, Weston
"Your questions are such a bore, I could not be bothered with them! My butler will show you out." — Augustus Reginald, Esq., Andover
Boston.com occasionally interacts with readers by conducting informal polls and surveys. These results should be read as an unscientific gauge of readers' opinion.
Get Boston.com's browser alerts:
Enable breaking news notifications straight to your internet browser.