Local
Boston.com readers are fed up with late-night noise
"Nothing good ever happens after midnight."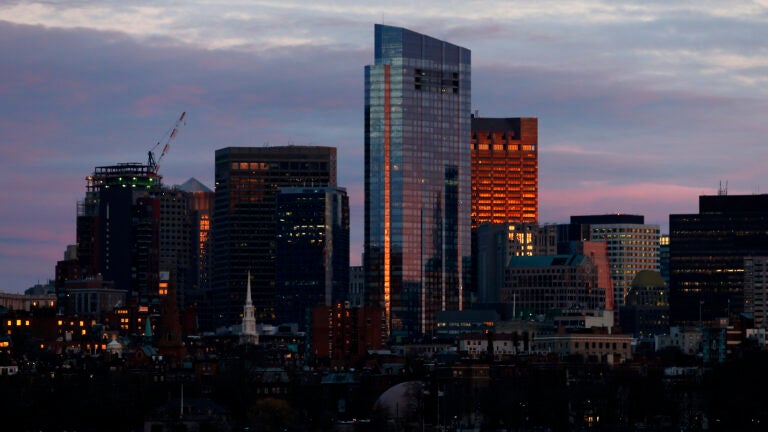 Late night noise levels in South Boston have gotten so bad over the last year that city councilors are getting involved to try to put a stop to it, and according to Boston.com readers, the problem is spreading all over the city.
First it was the ear-splitting fireworks of the pandemic's early days, but now many Boston residents say they're being plagued by rowdy weekend partying. With COVID-19 restrictions lifted, some in the city are worried that the noise disruptions will only worsen.
We asked our readers if they had noticed an uptick in late-night noise, and the majority of the more than 200 respondents said they not only noticed the increased disturbance, but that they were sick and tired of it. Sixty-eight percent of our readers said there was more noise in their neighborhood and 75 percent said something had to be done about it. Just 19 percent of respondents said they didn't mind their noisier blocks.
One reader has come to dread the late night hours, writing, "Nothing good ever happens after midnight."
Readers in multiple neighborhoods including Jamaica Plain, Cambridge, East Boston, Dorchester, the North End, Roslindale, West Roxbury, Lynn, Lowell, and more told Boston.com that noisy activity was keeping them up at night.
Residents in South Boston have complained throughout the pandemic that the loud partying has been out of control. City councilor Ed Flynn said last month during a public hearing on the issue that Boston police had received 600 calls during one recent weekend alone.
"I'm all for people celebrating and having a great time with friends and family, but be respectful of your neighbors," Joe of South Boston told Boston.com. "There's no need for screaming or yelling. Additionally, when you're walking between locations, keep it down."
Flynn and other councilors have demanded the city move its noise curfew from 11 p.m. to 9 p.m. and start issuing greater fines to deter the noise, but some of our less noise averse readers think things should stay as they are.
"You live in a city," one person said. "If you don't want noise, move to the suburbs."
Although there were only a few of them, some respondents were proud to say they not only enjoy the noise, but intend to continue partying. One reader put it simply: "If you don't like it…I don't care."
Regardless what side of the debate they landed on, readers feel strongly about the noise levels in the city. Ahead, read what Boston.com readers had to say about late-night noise in their neighborhoods.
Responses were lightly edited for clarity.
Something has to be done
"I live in South Boston and the loud partying has gotten out of control. Many of our community members are losing sleep, being harassed, and have to call 911 over and over. This significantly affects our community members who are elderly and disabled." — Anonymous
"The level of public drunkenness at all hours of the weekend, on all streets and covering Broadway like the Vegas strip is testing my patience as a long-time resident. The common routine is to buy 12-packs of beer or vodka seltzers and walk from party to party in groups of 8-10 people. The result is an excess of empties in tree wells and window sills and a traveling cacophony. Feels difficult to escape the noise of the atmosphere." — Karin Denison, South Boston
"The North End has become pretty obnoxious. It's not even the restaurant noise. I happen to love the outdoor dining program. It is really just people walking through the streets yelling for no reason after hours with zero consideration for the people that are trying to sleep above. In addition, the people who think it's fun and impressive to rev their engines at max volume only to go 10 miles an hour are really obnoxious. The night Boston completely opened was particularly loud." — Anonymous
"Late night rave parties (El Teteo) are an egregious violation of the neighborhood. The pulsating music can be heard for two miles at three a.m., often three to five nights per week. The city councilors excuse and normalize this behavior, which is equally outrageous. It's a further example of the deterioration of our community." — Chris, Jamaica Plain
Not so much parties in my area as more people on dirt bikes and extra loud unmuffled motorcycles and cars revving engines to race down the road late at all hours of the night. It's ridiculous. — MN, West Roxbury
"It's horrible to lose sleep and peace of mind on a work night, but my biggest concern is the fireworks at some of these parties. That's property damage there. They're often so close I worry about my house burning down." — Anonymous
I don't mind it
"If you don't want noise, don't live in a city. Move to the suburbs. It's quiet there. People have been locked up for a year and half plus. What is with people loving to be negative about every little thing. If you don't like the noise and energy, why do you live downtown?" — Anonymous
"Look, these kids just got through an epidemic. I'm 67 and my generation never had to endure anything like this. If the kids wanna rage, let them rage. They should CERTAINLY be cordial to neighbors but to be able to have fun, get outside, and rip some beers with your buddies is massively deserved after this hellacious past year. I say put some porta potties in Southie and let the kids rage!" — Richard, Dorchester.
After the year plus of internment I say party on. I'm 48 and would love to attend anything. Who are these killjoys?" — Anonymous
I think people expect everyone to be mouse-quiet way too much. Obviously you have to be respectful, but we are supposed to enjoy life and hang out with friends/family, enjoy music, conversations, etc. Part of the problem is there were many COVID-19 restrictions which eventually caused more house parties." — Anonymous
Boston.com occasionally interacts with readers by conducting informal polls and surveys. These results should be read as an unscientific gauge of readers' opinion.
Newsletter Signup
Stay up to date on all the latest news from Boston.com