Local
Faneuil Hall Marketplace GM sets the record straight about this year's Christmas tree
A tree went up Wednesday morning in the Quincy Market Rotunda.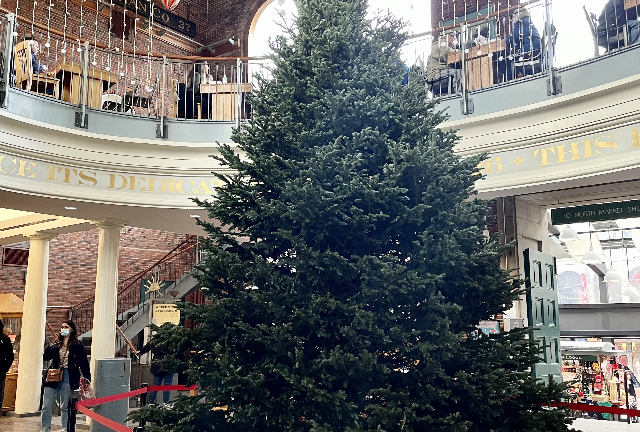 A Wednesday morning tweet caused confusion in Boston over whether Faneuil Hall Marketplace would showcase a Christmas tree this holiday season.
Twitter account Only In Boston, which has 562,800 followers, tweeted: "ALERT: The New York City firm that manages Faneuil Hall, minus a donation, will not be installing a Christmas tree at Faneuil Hall this holiday season."
After that, Faneuil Hall Marketplace general manager Joseph O'Malley said his phone began ringing.
"Let me be clear that that was a misinformed tweet," O'Malley said. "They were actually showing a property that isn't even Faneuil Hall Marketplace."
The property shown in the tweet and where the large Christmas tree has been installed in the past is called Marketplace Center and is perpendicular to Quincy Market, O'Malley said.
New York-based Gazit Horizons, which owns Marketplace Center and has a Boston office, confirmed to Boston.com in an email that there will not be a Christmas tree this year and noted that the company hopes to bring it back in future years. When asked, a representative did not provide a reason why.
"We were informed that they weren't going to put a tree up this year, so we decided to do our own thing on our property," O'Malley said.
A 20-foot Christmas tree was installed Wednesday morning in the Quincy Market Rotunda, O'Malley said, and the area will be decorated for the holidays.
"For the record, it went up before the tweet went out," he said.
It is where the tree used to be displayed before Marketplace Center was built, O'Malley said. Details about holiday programming will be announced, but the popular "Blink! Holiday Lights and Sound Extravaganza" is again cancelled due to the COVID-19 pandemic.
"We do plan on having Blink! in the future," he said.
The confusion over the tweet did not surprise O'Malley.
"In my experience as the GM of Faneuil Hall Marketplace, if you're in that vicinity — I'm talking State Street to Clinton Street — everyone just assumes that Faneuil Hall is that whole complex," O'Malley said. "No one really knows the delineation between Faneuil Hall and Marketplace Center."
How to Boston
Sign up to receive our essential guide to the city. Delivered to your inbox weekly.