Local
Skiing, sledding, hiking, and more: Experiencing the wonder of winter
Check out these recreation areas, where you can spend time outdoors safely and still socialize.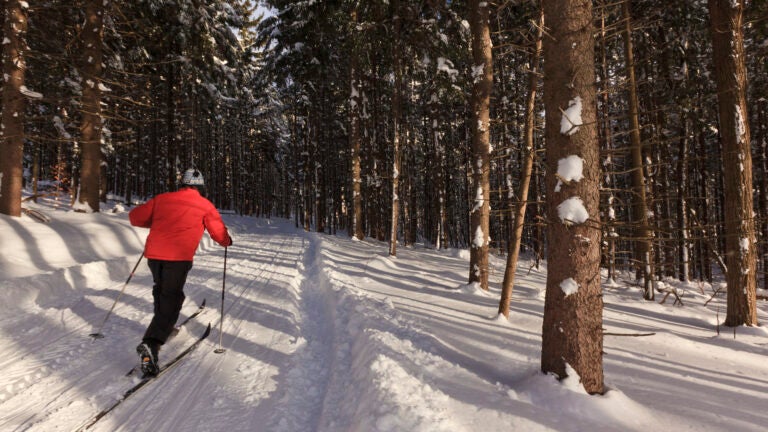 As another winter gets underway amid spiking virus cases, many are again turning to recreation areas where they can spend time outdoors safely and still socialize with family and friends.
And last week's snowstorm is helping out a lot.
At Ski Bradford, a small ski hill in Haverhill, skiers are returning quickly following last week's snow and the recent cold temperatures that allowed the staff to operate the snowmaking machines.
"We've expanded our hours back to normal," said Dennis Gauvin, the ski patrol director. Last winter, the hill operated on a shortened schedule and saw fewer visitors and after-school program participants due to COVID restrictions.
"Our after-school program has gone back up," Gauvin said. Lessons for first-time skiers are also booking up quickly, he added.
Visitors come to Bradford from all across the North Shore, South Shore, and Cape Ann, as well as from throughout the Merrimack Valley and Southern New Hampshire.
Face coverings are strongly encouraged inside the ski lodge, Gauvin said.
With the cold's arrival, business is also bustling at Nashoba Valley Ski Area and Snowtubing Park, according to president Al Fletcher after a mild start to the season.
"There's definitely a lot of interest," he said. "It's getting back towards normal."
Last winter the ski area halted its school and recreation programs among other COVID restrictions, which was a big loss, Fletcher said. This year, those groups are back, as well as local schools' ski racing.
On the tubing hill, interest has stayed consistently high, Fletcher continued. With no need to buy special equipment or have any certain skill set, the activity appeals to all and can be a spur-of-the-moment decision.
As winter returns, visitors are also setting out to the 123 Trustees of Reservation properties around the state where they can socialize safely and get some fresh air.
Aaron Gouveia, public relations director for the Trustees, said the ongoing pandemic has led the land preservation and conservation nonprofit to implement some innovative new ideas.
"The omicron variant means COVID is still very much a concern for people which is why we've come up with some innovative programming that lets people gather outdoors in a safer environment while remaining active," he wrote in an email. "It's always important to get people out and active during the winter, but perhaps never more so than the last two we've experienced."
"We just released a brand new downloadable map that acts as a checklist so people can check off our properties as they visit them," Gouveia added. "This was a special request from our Hike Trustees group which consisted of more than 1,100 people who visited 119 of our sites on 12,000 individual hikes totaling more than 35,100 miles in 2021."
The popular fire pit rentals will return this year as well, Gouveia said.
"We started these last winter and they were so immensely popular we not only brought them back but expanded them," he wrote.
Visitors to nearly a dozen of the Trustee properties can rent a fire pit to enjoy after a hike on the trails. Staff will start the fire, and s'mores and seats are provided.
Properties with fire pits include Appleton Farms (Ipswich); Notchview (Windsor); Long Hill (Beverly); Fruitlands Museum (Harvard); Bradley Estate (Canton); Stevens-Coolidge House & Gardens (North Andover); Old Manse (Concord); Chestnut Hill Farm (Southborough) and Castle Hill (Ipswich).
And now that we have snow, visitors can once again go snowshoeing and cross-country skiing.
"Notchview is definitely our most popular spot for cross-country skiing and snowshoeing, as we have more than 25 miles of trails," Gouveia said.
Last winter was record-setting for the Trustees, he added, as the number of estimated visitors doubled. In 2021, Trustees sold 1,300 season passes and 300 youth season passes which were new last year.
"We are already trending above that number for season passes for adults and kids, and we're seeing significant increases in people coming from farther away (New York, Boston, etc.)," Gouveia added.
While the majority of Trustee properties are free, based on those that do require sales and staff estimates, it's estimated more than 2 million people visited the properties in 2021.
Newsletter Signup
Stay up to date on all the latest news from Boston.com