Media
10 years ago, Antonin Scalia feuded with the Boston Herald over a hand gesture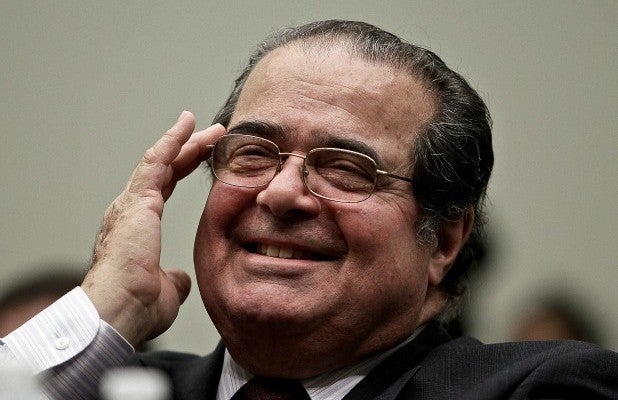 The news of Supreme Court Justice Antonin Scalia's death has elicited a wave of appreciations, condemnations, and remembrances of the iconic conservative jurist. Many of these memories have focused on Scalia's wit, withering dissents, and his legacy on the court.
In Boston, Scalia may also be remembered for his short war with the Boston Herald.
It happened 10 years ago, in 2006, when Boston's long-running tabloid took exception to a gesture Scalia made to reporter Laurel Sweet. Scalia had brushed the tips of his fingers out from under his chin, which the Herald described as an obscene gesture.
To be fair, a lot of people believe it's an obscene gesture.
Scalia, meanwhile, was not pleased, and penned a scathing letter to the editor insisting the gesture was one of indifference used in Sicily. After taking some shots at Sweet and walking through his version of their exchange, Scalia came down hard on the paper for concluding the gesture was obscene, and for making a "Sopranos'' reference in describing his "Sicilian'' explanation:
How could your reporter leap to the conclusion (contrary to my explanation) that the gesture was obscene? Alas, the explanation is evident in the following line from her article: " 'That's Sicilian,' the Italian jurist said, interpreting for the 'Sopranos' challenged.'' From watching too many episodes of the Sopranos, your staff seems to have acquired the belief that any Sicilian gesture is obscene — especially when made by an "Italian jurist.'' (I am, by the way, an American jurist.)
The flap led to a string of front page stories for the Herald, including one of the paper's more memorable covers, complete with photographic evidence of the chin flick and the simple headline "THE GESTURE.''
Ten years later, you can still be the judge and decide what Scalia meant.