Health
A 23-year-old local news anchor details her harrowing cancer diagnosis
NBC Boston's Natasha Verma is in remission now, and she's ready to get back on air and give back to those in need.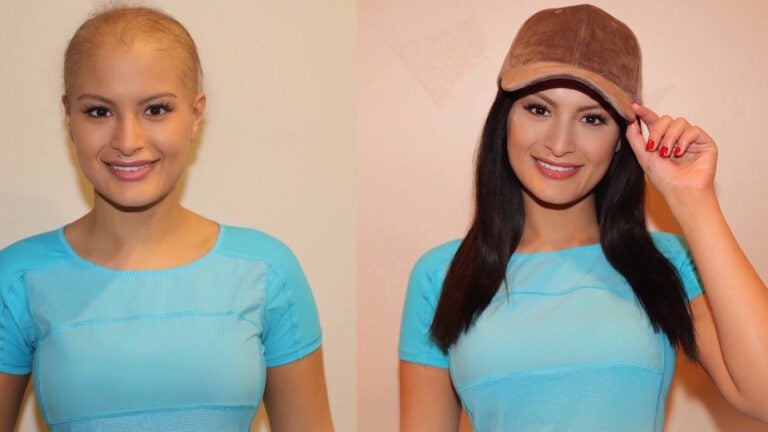 When Natasha Verma noticed a lump on her collarbone last summer, she thought it was a muscle sprain. The NBC Boston anchor, 23, frequently visited the gym when she wasn't working on the station's morning news broadcast, and figured she had inadvertently tweaked a muscle. But when she started to feel shooting pain in her arm, she went to a doctor. The doctor assured her that she was, in the doctor's words, "young and healthy," and that Verma's worst fear, cancer, was not a concern.
That doctor was wrong.
Soon Verma began experiencing additional symptoms, including a tightening in her chest. She decided to visit the emergency room on Monday, Aug. 21, the day of the solar eclipse.
"The ER was empty because everyone was outside watching the sun," Verma said. "That was the only way I was able to get a doctor and an ultrasound."
Much like the first physician, the ER doctor had doubts that Verma's lump was cancerous, but ordered an ultrasound to give her "peace of mind."
"Even that doctor was like, 'You're healthy, you don't have cancer,'" Verma said. "He said that point-blank."
When the ultrasound came back, Verma said her doctor's confident demeanor was gone. His face was white. After a PET scan that "lit up like a Christmas tree," the diagnosis was confirmed: stage 2 Hodgkin Lymphoma. With aggressive chemotherapy, doctors told Verma she would be looking at six months off the air.
She instinctively thought about her work.
Verma is a lifelong overachiever. She was the youngest graduate of the University of Texas system at age 17. While in school at the University of Texas-Austin, she launched the university's morning show, "Good Morning Texas." She earned her master's from Columbia University at 18. At only 23, she's already on her second stint at an NBC affiliate, previously working as a reporter at WBBH, which serves audiences in Southwest Florida, from 2014 to 2016.
"I was so shocked when I first got the diagnosis, I was like, 'No, I'll be fine, I'm going to work through it,'" Verma said. "I was so naive."
Very quickly, it became clear to Verma that working through chemo would be impossible.
"I had a really, really tough time with chemotherapy," Verma said. "It was really terrible. Pain like I've never experienced before, excruciating pain in every single muscle in my body. I had jaw pain. I had stomach burns, because when you're pumped with chemo it kills every fast-growing cell, good or bad. The cells that line your stomach are fast-growing, so they got killed."
Verma said the chemo impacted her mentally, too.
"Even when I was feeling healthy during chemo, I would look in the mirror and I looked weak," Verma said. "I didn't recognize myself. It would make me feel sick even when the chemo wasn't."
She called the emotions "overwhelming."
"When I was diagnosed, the first thing I thought about was my hair," Verma said. "I know that's kind of a superficial thing to think about, but it's my identity. I'm on television. It's just the first thing people think about with cancer and chemo."
On Jan. 3, Verma posted to Facebook, announcing publicly what she has been through — and that she is in remission.
"I am very aware that many of you have asked about my whereabouts on NBC 10 Boston. Thank you for your concern," she wrote. "Five months ago, I was diagnosed with Stage 2 Hodgkin's lymphoma. I immediately underwent aggressive chemotherapy at Beth Israel Boston. With the incredible support of my family and friends, I was able to overcome the physical and emotional toll of this terrible disease. Thanks to my brilliant oncology team I am in remission!"
Verma also officially launched a nonprofit project inspired by her own feelings of distress over the loss of her hair. Called "Put a Cap on Cancer," the goal is to provide wigs attached to baseball caps ("Cap Wigs") to cancer patients who want a "fashionable and comfortable" solution to hair loss caused by chemo.
Verma initially struggled when she began experimenting with wigs after her own hair loss.
"I had a lot of problems finding a wig that worked for me," Verma said. "They were itchy, they didn't sit right, I hated the hairline, my scalp was too sensitive."
At one point, Verma placed a baseball cap on top of her wig, and she liked that look.
"Really no one could tell it was a wig," Verma said. "Plus, it was easy to throw on without prepping the wig, styling it, and gluing it down."
In the weeks that followed her public announcement, she's received more than 100 requests for her wig/cap combos, which use 100 percent human hair and come in 80 different shades. On Tuesday, Verma announced that thanks to New England Patriots safety Duron Harmon, the team is donating 100 Patriots caps to the program. Even when she returns to the rigors of her anchor/reporter job, Verma said she plans to keep running the program, which is part of a larger nonprofit foundation she co-founded with her parents in 2013.
"Wigs are so tough to find, and every person's needs are so different," Verma said. "So having this technique, throwing a wig and hat on quickly, it helps. And when you look healthy, you feel healthy."
Verma said she feels ready to get back on the air in February, a prospect that she's both "nervous and excited" about. She has another checkup at the end of January to make sure the cancer hasn't come back, but she's already talking about her cancer in the past tense, and reflecting on what the disease has taught her.
"Cancer — this is so crazy to say — but honestly, it was the best thing that ever happened to me," Verma said. "I realized family is the most important thing. Career can take a backseat sometimes, and at the end of the day, it's important to do good for others. I don't know if I had all of that in focus before the diagnosis."