Media
A local TV station just got a new dress code
It went into effect last week.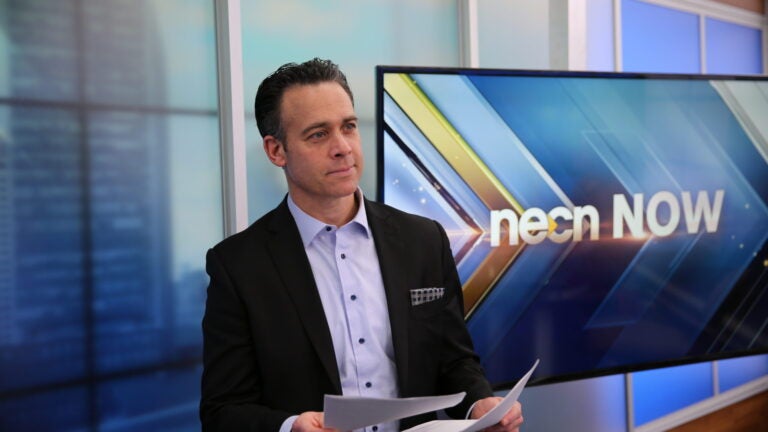 If you've been watching NECN recently, you may have noticed something missing. Male anchors in the studio have done away with the tie, a longtime staple of business attire.
The new dress code, implemented by NECN news director Ben Dobson, officially went into effect last week. Other NBC-owned stations in the region, including NBC10 Boston and Telemundo, plan to adopt the tie-less look, too.
Dobson said the move to ditch the neckwear is an effort to mirror its viewers, whom he believes are less likely to wear ties on a daily basis thanks to evolving workplace dress codes.
"We want to reflect our audience, and the tie is a barrier between us and the audience," Dobson said. "It's a piece of cloth, and if we can remove that, and reflect our audience better than we are now, we think it's a more comfortable viewing experience."
Audrey Mansfield, visual stylist for NBC-owned stations, said that female anchors and reporters also have seen slightly relaxed wardrobe guidelines in recent years, but that viewers may not notice much of a change to the in-studio attire of female anchors. She said that while many stations have some leeway for what sorts of outfits may be worn in-studio, the decision to wear dresses is often financial, as anchors must purchase their own clothing.
"Dresses are less expensive, and often just easier," she said. "They take up less space in the closet. And for those early-morning anchors, they don't have to worry about matching."
Mansfield said that stations utilize in-depth research on what sort of attire connects best with its audience when making decisions like the one to ditch ties. So while anchors are still mostly buttoned-up in the studio, out in the field, a tailored suit and tie or a brightly colored dress often looks incongruous; jeans and a sweater might feel more tonally appropriate.
"When our reporters are in the field, they're dressed for the environment and the story they're reporting," Mansfield said. "If there's a train derailment, they should be dressed so that they could potentially help someone. If there's a prison escape, their dress will reflect that they could be a part of the search party.
"It gives more impact to the story," Mansfield continued. "When our reporters are in the field, we want our audience to realize we're not afraid to get our hands dirty, or our feet wet."
For anyone who sees the tie ditching as a degradation of the professional atmosphere of the newsroom, Mansfield offered this perspective: "On set, they'll still be wearing a nice shirt and full suit. They'll still have a very nice collar, and be very well-groomed. It is one piece of clothing we are taking away."