Media
5 local meteorologists recall the most insane weather they've ever covered
"That is the benchmark for snowstorms and blizzards, and that's the one I remember most."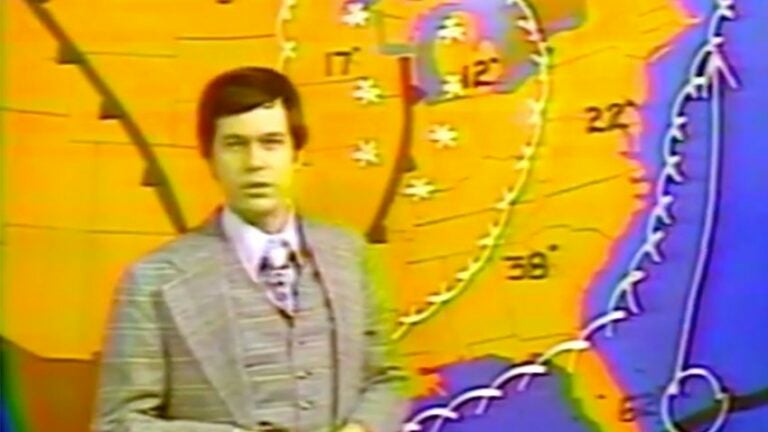 Predicting the weather in the Boston area is undoubtedly one of the toughest gigs around. Local meteorologists must suffer the wrath of Bostonians when an unexpected storm snarls the region's already terrible traffic, and when a potential major snow event fails to materialize. They also have to stand outside in the worst weather conditions possible.
While 2019 has been relatively tame on the winter weather front so far, any veteran forecaster — or, frankly, veteran Bostonian — knows that that could change without a moment's notice. The record-breaking winter of 2015 didn't kick off in earnest until late January, and the April Fools' blizzard of 1997 remains fresh in the minds of those who were here for it.
In honor of the latest winter storm to grace Boston with its presence, we asked five local meteorologists to recall the craziest and/or worst weather they've ever covered.
Note: These interviews have been edited and condensed for clarity and length.
Harvey Leonard, WCVB-TV chief meteorologist
"Because I go way back, the one that still always sticks out for me is the Blizzard of 1978, which was February 6 and 7 that year. That was my first winter forecasting in Boston television. It was an incredible storm. It had everything. It had hurricane-force wind gusts. It had horrendous coastal destruction and devastation from extremely high tides, storm surges, and wave action. And then, of course, it had all that snow — 27 inches in Boston, and up to 55 inches in northern Rhode Island. That is the benchmark for snowstorms and blizzards, and that's the one I remember most.
"You have to remember, you're going back over four decades. Weather forecasting, although not perfect today, was not what it is today. We had computer models, but you had to make huge leaps from what they were showing you. We have much better data now, much better computer processing power, much better observing systems. Back then, you really had to use a lot of your education, your gut, common sense, all sorts of things. I just saw the setup in the atmosphere that was just so classic for what produces a very major nor'easter."
Barry Burbank, WBZ-TV meteorologist
"The one that really resonates with me happened April 1, 1997. I remember going on the television that night. It was Easter Sunday, March 30. And I went on, and I couldn't believe what I was about to say. I was going on that day, which was 66 degrees, and telling them, 'You won't believe the storm that's coming. In fact it's going to be one of the biggest snowstorms you've ever seen.' It actually produced more snow in a short period of time than the Blizzard of '78 did in the city of Boston. Going on that night, Sunday night, and delivering my forecast, people thought I was an idiot, thought I was crazy. This doesn't happen this time of year, especially after everyone just had a beautiful spring Sunday. That was back in the ancient days, where people didn't send emails or texts, but people called me on the old landline, and people were downright mean actually, saying, 'This is crazy,' calling me names. And I said, 'You just wait, you will see. I'm 99.9 percent confident this will happen.'
"The next day, I worked. It was raining in the morning, which I expected. Then all of a sudden, everything turned cold enough in the atmosphere, and it turned into a veritable blizzard on the afternoon of March 31. Boston ended up with 25.4 inches of snow that night. It really ramped up in the evening, and we had thunder and lightning much of the night. Winds of 50 miles per hour or more, and a wet, pasty snow that did tremendous damage. Trees down, power outages everywhere. I stayed at a hotel close to the station so I could get back to work early in the morning, and when I woke up, I couldn't find my car. It was just buried. Luckily I could just put my boots on and walk to the station, but when I went out the front door, I was spooked. It was an enormous snowdrift blowing off the roof of that place, and with four or five cars parked there, and you couldn't see any hint of them. I've covered a lot of crazy storms, but that's the one that always comes to mind."
Pete Bouchard, NBC10 Boston meteorologist
"Early in my career, the ones that stand out the most aren't necessarily the biggest storms, but some of the most surprising storms. That's where I really cut my teeth, where I learned how not to cover a forecast, and how to cover my butt, in a sense.
"One of the ones that stands out to me because it was just so bizarre is December 9, 2005. It wasn't really that big of a snowstorm, but it hit at the worst possible time. School buses were stranded; they had to evacuate kids stuck on the buses. There were wind gusts over 100 miles an hour on the Cape, and some planes flipped. I think Frank Colby over at UMass-Lowell wrote a paper on it later — it was that freakish of an event. And before you knew it, it was gone. It started as rain, then switched over to snow. We thought, 'OK, it's switching over, that happens. We'll get four to eight inches, eight inches tops.' Instead, some places got a foot and a half, and we were seeing snowfall of four inches per hour, which just paralyzed the region.
"I went on the air and was sharing updates. And for the first time that I'd been on TV, I had no idea what was going to happen. I hadn't seen this before. We didn't have any maps that were tracking this because it was so off the charts, so I didn't know where it was going to go. There was a moment, as I was trying to figure the forecast out, that I was beginning to doubt the reports that were coming in. 'One hundred mile per hour gusts on Cape Cod? That can't happen.' You've got nothing to go by, and your boss is telling you to get on air to say something, and you're like, 'I don't know what to say! It's just getting worse!' You want to give some comfort to the viewers, but all you have to say is, 'This might end in five or six hours.' I was working with Chikage Windler at the time at Channel 7, and we were just looking at each other, and she was like, 'Wow, I'm glad you're the one on air, because I wouldn't know what to say.' That was a weird situation, and I haven't been in that kind of situation since."
Kevin Lemanowicz, Boston 25 News chief meteorologist
"I'll always remember the tornado that went through Monson in 2011. That's not a winter storm, of course, but to see that — we don't often look at radar here and see perfect tornado signatures, which are called hook echoes. That one did have it. It was really the first time I'd seen one so clearly in this part of the country. The aftermath of that — going out and looking at all the damage, then going back a year later and seeing how much they had to rebuild — that was one of the craziest storms that I've covered. I was on the air for hours and hours without a break, just trying to tell people what had happened. That made it a memorable one.
"The tornado started out in Springfield, but the worst damage was over in Monson, just outside of Worcester County. It was a big tornado. It did quite a bit of damage, and it killed four people. We literally found papers from an auto repair shop that had been picked up and brought all the way to our parking lot at the station in Boston. Being that it was a small town not in the major metropolitan area, it may not have had the impact in people's minds here in Boston as it does in my mind. But watching what it did that day, I will never forget it."
Cindy Fitzgibbon, WCVB-TV meteorologist
"I arrived in Boston in 2002, so I've been here a while. But probably the most notable since I've been here is the snow blitz of 2015. That right there was something we'll be telling our grandchildren about. It was just incredible. The successive nature of those storms coming one after another, and the incredible amount of snow each of them brought. I've worked in North Dakota. I grew up in Maine. Snow doesn't faze me. But when you get that amount of snow here, there's no place to put it. I think it was July when they finally got that big pile to melt.
"We do a political show, 'On the Record,' and our guest during one of the storms was Mayor Marty Walsh. In between taping, he wandered over to the weather side of the studio and was trying to figure out what to do. I was going over models with him, offering him my advice. During that pattern, we were not only in a storm, talking about that storm, but we were looking ahead and could see not one, but two storms, down the line, because they kept showing up within days of each other. They just kept coming. We got to the point where we asked, 'When is this going to stop?'"