Media
Kiss 108 host Matt Siegel storms off show claiming censorship over Demi Lovato comments
"If I can't talk about what I'm thinking at this point in my career, I don't want to be on the radio anymore."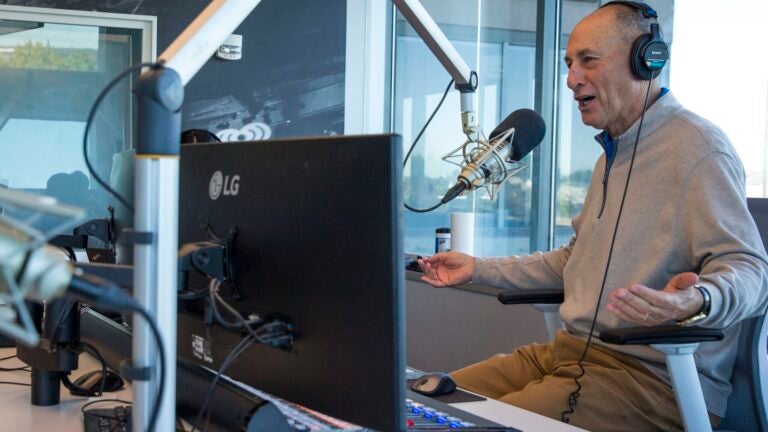 Kiss 108 host Matty Siegel abruptly walked off his long-running morning show Tuesday after he says management told him to tone down his commentary surrounding pop star Demi Lovato.
Siegel, who has been with WXKS-FM since 1981 and whose "Matty in the Morning" show has been a station mainstay, left listeners asking questions after he intimated on air that he was done with the program.
Reached by phone by Boston.com, Siegel said that he received a call from his boss telling him to stop talking about Lovato, who announced this morning that they are non-binary and are changing their pronouns.
"I'm against her binary thing; I think she's a troubled woman and a lot of young people are taking her seriously and it bothers me," Siegel said. "But of course, it's a comedy show, so I did it in the context of jokes.
"We were having fun with it, and my boss called up and said that I'd crossed the line and they didn't want me talking about it anymore," he continued. "I responded by saying, 'If I can't talk about what I'm thinking at this point in my career, I don't want to be on the radio anymore.'"
On air, Siegel was similarly defiant, saying that "Matty in the Morning" is the "number one radio show in the history of Boston."
"I am the biggest of all time, and they said, 'Shut up, Matt! Stop talking,'" Siegel said. "Well, I hope you're happy, because I just stopped talking. Matty out."
Siegel told Boston.com that after long conversations with his superiors, he believes that despite what he said on air this morning, he will remain with the station. Representatives for iHeart Radio had not responded to a request for comment at the time of this article's publication.
"There's no ill feeling between me and my boss or me and my company, none." Siegel said. "They're doing their jobs. I get it. They got a lot of heat this morning, people complaining about things I said on the air. He doesn't want me to be fired. His heart was in the right place."
Nevertheless, Siegel was still upset about what had transpired, saying that as a comedian, being told what to say or not say is "the worst thing you can say to a performer."
"At some point, I hate to use this line, but you know the line from 'Billions' — 'What's the point of having f*** you money if you never say f*** you?''" Siegel said. "If I don't say it now, when? When I'm dead?"
According to Siegel, this isn't the first time he has had conversations with station brass about his commentary. Specifically, he said that he had been asked to tone down his comments about former President Donald Trump in the past.
"I did a whole thing talking about Trump, and then I got heat on that — 'Half our listeners are Republicans, what are you doing, you're gonna lose all our male listeners' — so I stopped," Siegel said. "So I stopped talking about Trump, and today I'm 'anti-woke.' You know the expression, 'The guy standing in the middle of the road gets hit by cars going both ways?' That's what happened to me."
Ultimately, Siegel attributed his on-air outburst to a weak moment, and said he anticipates "cooler heads will prevail" during subsequent discussions about his future with the station.
"Let me put it to you this way: Do you think I'm the only one that's had it with the negativity in the world we live in during this pandemic?" Siegel said. "Do you think I'm the only person that's snapped? I doubt it."
"You know what's gonna happen?," he added later. "Around 3 or 4 this afternoon, I'll go, 'Wait a minute, am I really walking away from millions of dollars? I don't really care that much.' Cooler heads will prevail, I'm sure. They made it very clear that they don't want me to leave."
Newsletter Signup
Stay up to date on all the latest news from Boston.com