Movies
Ben Affleck Plays Ideal Could-Be Killer in 'Gone Girl'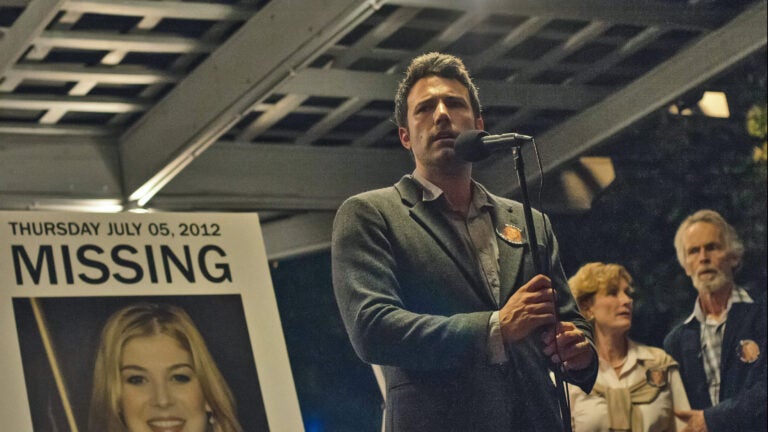 NOTE: THIS STORY CONTAINS SPOILERS
"Gone Girl'' is a sinister, blame-shifting caper about a missing woman named Amy (played by Rosamund Pike) and the prime suspect in her disappearance: her husband, Nick Dunne (Ben Affleck). It's a rich, clever story that takes you from hating Nick to almost feeling sorry for him. Almost.
Directed by David Fincher, the movie is a slick, loyal adaptation of Gillian Flynn's 2012 novel of the same name — something that should come as no surprise since Flynn also wrote the screenplay. This amount of creative control has turned out to be a good thing. As swarms of women's book clubs flock to theaters and later discuss the flick over bottles of Pinot Grigio, there will be a collective exhale, thankful that Hollywood didn't screw this up.
When I heard that Ben Affleck was to play the lead role — lying husband, all boyish good looks and small town charm — I thought: yes. Perfect. In my mind, Nick acts just like Scott Peterson, who in 2004 was convicted of murdering his wife, Laci, and their unborn son. For weeks following her disappearance, Peterson smile-cried to the press about his wife of five years and their son, due to be born in weeks. He was handsome. Smarmy, even. He looked exactly like Ben Affleck.
The casting department of "Gone Girl'' knows what it's doing.
Nick is every guy you've ever dated who seemed great and then got lazy. The one you had such high hopes for, but who continued to let you down. He's the guy you didn't want to give up on, because you knew he had so much potential. His wife, Amy, pretends to be the "Cool Girl'' — the low maintenance girl who doesn't nag and whose main goal is to keep her man satisfied. It's a caricature of what all men want. There are many different shades of "Cool Girl,'' she says, but the idea is the same. It's not the "real'' you. It's what the guy has always wanted. You're pretending.
In real life — well, as close to real as being a millionaire A-lister with a hot actress wife can be — Affleck is married to Jennifer Garner. In late night interviews, he comes off as the ultimate schmuck husband. He tells stories about how his wife is "so capable'' and he's "less so.'' How she does all the Christmas shopping and he "roots her on.'' They're like a couple from the 1950s, he says. Jen is the boss. She's the smart one. She's the one who has it all under control. For her part, Garner does a bumbling Ben impression for the likes of Jimmy Fallon and co., telling stories about how she's "not a high maintenance chick,'' so when their kids have lice and Ben wants her to go to a party, they go.
So it's not much of a stretch for Affleck to slip into the role of the lazy, checked-out husband that Nick has become because he's already been playing one on TV.
"Gone Girl'' is a fast-paced psychological thriller that explores the deepest, darkest parts of love, marriage, and the human condition. It's certainly sinister, with a sharp and surprising turn when [SPOILERS AHEAD] we learn that Nick's wife isn't dead after all, that he's innocent, and she's staged the whole thing to teach him a lesson. They've both gone through some hard times and their marriage isn't great. They're barely speaking to one another. When Amy goes missing, Nick is almost relieved.
Audiences will be pleased with Affleck's portrayal of Nick. Cambridge-bred Affleck is spot-on as the shifty and withdrawn Nick Dunne, all furrowed brow and cleft chin as he gets raked over the coals by the press. Besides, Affleck is at his best when he's playing the schmuck. (Think "Shakespeare in Love.'') The guy who has the rug pulled out from him. (Have you seen "Argo''?) The charming guy who doesn't really deserve for things to work out. (Try: "The Town.'') Perhaps he's so convincing as the handsome guy who could be guilty because he actually looks like that guy.
Told in alternating spurts from the points of view of husband and wife, Amy talks about how terribly Nick handles his emotions and how he'll look guilty, smiling when he's nervous. She can predict his every move, watching in her hideout from afar, because she knows him so well. It's the perfect crime. Like clockwork, Nick ticks off all her boxes of predicted behavior, with Affleck effortlessly putting Nick through the motions. He becomes the sketchy, do-you-think-he-did-it husband that the media is splashing all across the TV.
We almost forget he's our hometown boy. Almost.
In one scene late in the film, Nick is walking through the airport and must hide under a baseball cap to avoid being recognized. Fincher wanted it to be a Yankees hat. Affleck, ever loyal to his beloved Red Sox, refused. "I will never hear the end of it,'' Affleck told Fincher, according an interview with The New York Times. "It's going to become a thing.'' They compromised on a Mets hat instead.
Oh, Ben. We knew you weren't the bad guy, after all. You just play one on the screen.