Movies
The early 'Black Mass' reviews are in… and they're pretty great
Critics are liking what they're seeing in the Whitey Bulger biopic.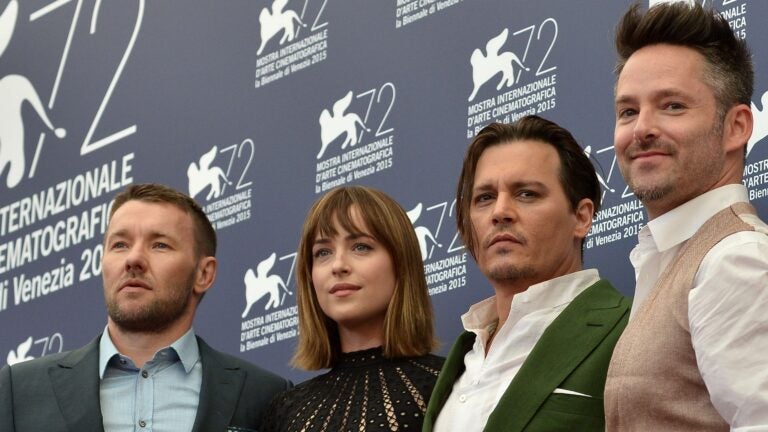 Black Mass inceptioned its way onto our early Oscar ballot — with its perfectly cut, nail-biting trailers and relentless interviews by film's director and producers, who appear to be leading the Johnny Depp for Best Actor campaign. Here in Boston, we're a little biased.
Film critics, however are not.
The Whitey Bulger biopic makes its world premiere at the Venice Film Festival tonight, and from what we've gathered, the film lives up the hype, and Depp and Joel Edgerton come out on top.
Peter Bradshaw of The Guardian deems it a "mighty comeback'' for Depp. He gave it Four out of five stars:
Johnny Depp and Joel Edgerton both give richly absorbing performances of preening macho self-regard and self-delusion…. This is a secular, pessimistic tale about how gangsters are nurtured like microbes in a petri dish by corruption; it is acted and directed with tremendous confidence and verve.
Variety's Scott Foundas concurs, calling it Depp's "career-best work'':
But if Johnny Depp's mesmerizing performance — a bracing return to form for the star after a series of critical and commercial misfires — is the chief selling point of Black Mass, there is much else to recommend this sober, sprawling, deeply engrossing evocation of Bulger's South Boston fiefdom and his complex relationship with the FBI agent John Connolly, played with equally impressive skill by Joel Edgerton.
Todd McCarthy of The Hollywood Reporter gave a thumbs up to the film's hometown homeage:
The performers return the favor with very strong, sometimes riveting work–and all with pretty passable Beantown accents…. The Boston locations are numerous and evocative, and production values are strong to to bottom.
But IndieWire's Jessica Kiang can't get past Depp's facial prosthetics, giving it a B-:
But amid a cast of ringers, beautifully costumed and caressingly photographed who get to act with their real faces, Depp is encased in a helmet of makeup and prosthetics that make him look ghostly, corpse-like, lizard-y and sometimes like a literal incarnation of the devil, specifically when he menaces Julianne Nicholson in one creepy sequence. It makes him fascinating to look at, but maybe for the wrong reasons — ones that have nothing to do with the quality of his performance or the charisma he exudes, and more to do with trying to locate the single element that is almost there, but doesn't quite gel.
AFP called it "a biopic that could almost be classed as a buddy movie, which is LOL.'' The outlet didn't formally review the film, but attended the pre-screening press conference, quoting Depp as saying, "I just had to approach him as a human being. Nobody wakes up and looks in the mirror and thinks 'I'm evil, today I'm going to do something evil.'''
They also noted that director Scott Cooper was visited by Bulger's real life lawyer, who "described Depp's incarnation of his client as 'uncanny and chilling.'''
Black Mass will screen at Toronto International Film Festival starting Sept. 14, before its U.S. opening Sept. 18.
Who plays who in Black Mass:
[bdc-gallery id="108912″]