Movies
Disgraced FBI agent John Morris gets off really easy in Black Mass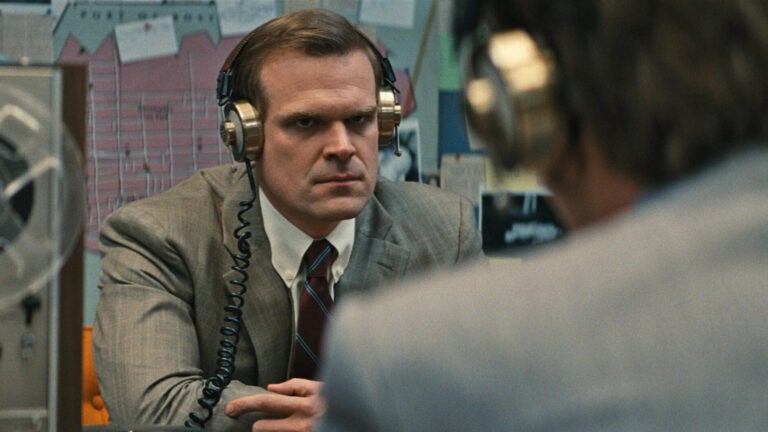 Like any movie based on a true story, Black Mass was bound to take dramatic license with the story of the FBI's unholy alliance with James "Whitey'' Bulger.
But no character is as mispresented as FBI agent John Morris.
The new movie, directed by Scott Cooper, accurately depicts the broad strokes of the characters: Whitey is still terrifying, FBI agent John Connolly is still corrupt, and Bulger sidekick Stephen Flemmi still kills people.
The John Morris of the film, played by David Harbour, is presented as a happy-go-lucky FBI agent who is reluctantly taken under Connolly's influence into protecting Bulger. He soon realizes he is in way over his head, particularly during an intense dinner scene involving his family's steak recipe. Finally, as a way to alleviate his guilty conscience, Morris gives details of Bulger's FBI alliance to The Boston Globe.
The version of Morris depicted in Dick Lehr and Gerard O'Neill's book Black Mass isn't as forgiving. As Connolly's direct supervisor, Morris was deeply embedded and responsible for Bulger's murderous free reign.
Here are some of the things Morris did that were altered in the movie:
Morris hosted the dinners with Bulger
That dinner scene from the movie actuallyhappened numerous times, but with a twist: The dinners were actually hosted at Morris's house, not at Connolly's.
In 1978, federal prosecutors were set to indict Bulger and Flemmi among 21 other gang members in a blockbuster horse race-fixing case. Morris and Connolly went to the prosecutor and personally asked them to drop the charges for Bulger and Flemmi because they were high-level FBI informants. The prosecutor obliged.
Not long after, the gangsters were invited to Morris's home, where they enjoyed each other's company over a "social'' dinner. Those dinners were fairly regular, even as Bulger and Flemmi's body count piled up.
As a comparison, here's the movie's version of a dinner, in which Morris is the victim of Bulger's bullying.
[fragment number=0]
He promised Bulger and Flemmi immunity
In another dinner in 1985, Morris's wife — not Connolly's wife, as the movie depicts — expressed reservations about letting the bad guys into their home. Morris assured her it would be fine.
In a way, he was right. Morris, Connolly, Bulger, and Flemmi all got along great. They bonded so well that Morris effectively promised to give immunity to Bulger and Flemmi for almost any crimes, as Lehr and O'Neill write:
Morris, his wine nearby but clearly sober, said: "you can do anything you want as long as you don't clip anyone.''

Flemmi liked what he heard. "I said to John, I says, well, I says, 'John, can we shake on that?' And he says, 'Yes.'

"And we shook hands, and Jim Bulger shook hands.''
Morris leaked an informant's identity
Edward "Brian'' Halloran, Boston man involved in Bulger's underworld, came to the FBI with information connecting Bulger and his crew to the murder of Oklahoma businessman Roger Wheeler. The FBI wasn't sure about the truth of his statements, and asked Morris for his take.
Morris, understanding that this testimony could undermine Bulger's status with the FBI, said Halloran wasn't a reliable source. He also told Connolly that Halloran had flipped, and "fully believed'' that information would then reach Bulger's ears, Lehr and O'Neill write.
Halloran was set free without being entered into witness protection. Not long after, Halloran and a friend were murdered by those connected to Bulger and Flemmi.
He leaking FBI corruption to the press – and not authorities
As the book explains, Morris engaged in nefarious activity — protecting Bulger, leaking information, and stymieing investigations — and then reverted to a deep guilt.
"Unable to resist temptation but tortured by all the wrongdoing, Morris was like a kid at the wheel of a raceway video game who bumps his car against one wall and then overcompensates and veers at high speed back across the track, crashing into the opposite wall,'' Lehr and O'Neill write.
Morris ended up telling the Globe about the FBI's protection of Bulger in 1988 not out of some moral compass, but to protect himself.
"My principal concern was my own skin,'' he conceded. "I was trying to minimize damage in my career.'' By his calculation, "outing'' Bulger seemed to offer a new solution. Publicity might force the FBI's hand and lead finally to closing down shop with the two informants. If that happened, his own wrongdoing — "that I had accepted money, gifts, and in turn had compromised an investigation'' — might be buried forever.
Lehr and O'Neill also point out Morris went to the press and not the authorities, because he "lacked the courage'' to do so.
Morris wasn't named as the source in the following Globe story. Almost unbelievably, Morris and Connolly met Bulger and Flemmi at Morris's condo to talk about the fallout from the Globe article, and Morris played along with the group. That "brief'' meeting was the last time the gangsters met with Morris.
Immunity from prosecution
It wasn't until years later that Morris would eventually be called to answer legally for his crimes.
He was granted immunity in exchange for testimony against Connolly. Morris admitted in court to taking about $7,000 worth of money and gifts from Bulger and to leaking information to Bulger about investigations.
His testimony led to charges against Connolly, who is currently in prison in Florida on a 40-year sentence for second-degree murder.
Gallery: Who plays who in Black Mass
[bdc-gallery id="108912″]