Movies
Your burning Black Mass questions, answered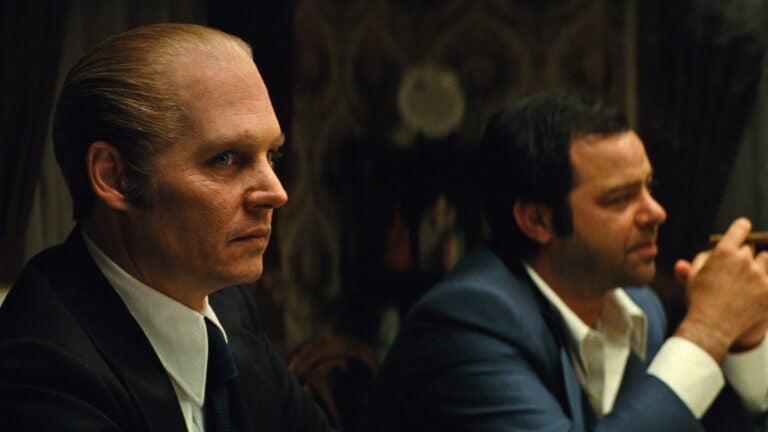 Black Mass attempts to cover the core of mobster James "Whitey'' Bulger's criminal life in just two hours, and as such, it leaves a number of smaller questions unanswered. What was the deal with Adam Scott's remark about Bulger's LSD use? What happened to Bulger's son's mother after the child died? And did he really win the lottery?
To help answer these questions, we consulted Dick Lehr and Gerard O'Neill's book Black Mass, and also spoke to Kevin Cullen, the co-author of Whitey Bulger: America's Most Wanted Gangster and the Manhunt That Brought Him to Justice. Here are the true-life answers to some pressing questions we had after watching the film.
Were Winter Hill and the Italian mafia really fighting over vending machines?
Yes. "It was an issue in the mid-70s, but that was with Winter Hill before Whitey was really a big player with Winter Hill,'' Cullen said.
According to Cullen's book, co-written with Shelley Murphy, the Mafia and Winter Hill tried to play nice for the sake of business, but issues erupted "when they were going after the same money.'' As paraphrased from Cullen and Murphy, a vending machine company was paying the Mafia $50,000 per month to house the machines in bars around Boston, and Winter Hill wanted those machines out of its bars in Somerville, Charlestown, Southie, Roxbury, and Dorchester.
What's the story behind Bulger's LSD experimentation?
In the movie, the FBI mentions Bulger's use of LSD when they consider the pros and cons of bringing him on as an informant.
In real life, when imprisoned in Atlanta in the late '50s, Bulger volunteered to experiment with LSD as a test subject as part his efforts to reduce his sentence. According to Cullen and Murphy, inmates were told they'd be rewarded with enough "good conduct time'' if they participated in the medical study. This meant being injected with the hallucinogenic drug, which, at the time, no one was really familiar with.
The drug use was actually a secret CIA program known as Project MKUltra that was later shut down.
"Obviously he didn't know it would have serious effects on him,'' Cullen said. "He was told it was a treatment for depression, when it actually was a CIA project trying to figure out crazy stuff about mind control. He said he had dreams, nightmares to this day because of that. Kevin Weeks, who Shelley and I interviewed for the book, said Whitey did suffer from that.''
Did Whitey Bulger really win the lottery?
In a quick scene, a Boston Globe newspaper headline blares that Bulger had won the lottery for $14 million.
In 1991, Michael Linskey bought the winning lottery ticket for a $14.3 million jackpot from a South Boston liquor store owned by Bulger. Linskey took half of the winnings, and the other half was split among Linskey's brother Patrick, Bulger, and Kevin Weeks. The four signed a notarized statement that said they had agreed to split the winnings.
In 1995, with Bulger on the run, U.S. Attorney Donald K. Stern accused Bulger of buying into the lottery winnings with illegally laundered money after Linskey had won.
"Whitey Bulger never hit the lottery in the first place,'' Stern said then. "We allege Bulger cooked up a scheme to launder illegally obtained money.''
Did the "Bulger Burial Ground'' really exist?
In Black Mass, we see Bulger and his gang shooting and killing Tommy King on a beach after King's earlier drunken threats at Bulger. A voiceover mentions that the location was the site where Bulger and his gang buried a number of their victims.
That unmarked burial ground really did exist. In 2000, investigators uncovered the bodies of six people — King, Debra Davis, Paul McGonagle, Deborah Hussey, Bucky Barrett, and John McIntyre — in the area around Tenean Beach in Neponset, according to Cullen and Murphy's book. The bodies had been placed there as far back as 1974, when McGonagle went missing.
When exactly was John Connolly arrested?
In the movie, an older-looking, plainly dressed Connolly is arrested from his home, but it's not specified when that happened in the timeline.
In real life, Connolly was arrested in December 1999, three days before Christmas, and 10 years after his retirement from the FBI.
What was John Connolly charged with?
The movie doesn't exactly specify what charges Connolly faced, and only notes in white text at the end of the film that he is serving 40 years for second-degree murder.
"He was initially charged with corruption and tipping off cases,'' said Cullen.
This was in 1999, when Connolly was indicted on charges of warning Bulger about FBI investigations, falsifying FBI reports, bribery, and extortion. In 2000, he was indicted on the charge of leaking information to Bulger and Flemmi that led to three murders.
"But then he was charged specifically and separately with state charges in Florida for setting up John Callahan to be killed,'' Cullen said. He was convicted of second-degree murder in November 2008, and sentenced to 40 years in prison.
In May 2014, Connolly's murder conviction was voided because jurors relied on a "flawed charge,'' mainly that Connolly did not carry or discharge the gun used to kill Callahan. In June 2015, the conviction was reinstated, ruling that the law didn't require Connolly to be the actual shooter or gun-carrier.
What happened to Triple O's and the movie's other bars?
In the movie as in real life, Triple O's was a Southie bar and a regular Bulger haunt where Weeks also worked as a bouncer. The bar was located at 28 West Broadway.
Much has changed since those days. Triple O's closed about a decade ago, and the spot was most recently home to Owl Station, a Japanese sushi restaurant. Across the street sits a Broadway Red Line T stop, a Subway, and a Starbucks.
Black Mass movie-makers recreated the infamous Triple O's spot in Cambridge near Inman Square last summer.
Black Mass also gives a shoutout to Bell in Hand when FBI agent John Connolly, played by Joel Edgerton, offers to go get drinks with US attorney Fred Wyshak, played by Corey Stoll. Bell in Hand, located near Faneuil Hall, says it poured its first beer in 1795 and remains open today.
Story continues after this video: "Who's Who in Black Mass?''
http://brightcove.vo.llnwd.net/v1/unsecured/media/245991542/201509/3556/245991542_4492297310001_BlackMassExplainer3.mp4?pubId=245991542&videoId=4490028126001
Meet the guy, behind the guy, behind the guy (or gal) in the movie Black Mass.
What was that weird sport in Miami that Winter Hill was investing in?
It's called jai alai, where men use a piece of hand equipment to hurl a ball at a granite wall.
The Winter Hill gang was laundering money through World Jai Alai and its president John Callahan, but Callahan resigned when his gangster connections put his business at risk. Roger Wheeler later bought World Jai Alai, and caught on to the financial irregularity. It was Callahan who asked if Winter Hill gang member Brian Halloran could kill Wheeler. Bulger's associate John Martorano ended up executing the kill. Halloran was later gunned down by Bulger.
Callahan was linked to both Wheeler's murder and Halloran's murder, and was killed by Martorano as a potential witness.
What happened to Lindsay Cyr, played by Dakota Johnson?
In the movie, Cyr, the mother of Bulger's only son, drops from the storyline after the death of their six-year-old.
In truth, Cyr and Bulger started dating when she was 21 and a waitress, and Bulger was 26 and a construction worker. In an exclusive 2010 Globe article, Cyr spoke about Bulger's fatherhood for the first time. Cyr and Bulger broke up around 1980, she said, and after that, "he surprised her on a couple of occasions in the late 1980s and early 1990s by showing up unexpectedly when she needed help or calling.'' After he fled Boston, he called in the middle of the night to let her know. The next time he called was 2002 or 2003.
Since Bulger's arrest in 2011, Cyr publicly announced she supports him.
How old is Bulger supposed to be in the movie?
In the movie, Bulger appears to have the same physical appearance throughout, as the story jumps from the 70s to the 80s and 90s.
"Well it starts in '75,'' said Cullen. "That's one thing I noticed, he looked the same from the beginning of the movie to the end. Supposedly, the movie [covers] a 20-year period. I think Johnny Depp's [character] looks much more like the Whitey in the '90s than he did in the '70s.''
Gallery: Whitey Bulger's old haunts and hangouts.
[bdc-gallery id="117634″]