Movies
The definitive Black Mass superlatives
We classified some of the most noteworthy moments in Johnny Depp's latest undertaking.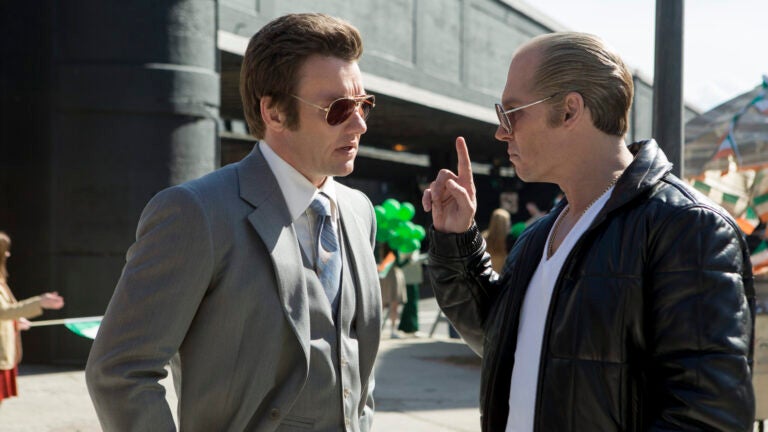 So you saw Black Mass in all its dark and twisted glory, and you, like everyone else, are conflicted in your reaction. Johnny Depp's performance as Whitey Bulger has been characterized as everything from a solid Oscar-caliber to a prosthetics-laden caricature, and even the plot itself is only a segment of Whitey Bulger's real story. Black Mass, as hyped as it was this summer, is a mixed bag for sure.
Here, we revisit the many key moments from the movie, by way of highs and lows.
HIGHS
Funniest One-Liner This one goes to Whitey Bulger. Moments of comic relief don't happen too often in movies about cold-blooded killers, but the one scene with Bulger and Flemmi outside of the police station upon picking up Flemmi's step-daughter Deborah Hussey was funny in a dry way. Bulger and Flemmi are sitting in the car discussing Flemmi's affair he's having with Hussey, but Bulger's tone is super condescending. "She's a prostitute?'' Bulger asks. "Jimmy, you know she's a prostitute,'' says Flemmi. Bulger replies, "Don't assume what I do or do not know.''
Most Bone-Chilling Frame It's kind of a shame that the most ominous scene in Black Mass was put in the very first trailer. It's where Bulger is sitting at John Connolly's dinner table with John Morris, and Morris gives away his family's secret steak recipe. "I was just saying that—'' says Morris, only to be cut off by Bulger. "You were just sayin'? Just sayin' gets people sent away. Just sayin' got me a nine-year stretch in Alcatraz. Do you understand?''
[fragment number=0]
"So just sayin' is gonna get you buried real quick.''
Place Most Likely to Get Murdered In the middle of street, apparently. This happens a few times in the movie, most notably to guys like John Callahan, the president of World Jai Alai, and Brian Halloran, a Winter Hill gang member.
Most WTF Really?! Moment Whitey Bulger wins a $14 million lottery, according to a scene showing an article in the Boston Globe. The best part is that's actually sort of true. We break down what happened here.
Best-Used Accessory The variety of sunglasses in Black Mass is incredibly tremendous. While Bulger sports a number of different aviator styles with colorful, mirrored lenses, his associates are fans of black-rimmed, black-lensed frames. It's really '70s and really modish.
LOWS
Most Inaccurate Boston Saying Flemmi's step-daughter Deborah Hussey, played by Juno Temple, doesn't get much screen time, but the few lines she did have were a combination of endearing and sad. (She plays a 20-something prostitute experimenting with drugs, after all.) In a conversation with Bulger she declares, "This is wicked shit!'' about something cool. Not quite.
Lamest Night Club-Goer Whitey Bulger. For sure. In a scene set in Miami with Bulger, his few associates, and FBI agent John Connolly, all the guys are off bopping around this club having a great time. Then there's Bulger, hovering in a dark corner looking completely out of place. Shudder.
[fragment number=1]
Person with the Worst James Dean Daydream Look in His Eye John Connolly takes the cake here. When he finally shows up at the Angiulos' headquarters in the North End to arrest the Mafia's mob boss, Connolly ducks Angiulo into the police car, then turns and gives a dramatic wink to the press cameras behind him.
Black Mass stars walk the red carpet at Coolidge Corner:
[bdc-gallery id="119866″]