Movies
Should you feel guilty about seeing 'Black Mass'?
The movie about James "Whitey'' Bulger gets decent reviews, but is watching it a rebuke to the very real victims of the notorious Boston gangster?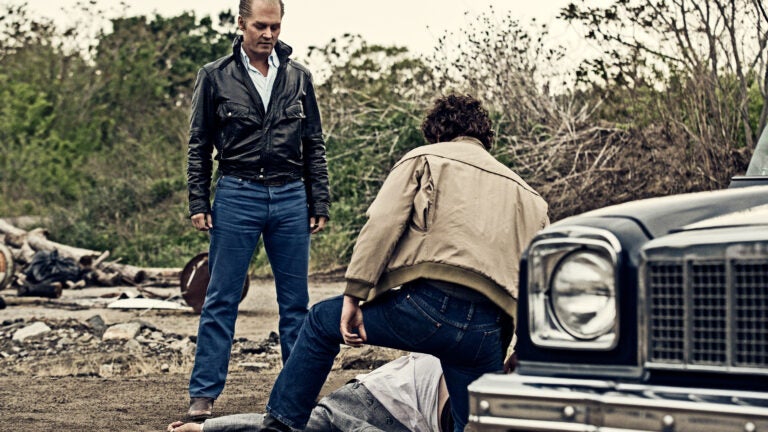 Finding out that one of my all-time favorite books was being made into a movie, I was intrigued.
After James "Whitey'' Bulger was captured in July 2011, I loaned "Black Mass'' from the library and devoured the story of Bulger's violence, his protection by the FBI, and the inability to bring him to justice as a result. I ate up the trial coverage, read the books about his capture, and clicked on stories about his occasional odd outreaches from a Florida federal prison.
But now that it's time to actually see the movie starring Johnny Depp as the blue-eyed mobster, I'm conflicted. Is the two hours and $12.75 I'll spend to watch Black Mass a slap in the face to the very real people whose family members' deaths are depicted on screen?
Steve Davis isn't going to tell me what to do. It's not his place, he said. His sister, Debra Davis, was 26 when she was killed in 1981, allegedly at the hands of Bulger and his partner, Steve Flemmi. (A jury came back with "no finding'' in her death.)
"People are going to see what they want to see,'' he said. "It didn't affect them, so to them, it's just a movie. It's just watching something.''
Still, "if they were true Bostonians, they'd think about boycotting it,'' he said.
[fragment number=0]
Davis said Black Mass is kind of like the Al Capone movies he's watched and enjoyed. But in those movies, the survivors of the mobster's victims are long gone, the films made several generations removed from Capone's terror.
"I'm in the shoes of one of the victims,'' he said. "One of the victim families. That was my sister. It's real.''
The authors of "Black Mass'' the book — former Boston Globe reporters Gerald O'Neill and Dick Lehr — both said the movie doesn't dignify Bulger or his legend.
O'Neill: It certainly doesn't glorify him. I think Boston will embrace it.

Lehr: I, like a lot of people, had concerns that they may sanitize Whitey in order to make it palatable in Hollywood or glamorize Whitey. Yeah, I had concerns about that. But director Scott Cooper did not back away from the horror that is Whitey Bulger in any way.
It could seem that just by making a movie about Bulger, it glorifies him. But Paul Schneider, chairman of Boston University's film and television department, said films are made about evil people all the time without condoning their violence. Consider the many films made about Adolf Hitler.
"I don't think people want to stop making movies about those sorts of people just because, in a sense, even by making the movie, you're sort of enhancing the legend,'' he said. "That's only true from the outside.''
Even from the outside, the film and its actors have stung some of the family members. Davis and others were incensed after Depp's comments about Bulger having "a kind heart in there.'' Davis said Depp made a fool of himself.
"I think he just made up a character,'' he said. "He doesn't even know what's really going on.''
Tom Foley doesn't plan on seeing the film. The retired Massachusetts State Police Colonel led the Bulger investigation and was frustrated again and again by the FBI's protection of their prize informant.
He knows the film is just entertainment, but as someone who lived through Bulger's actions, he has no interest in it.
"This guy is an egomaniac,'' he said. "He's a homicidal serial killer and he enjoys this type of attention, so I'd like to just see him spend the rest of his days in prison with no kind of notoriety at all.''
The Bulger he knows is sitting in his central Florida prison cell thrilled with the attention the film — and the real life Bulger — is getting.
"He's a sociopath,'' Foley said. "This is something he wanted.''
Boston today is different than the city Bulger ruled, Davis said. People don't remember what it was like, they don't know Davis and the other victim families by name like some of the old timers. The streets of Boston then, Davis said, "were like a battle.''
"The newcomers don't know,'' he said. "They're just going to see a movie that was out of Boston.''
Davis knows those moviegoers are just looking for a fun Friday night, but as they munch their popcorn in the theater's stadium seating, he also wants them to consider the very real people depicted onscreen.
"Think of the hurt and pain the families have gone through over 30-something years,'' he said. "Would they like to be sitting in our seat?''
Who plays who in Black Mass:
[bdc-gallery id="108912″]