Movies
The story behind the most disturbing conversation in Spotlight
The real Sacha Pfeiffer and the movie's co-writer Josh Singer give insight on the case of Father Paquin.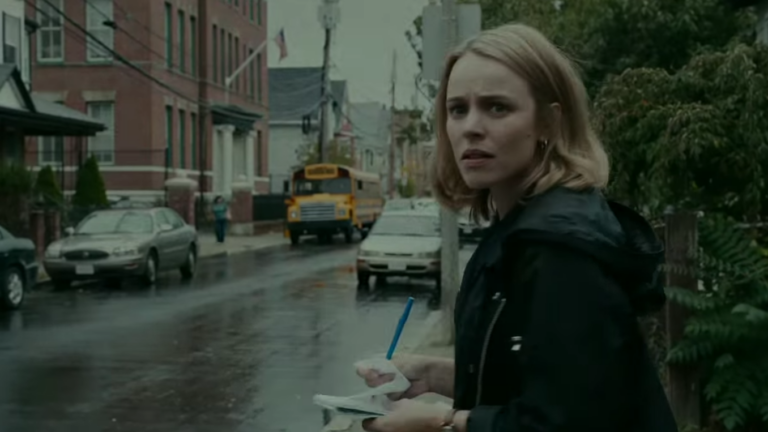 Spotlight doesn't give too much screen time to accused priests. The movie is, at its core, much more about the value of investigative journalism and the reporters who tell the stories.
Then again, an extraordinarily memorable scene in the film does involve one particular clergy member: Father Ronald H. Paquin.
As the Spotlight reporters set out on foot in search of their story, approaching the homes of priests, victims, and anyone who'd be willing to talk, Sacha Pfeiffer, played by Rachel McAdams, ends up on the doorstep of Paquin's home. When he answers the door, she's visibly staggered (because it's him? because of how he looks? because she's shocked at her own investigative skills?).
Pfeiffer, who discloses that she's a Globe reporter, doesn't hesitate to ask Paquin right on his front porch for his response to accusations that he's molested children.
"I fooled around,'' Paquin says. "But I never raped anyone and I never felt gratified myself.''
Then Paquin's sister appears and quickly shoos Pfeiffer away.
Pfeiffer later tells her editor, Walter "Robby'' Robinson, that she'd like to do some more digging into Paquin. But, perhaps to the audience's disappointment, that's the last the viewer will see or hear of him.
"I think, first of all, it reminded me of the importance of a door knock,'' the real Sacha Pfeiffer said of the experience with Paquin.
"The other thing that was so striking about that was, on paper, these priests [tend] to look like monsters,'' Pfeiffer continued. "But then [Paquin] answers the door, and he's this kind looking old man, and I think it speaks to how troubled and disturbed some of these priests were.''
In fact, that whole scene happened similarly in real life. Pfeiffer did indeed investigate Paquin's case further in many follow-up reports over the course of 2002 into early 2003. And Paquin's dialogue in the movie was taken directly from Pfeiffer and Globe reporter Steve Kurkjian's first report on Paquin.
"You can't make that up, right?'' said Josh Singer, co-writer of Spotlight. "'Fooling around with boys,' 'Never gratified myself' — you can't make that up. In fact, that language is so startling and I think gives you a sense of what kind of folks these abusers are and were.''
Singer said the reason Paquin's case was not revisited in the film is because, quite frankly, the writers had two hours to tell the story of Spotlight, and so parts of it had to be sacrificed.
"Tom [McCarthy, director and co-writer] and I did talk,'' Singer said. "Did we need to come back to it? I think the idea here is to show the investigation that led to the beginning. But this story goes on and on and on. We've been saying it's not a period piece.''
It is a jarring scene that emerges above others, leaving you disturbed and hoping to learn more. And, most of all, it's one of the few moments in the movie that briefly touches on the psychology of the priests and the motives behind their crimes.
"I think the hardest question to answer is why they did it,'' Pfeiffer said. "I think the answer is probably different in different cases.'' She cited some theories, including the effects of celibacy, from Richard Sipe, a scholar of clergy sex abuse who's also referenced in the movie.
Ultimately, though, Paquin's motive and those of the other guilty priests aren't the point of the film. The movie is here to tell the story of the people who told the story, the journalists who did that door-knocking.
"When you have powerful, beloved institutions, it's possible it can be too powerful or too beloved for people to want to ask them questions,'' Pfeiffer said. "And I think you have to.''
Who's who in Spotlight:
[bdc-gallery id="143326″]