Movies
Spotlight gets big awards from Boston critics; Black Mass falls short
And the winners are…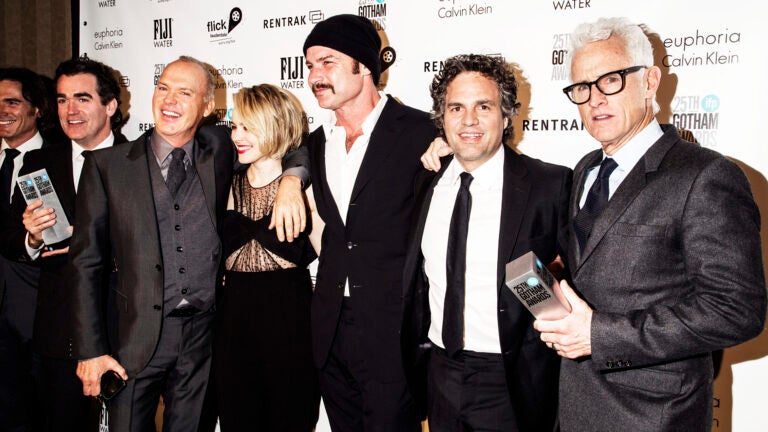 Ah, yes, you smell that, right? That, friends, is Oscars buzz, and it is in the air. With awards season just around the corner, groups of critics in most major cities are picking their winners from this year's collection of movies.
Among those is the Boston Society of Film Critics (BSFC), which released their choices this past weekend. Spotlight, the movie about The Boston Globe reporters who uncovered years of clergy sex abuse and cover-up in the Catholic Church, came out on top in several categories, including Best Picture (unsurprisingly, based on the movie's reviews).
The film also recently earned awards from the New York Film Critics Circle (Michael Keaton for Best Actor) and the Los Angeles Film Critics Association (Best Picture, Best Screenplay).
Other BSFC winners included Amy, the intimate look at the late singer/songwriter Amy Winehouse, for Best Documentary, Mad Max: Fury Road for Best Film Editing, and Inside Out, tied with Anomalisa, for Best Animated Film.
Of course, Boston itself was at the center of not one, but two big movies with 2015 award-season potential. While Spotlight got major nods from the BSFC, the Whitey Bulger bio-pic Black Mass starring Johnny Depp — which had early Oscar potential — didn't get love at all.
Below, see the full list of BSFC's winners:
Best Picture:Spotlight Best Actor: (tie) Paul Dano for Love & Mercy and Leonardo DiCaprio for The Revenant Best Actress: Charlotte Rampling for 45 Years Best Supporting Actor: Mark Rylance for Bridge of Spies Best Supporting Actress: Kristen Stewart for Clouds of Sils Maria Best Director: Todd Haynes for Carol Best Screenplay: Tom McCarthy and Josh Singer for SpotlightBest Cinematography: Edward Lachman for CarolBest Documentary: AmyBest Foreign-Language Film: The Look of Silence Best Animated Film: (tie) Anomalisa and Inside Out Best Film Editing: Margaret Sixel for Mad Max: Fury Road Best New Filmmaker: Marielle Heller for The Diary of a Teenage Girl Best Ensemble Cast: SpotlightBest Use of Music in a Film: Love & Mercy
Boston accents in movies, ranked:
[bdc-gallery id="113189″]