Movies
Leonardo DiCaprio didn't star in Good Will Hunting thanks to Sylvester Stallone
How do you like dem casting apples?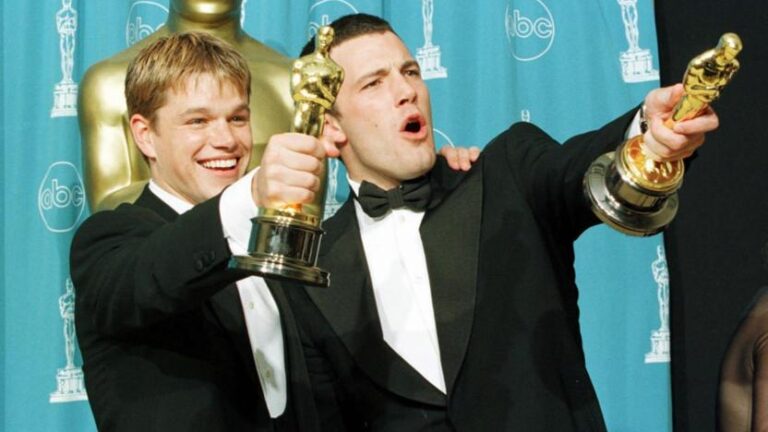 It's hard to picture anyone other than Matt Damon playing the role of genius janitor Will Hunting in Good Will Hunting. But according to Damon, the role could have easily gone to Leonardo DiCaprio — if it weren't for Sylvester Stallone.
During his acceptance speech for the Best Actor award at the National Board of Review Awards Tuesday night, Damon made a point to thank Stallone (who won Best Supporting Actor for his role in Creed) for inspiring him to push studio executives for a starring role in his own screenplay, just like Stallone did with Rocky.
"Believe me, they really wanted to take it away from us,'' Damon said, according to Vanity Fair. "They were like, 'God, Leonardo DiCaprio would be so good in this.'''
"Every time they said, 'You can't do this,' we said, 'Actually it's been done once before,''' Damon continued. "[Sylvester Stallone's] story changed my life. He had an incredible amount of courage, and he changed the course of our lives.''
When Stallone met with movie executives about his screenplay for Rocky, they wanted to have a big name like Robert Redford or Burt Reynolds star. But Stallone, who said in an interview with Today that he had $106 in his bank account at the time, turned down $300,000 for the rights to Rocky.
Damon and Affleck, on the other hand, went to director Kevin Smith, who convinced Miramax executive Harvey Weinstein to buy Good Will Hunting from Castle Rock Entertainment, who weren't going to let Damon and Affleck star.
Needless to say, Damon and Stallone's huge gambles on their own talent paid off in a big way.
[h/t Boston Magazine]
The many haircuts of Matt Damon characters:
[bdc-gallery id="530783″]