Movies
A Boston Children's Hospital doctor on seeing himself portrayed in a Jennifer Garner movie
Dr. Samuel Nurko treated a little girl named Annabel Beam. Now her story is being told in Miracles from Heaven.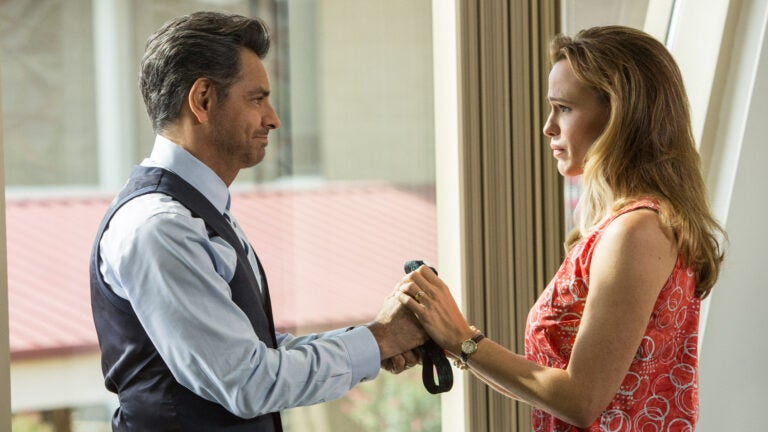 When Dr. Samuel Nurko of Boston Children's Hospital first heard he was going to be portrayed in a movie, he had a genuinely humble response.
"You're always surprised when your life work makes it into a major book or a major motion picture," Nurko said. "Just by doing my daily work."
The thing is, Nurko's "daily work" is not really the typical nine-to-five. He is a specialist in gastroenterology, hepatology, and nutrition (read: the digestive system), and is the director of the Center for Motility and Functional Gastrointestinal Disorders. Some of the sickest children in the nation are his patients. And one of them had a story so extraordinary, it caught the attention of Jennifer Garner.
Annabel Beam, a little girl from Texas, was 5 years old when her family brought her to Boston to see Nurko in 2009. She was suffering from an illness that doctors at home couldn't seem to pinpoint, one that was causing intense stomach pains. Beam's family sought out Nurko for a second opinion, and he diagnosed the little girl with pseudo-obstruction, a rare and incurable digestive disorder.
But Annabel's story has an uplifting twist. As recounted in Christy Beam's — Annabel's mom's — memoir, Miracles from Heaven, after a near-death fall from a tree back at her home in Texas, in the words of Nurko, something changed "in the way the brain and intestine were interacting that allowed [Annabel] to be able to be better."
Now Miracles from Heaven is being told on the silver screen, with Garner starring as Christy Beam.
"I think the director did an awesome job … trying to understand that medical issues are hard to portray," Nurko said. "I think it really captured the suffering and everything that was happening to them."
The film hit theaters March 16, and when it premiered locally at the Showcase Superlux in Chestnut Hill, Nurko got to walk the red carpet right alongside Garner.
Nurko didn't have any part in writing Beam's memoir or the screenplay, but he did read parts of the film script and had the opportunity to give his medical insight to the screenwriters. Together, they spent a lot of time talking about Nurko's medical care.
When it came to his character, Nurko said the actor who portrayed him, Eugenio Derbez, did an "awesome job." Moreover, Nurko said he was proud to see that his real-life personality comes across in the film.
"I tend to break the ice and give the families comfort just by playing with the kids and having some humor," he said.
Even his wardrobe is accurate in the movie.
"I do wear those ties," Nurko said. "[People] always say, 'You think the children are the ones that love the ties more?' No, it's the parents."
Ultimately, Nurko said, Miracles is a movie about something he finds important: "being an advocate for your child." Boston Children's Hospital treats "the sickest of the sickest," he said.
"The movie is about realizing that day-to-day miracles happen all around us. … The movie is about hope."