Movies
Mark Wahlberg poses in uniform with Quincy Police Department on Patriots' Day set
He took time to sign a woman's Boston Marathon jacket, too.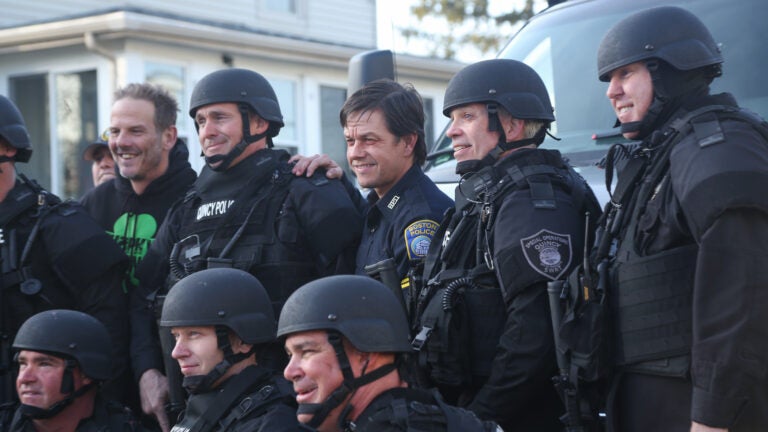 For the second consecutive day on Wednesday, filmmakers for Patriots' Day, the Mark Walhberg-produced movie about the Boston Marathon bombings, shot scenes in Quincy, including a portrayal of SWAT team members approaching homes, reminiscent of the door-to-door searches in Watertown on April 19, 2013.
After shooting the dramatic scene, Wahlberg and director Peter Berg took a break to pose for photos with the SWAT team members, who are real members of the Quincy Police Department.
"We were honored to work with the Quincy Police Department and their SWAT team today in Quincy," Berg said in a statement. "We look forward to working with the police departments in each of the communities where we'll be filming over the next several weeks."
In February, filmmakers were denied requests to shoot scenes in Watertown, where the firefight between law enforcement and the Tsarnaev brothers took place. (In March, the filmmakers were also denied a request to shoot at UMass Dartmouth, where convicted bomber Dzhokhar Tsarnaev was a student at the time of the bombings.)
After posing with the officers, Wahlberg signed the 2015 Boston Marathon jacket of Emily Hannon, 23, of Quincy.
Actors John Goodman, Michelle Monaghan, J.K. Simmons, Vincent Curatola, and James Colby will also appear in the movie with Walhberg, who will star as a composite police officer named Sgt. Tommy Saunders who investigates the bombings.
Patriots' Day will land in Boston theaters on December 21.
See more moments from the Patriots' Day set:
[bdc-gallery id="581699″]