Movies
4 Boston movies that are all about budding romance
From Good Will Hunting to Next Stop Wonderland, watch love blossom.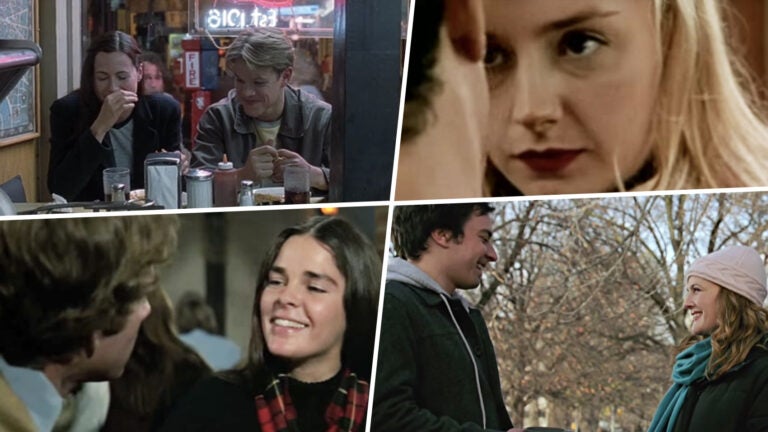 Ah, spring. Dew, sunshine, pollen, and even—do ya feel that?—love are all in the air. When the flowers begin to blossom—and patio bars begin to open—the likelihood of meeting someone new in Boston increase exponentially.
As the last of the cold air begins to phase out, we figured it'd be a good idea to count down some cinematic instances of new love blossoming in our fair city. Here, a compilation of clips from Boston-centric movies to inspire you in spring. Love will prosper!
"I like your body." (Love Story, 1970)
Erich Segal's Love Story has a star-crossed pair from two ends of the social spectrum meeting and falling in love, only for all of it to end tragically.
It's all very Romeo & Juliet, except Verona was traded for Harvard. In this clip, Jenny (Ali MacGraw) and Oliver (Ryan O'Neal) first meet at the university's library—bickering, of course, because what great love stories don't start with one pulling another's pigtails? When they make it to the coffee shop for a date, Jenny picks on Oliver for being apart of one of Harvard's affluential families. He asks her, "If you think I'm such a loser, why did you bulldoze me into buying you coffee?" Jenny's response: "I like your body." Except it's not creepy. (Just watch it.)
"Will you go to opening day with me?" (Fever Pitch, 2005)
Does new love trump sports love? It's a very real conflict Fever Pitch.
Above, Ben (Jimmy Fallon) attempts to fuse two big parts of his life—his girlfriend Lindsey (Drew Barrymore) and the Red Sox —into one giant love. So he proposes…to take Lindsey to opening day.
*Finds soulmate on the MBTA* (Next Stop Wonderland, 1998)
Only in movies do people ever fall in love on the subway—or in this case, the T. In Next Stop Wonderland, Erin (Hope Davis) is dumped, and has to put up with dudes pining after her when her mom puts a singles ad for her in the Herald. Next comes Alan (Alan Gelfant), a plumber with zero time for romance. They each have their own hardships, but manage to find the other when they collide on a crowded T ride to Wonderland (as seen at the end of this trailer).
"I think I got some of your pickle." (Good Will Hunting, 1997)
If we're ranking Good Will Hunting's iconic moments in the romance sector, "How do you like them apples?" might be up there. (He's talking about getting his eventual girlfriend's number—it counts, dammit.) But this scene, when Will (Matt Damon) and Skylar (Minnie Driver)—or should we say Sky-lah?—are on their first date in Harvard Square, is reminiscent of a time well before the Internet when people would meet dating prospects—gasp!—organically. Also, how cute/gross are they kissing mid bite-of-burger at the Tasty? "I think I got some of your pickle," says Skylar. Swoon/cringe.