Movies
Critics can't decide if they love or hate 'Ghostbusters'
While 'Entertainment Weekly' called it "too safe," 'Time' called it "modern and vital."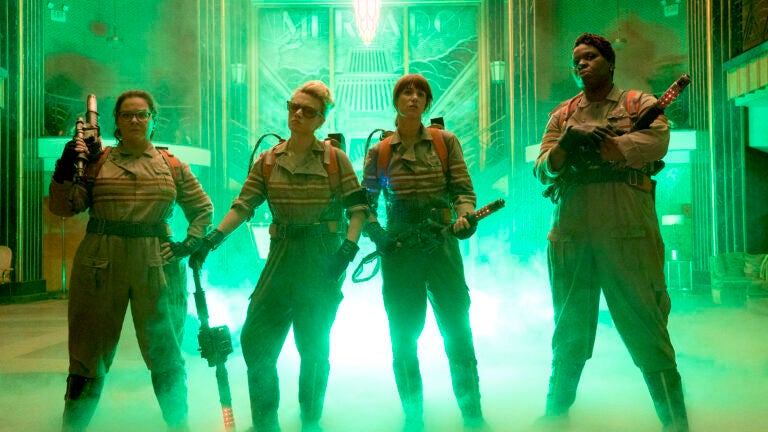 The Ghostbusters reboot is haunted. It's haunted, of course, by literal ghosts, but also by unrelenting naysayers. Even as far back as when the project was announced in 2014, many loyal Ghostbusters fans had a hard time accepting that Hollywood would even touch the beloved piece from their youth, nevermind put women in the lead roles for a remake.
But prevail, the reboot did. Director Paul Feig and the clan playing the new paranormal investigators — Leslie Jones, Melissa McCarthy, Kate McKinnon, and Kristen Wiig — came to Boston to shoot the film last summer. Since then, they've faced a lot of haters (who particularly came out of the woodwork when the trailer was released in April).
Now, the movie is nearly here — hitting theaters nationwide this Friday — and it's finally time for critics to cast their opinions after seeing the film in entirety. As of this article's publication, the comedy's rating on Rotten Tomatoes was 75 percent. And the reviews are a complete mixed bag.
While these critics weren't fans…
The Hollywood Reporter's David Rooney said Ghostbusters has "no juice":
Short on both humor and tension, the spook encounters are rote collisions with vaporous CG specters that escalate into an uninvolving supernatural cataclysm unleashed upon New York's Times Square. It's all busy-ness, noise and chaos, with zero thrills and very little sustainable comic buoyancy.
Chris Nashawaty of Entertainment Weekly gave the movie a C+, calling it "too safe":
But with a cast as daring and quick as this one, Ghostbusters is too mild and plays it too safe. Somewhere, I bet, there's an R-rated director's cut of the movie where these women really let it rip. I want to see that movie.
Variety's Peter Debruge wrote that the remake fails to "establish its own identity":
While both funnier and scarier than Ivan Reitman's 1984 original, this otherwise over-familiar remake from Bridesmaids director Paul Feig doesn't do nearly enough to innovate on what has come before, even going so far as to conjure most of the earlier film's cast (including Slimer and the Stay Puft Marshmallow Man) in cameos that undercut the new film's chemistry.
Richard Lawson of Vanity Fair called Ghostbusters a "flat, occasionally charming disappointment":
[Feig] is overly concerned with plot, the film hurrying through reveals and exposition on its way toward an ending that feels like Feig saying, "There! I did it." … There are so many nods to the original—fan service cues for applause—peppered throughout the new Ghostbusters, but all they really accomplish is making the viewer long for the old movie, with its weird verve and sparks of ingenuity.
…these critics gave Ghostbusters a thumbs up.
Manhola Dargis of The New York Times praised the cast's "real comedy chemistry":
It's at once satisfyingly familiar and satisfyingly different, kind of like a new production of Macbeth or a Christopher Nolan rethink of Batman. As it turns out, the original Ghostbusters is one of those durable pop entertainments that can support the weight of not only a lesser follow-up (the 1989 sequel Ghostbusters II), but also a gender redo. That the new movie stars four women is a kind of gimmick, of course, but it's one that the filmmakers and the excellent cast deepen with real comedy chemistry and emotionally fleshed-out performances, particularly from Ms. McCarthy and Ms. Wiig, who are playing old-friends-turned-sort-of foes who need to work some stuff out.
The Daily Beast's Jen Yamato applauded McKinnon's performance:
McKinnon's Holtzmann, meanwhile, is the secret weapon of this Ghostbusters. Aside from spewing rapid-fire technical jargon as the team's resident eccentric gearhead, McKinnon oozes visceral charisma with the swagger—sans the womanizing douchiness—of Murray's Venkman. … Hemsworth might be the beefcake on paper but it's McKinnon who'll leave moviegoers crushing.
Time's Stephanie Zacharek called Ghostbusters "modern and vital":
The movie glows with vitality, thanks largely to the performers, who revel in one another's company, and not in a self-congratulatory, Ocean's Twelve-style, "We're awesome movie stars, together" way. … When the heroines take time out from their heavy-duty citizen-saving for an impromptu Patrick Swayze reverie, they're inviting us right into the crystalline goofiness of the moment.