Movies
Marathon bombings movie 'Stronger' gets an official release date
It looks like Lionsgate may be setting the film up for awards season.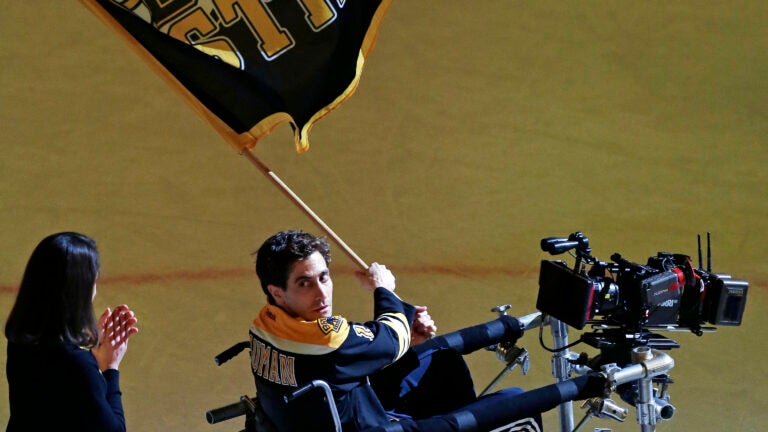 Stronger, the upcoming film chronicling the story of Boston Marathon bombings survivor Jeff Bauman, has an official release date.
The film, which stars Jake Gyllenhaal as Bauman and Tatiana Maslany as Bauman's then-girlfriend Erin Hurley, will hit theaters Sept. 22, according to Variety.
The September release date suggests that Lionsgate may consider Stronger as an awards season contender. Fall is typically when studios start to pivot away from big-budget blockbuster offerings and begin to release their Oscar hopefuls. Battle of the Sexes, the biopic starring Emma Stone and Acton native Steve Carell as tennis players Billie Jean King and Bobby Riggs, respectively, is also set to hit theaters that day.
Gyllenhaal and Maslany shot scenes throughout the Boston area during the spring of 2016 around the same time as Mark Wahlberg's Boston Marathon bombings movie, Patriots Day. In April 2016, Gyllenhaal filmed a scene at a Bruins game, reenacting the moment when Bauman took the ice waving a Boston Strong flag before a Bruins playoff game on May 4, 2013. Stronger, directed by David Gordon Green and produced by Lionsgate's Summit Entertainment, wrapped in June 2016.
In 2013, Bauman lost both of his legs at the Boston Marathon finish line while waiting for Hurley to finish the race. Stronger is based on Bauman's autobiography of the same name, which recounts both the immediate aftermath of the bombings and Bauman's long road to recovery.
In February, a spokesperson for Bauman and Hurley announced that the couple, who married in 2014, were getting a divorce.