Boston Globe
George Clooney talks about directing Matt Damon. In short, it was a lot of fun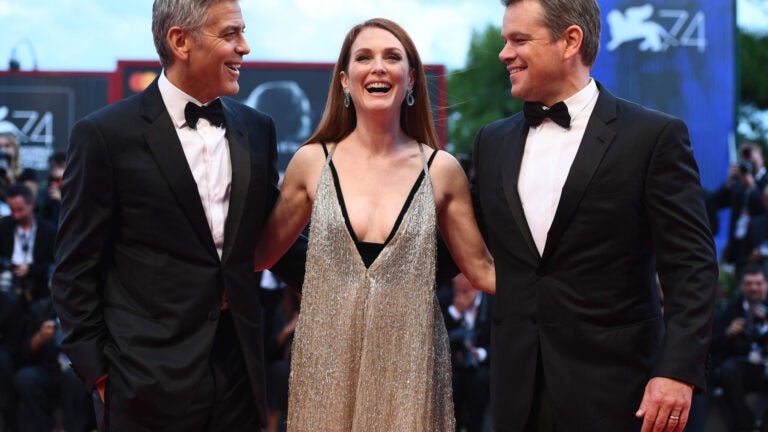 TORONTO — Matt Damon comes in two sizes at this year's Toronto International Film Festival: regular and miniature. In "Suburbicon,'' he plays a seemingly clean-cut 1950s family man with a troublesome dark side, and in "Downsizing'' he shrinks to 5 inches tall as part of an experiment in population control.
Of course at any size Damon is a big screen asset. Just ask his pal George Clooney, who directed "Suburbicon'' and co-wrote the screenplay with frequent collaborator Grant Heslov from an idea first drafted by the Coen brothers. Clooney didn't just offer the lead role to Damon, a friend since they worked together in "Ocean's Eleven''; he moved filming to Los Angeles when the star at first turned him down to spend time at home.
Why was the casting so critical?
"Matt is an everyman,'' Clooney said in an interview on Friday, day two of the festival that runs through Sept. 17. "He's very sneaky how talented he is as an actor. . . . You don't see him sweat at all.
"He's also eminently watchable. And, quite honestly, he's great to work with. . . . I've done the crappy films and I've done films with crappy people. That's really true. And sometimes those films ended up being good but it wasn't worth the life hell of doing it.''
Clooney's latest social satire has received mixed reviews since debuting in Venice earlier this month. It's over-burnished and tonally challenged, as charged, but it's also as scathing as it is cockeyed, with echoes of "Fargo'' and "A Serious Man.'' Damon hasn't been this creepy since "The Talented Mr. Ripley,'' and he's never been more unlikable.
Then there's "Downsizing,'' yet another thoughtfully quirky movie from writer-director Alexander Payne ("Nebraska,'' "Sideways,'' "About Schmidt''). If you've ever wondered what life would be like if you lived inside your kid's dollhouse and your whole city was the size of your current backyard, only modeled after Mar-a-Lago, the first half of this movie will delight you. But soon it turns bleaker, because the planet is doomed, and whether or not you buy it, the end result probably won't be anything you were expecting.
Toronto is like that this time of year.
First impressions of "Stronger''
"Stronger,'' directed by David Gordon Green and starring Jake Gyllenhaal as Jeff Bauman, premiered Friday night at TIFF. Ty Burr will weigh in with a fuller critical assessment soon, but I'd be very happy if I never see another dramatization of the Boston Marathon bombing, and happier still if Hollywood would stop portraying Boston families as crass, brash, under-evolved, self-promoting loons. Bauman, like all of the bombing survivors and first responders, is a true inspiration. Just about everything else in this movie rings false.