Boston film experts on the legacy of 'Good Will Hunting' 20 years later
The film turns 20 on Dec. 5, so we asked local film experts for their thoughts on the movie about the MIT janitor.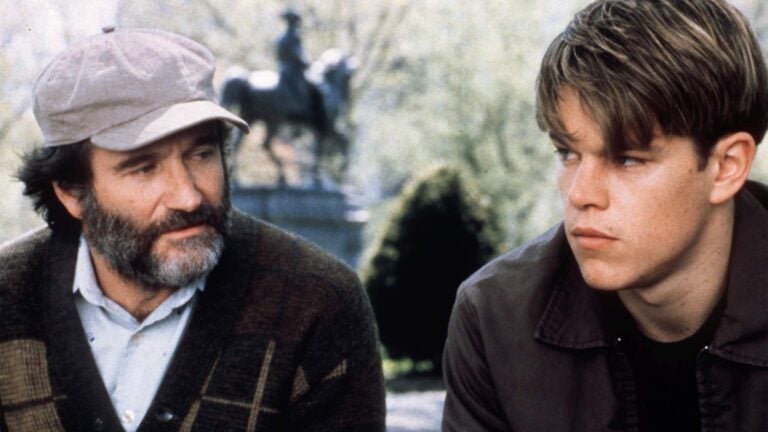 Twenty years ago Tuesday, Good Will Hunting, a film written by and starring two relatively unknown actors named Ben Affleck and Matt Damon, hit theaters in New York City and Los Angeles before it expanded nationwide on Jan. 8, 1998. The film went on to be nominated for nine Academy Awards and won two: Best Supporting Actor for the late actor Robin Williams and Best Screenplay Written Directly for the Screen for Affleck and Damon.
In the 20 years since, a lot has changed. Affleck and Damon, who were 25 and 27, respectively, when the film came out, are bonafide A-list stars who have built sustainable careers and now have families. Casey Affleck, a supporting player in the film and Affleck's younger brother, is an Oscar winner.
The film also resurfaced in recent months due to a torrent of sexual harassment and assault accusations against its executive producer, Harvey Weinstein, as well as the alleged sexual misconduct of both Ben and Casey Affleck.
The lives of average Bostonians were also affected by the film, as their hometown's identity was shaped by Hollywood's sudden fascination with Southie — or, at least, a very specific version of Southie. Without Good Will Hunting, would The Departed or Mystic River have been what they are? Would SNL sketches like Jimmy Fallon and Rachel Dratch's Boston Teens or Casey Affleck's Dunkin' Donuts commercial parody exist? 
In order to take stock of Good Will Hunting at 20, we asked five Boston film experts for their impressions of the film, both past and present. 
(Note: These interviews have been condensed and edited for clarity.)
Brian Tamm
Executive director of the Independent Film Festival — Boston
"I caught Good Will Hunting on cable maybe a year or so ago, and the thing that struck me the most is how different Harvard Square is now. It's this great time capsule of what Boston was back then. It's sort of the same thing with The Friends of Eddie Coyle, which shows how different Boston was in the '70s, and I think we're now far enough from Good Will Hunting to see how different Boston is. As a local, you can watch the film and say, 'Oh! I remember that.' There's a bittersweet quality to it, seeing the Boston that no longer is.
"The idea of Boston being a character or location, with the exception of Eddie Coyle, I feel like that really started to happen either around the time of Good Will Hunting or starting with Good Will Hunting. It gave Hollywood a reason to say, 'Oh, we don't have to set this up to look like New York; there are some real Boston stories.' I think The Departed is a perfect example. It's a remake of a Hong Kong movie, and it could have been shot anywhere, but it was put here, and the mythology of Whitey Bulger was intertwined in it. I don't know if that would have happened prior to Good Will Hunting, to think of Boston as a place like that.
"It's become an iconic city in the way that New York was in the '70s. People who aren't from here may not totally understand what Boston is, but because of these movies, they have this mythology of what Boston means in the grander scheme of things. And I think that's something that Good Will Hunting started to bring out."
Loren King
Member and former president of the Boston Society of Film Critics, and freelance film writer 
"Good Will Hunting is a very good movie. But I think the problems I had with Good Will Hunting back then are the same problems I have with it now. It has nothing to do with the film itself — I think it's very well done and I watch it when it shows up TV. But it's very much a young man's movie. It was in its time and still is, and that's what's frustrating.
"To me, that movie never would have gotten made if it wasn't two good-looking white young men who were destined for stardom. Where are the stories that are not being told? Where's the Good Will Hunting about two young working-class women? Where's the Good Will Hunting about two black kids in Roxbury? Those films are being made, but they're not getting the awards and attention — well, Moonlight finally did last year. Good Will Hunting is a very good movie, but it's still emblematic of what's wrong with the whole entertainment industry. We're only hearing some stories be told, and that's still the case 20 years later.
"Southie is a rich area for stories being told, even within the crime genre. But at the same time, all those stories are very male-centric. All of them. Good Will Hunting, right through Black Mass, The Departed — all the women in those movies are supporting characters, they serve the central male figure. There was a movie set in Boston called Lift that starred Kerry Washington before she was Kerry Washington in 2001 that was very good. But it's a tiny movie that never got the attention it deserved. And there's a reason for that. If Lift was brought to Harvey Weinstein, it probably wouldn't have gotten made. If there was a movie brought by two African-American writers or two women writers who had a story about their lives, it wouldn't have been made, because they're not even being made now. That's where my frustration lies.
"Damon and Affleck went on to great careers, and I don't begrudge them at all for that. Good for them. But they had a path that was made much easier because of their gender and their ethnicity. Not to mention they're both very good-looking, which has a ton to do with it. That's my complaint. It follows a trajectory that hasn't changed. Maybe someday it will, maybe it won't."
Matt Juul
Features/entertainment editor for Metro Boston
"I think Good Will Hunting has a more romantic view of the city than those other Boston crime movies. If you're talking a list of the most Boston movies ever, Good Will Hunting is number one or number two along with The Departed for most people. The Departed is very violent, and highlights some of the clichés associated with the city. But when you look at Good Will Hunting, it gives people that feeling of hometown pride. 'Boston Strong' came around well after Good Will Hunting came out, but I think it captures that same feeling, in a way.
"I think when people look back at the film, it's hard not to think about Harvey Weinstein, even if he was behind the scenes instead of in front of the camera. My girlfriend and I were watching an episode of Project Runway recently, and as the credits rolled, there was Harvey Weinstein's name. He had his tentacles everywhere.
"Now, when you hit the credits and see his name in Good Will Hunting, you might flinch a little. But I don't think the legacy of Good Will Hunting is changed by Weinstein. People will remember it for its performances and writing and how it portrayed the city of Boston. People from Boston will think about that hometown pride they get when they watch it."
Denny Kennedy
Host of Mission 250 podcast
"I've lived in the Boston area for about 10 years or so, and I've moved to a lot of different neighborhoods, but when you move to Southie it feels different. North End, Davis Square, Brookline, Allston — Southie is just different. It feels like an exclusive thing. You don't really have Davis Square pride. But there is a ton of Southie pride, and Good Will Hunting really captured that.
"Obviously I didn't live there when they made the movie, but I feel like the neighborhood is spot-on. That's easy to do when you shoot there, I guess, but the old, rickety, triple deckers that are scattered throughout Southie feel just like the film. Whenever Ben Affleck walks up to the door to pick up Matt Damon every day, that porch is everybody's porch in Southie. If you walk through the neighborhood, it still has that vibe.
"I didn't grow up in Boston. I grew up in Western Massachusetts, so I saw Good Will Hunting before I was familiar with the city. But a lot of my view of Boston was influenced by that film. Whenever I see a Southie house, I think of the movie, because it was the first time I ever saw something like that. Same with the Public Garden. Even if you get familiar with a place and hang out with your friends and make new memories there, it will always be that movie from 20 years ago in your mind."
Sean Burns
Staff Writer for WBUR's The ARTery
"I just watched Good Will Hunting pretty recently. I still think it's very good, but that was the beginning of the Boston white working class as a character. … You stopped seeing the salt of the earth Southerners. It also created this ridiculous caricature that only two guys from Cambridge could write.
"The thing with these Miramax movies, a lot of them got made in spite of Harvey, not because of him. He had a real eye for talent, and then he would just constantly butt heads with them. It got to the point where no one wanted to work with him, for other reasons as well. He was constantly mutilating these films. When you watch movies from that era, you don't go, 'Oh, there's a Harvey Weinstein film.' The stuff he did were these bloated epics like Cold Mountain that ended up bankrupting that company. I don't really associate him with Good Will Hunting so much as I watch the film and say, 'That's a film written by actors.' … You look at every role — everybody gets their big monologue, their show-stopping piece. It's how you write a script when you want to get big actors. You have Robin Williams on the bench, Minnie Driver talking about her dad — everyone gets their Oscar clip.
"I was surprised how much I enjoyed [Good Will Hunting] when I watched it again. I had just come back from college when it came out, and I was so sick of it. I had gone to film school, and everyone at home was like, 'Why didn't you write a screenplay like those two construction workers?'
"Good Will Hunting was out for so long when it first came out. I was working at the Kendall Theater in May 1998, and Matt Damon came in to see a movie with some of his friends. Everyone was freaking out, and I looked up at him from the box office and said, 'Please don't tell me you're coming to see Good Will Hunting.'"
Loading...