Movies
Ethan Hawke to visit Coolidge Corner Theatre in September
Hawke will introduce his latest directorial endeavor, "Blaze,'' and participate in a Q&A after the film.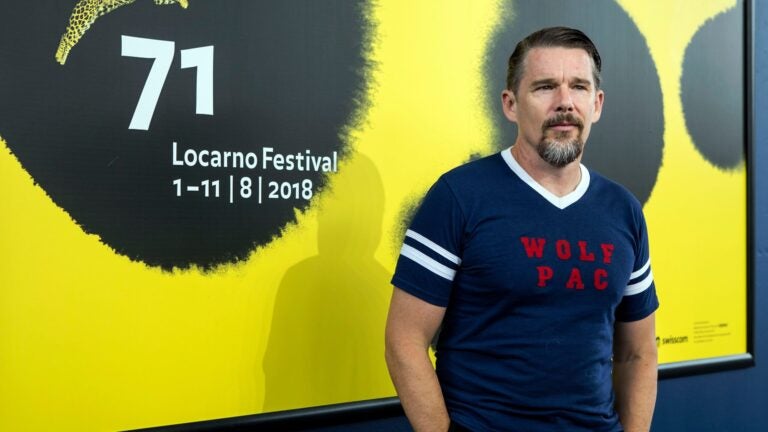 Fans of Ethan Hawke should mark their calendars: The award-winning actor, writer, and director will visit the Coolidge Corner Theatre in Brookline for the theater's premiere of his latest directorial endeavor, "Blaze.''
The Coolidge announced Tuesday that Hawke will attend the Sept. 21 screening to introduce the film based on the life of singer-songwriter Blaze Foley, a lesser-known contributor to the Texas outlaw music movement. Hawke will also participate in a Q&A after the film, which debuted at the Sundance Film Festival earlier this year.
The film stars actor and musician Ben Dickey in the titular role, for which Dickey won the Special Jury Award for Achievement in Acting at Sundance. Alia Shawkat costars as Foley's wife Sybil Rosen, who co-wrote the screenplay with Hawke.
Charlie Sexton portrays singer-songwriter Townes Van Zandt, a close friend of Foley. Sam Rockwell, Richard Linklater, Steve Zahn, and Josh Hamilton also have roles.
"Blaze'' is based on Rosen's memoir about her relationship with the country musician, titled "Living in the Woods in a Tree.'' The memoir offered Rosen's firsthand account of their romantic involvement and short marriage, Foley's personal struggles and songwriting career. Foley, whose songs include "If I Could Only Fly'' and "Clay Pigeons,'' was shot and killed in 1989. He was 39.
A limited release of the film began on Aug. 17 in Austin, Texas, and it will continue to roll out in Texas cities before its national release in September. Tickets for the Sept. 21 showing and Q&A at Coolidge Corner Theatre are available at coolidge.org/hawke.