Movies
This Boston University student's artwork inspired a Zach Braff short film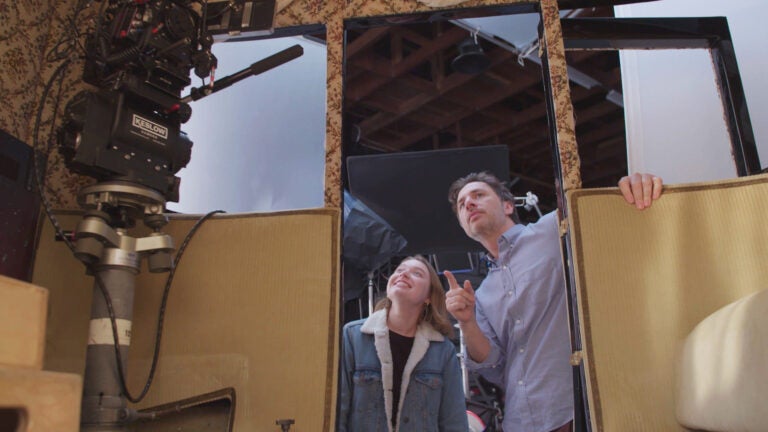 In the time it takes to complete a semester of college, Boston University senior Sam West, 22, had already worked on her first Hollywood production.
"In the Time It Takes to Get There,'' a short film written and directed by Zach Braff, was inspired by a poster West designed for software company Adobe's #MoviePosterMovie Contest. The competition called on students to submit posters for a chance to have the "Scrubs'' star turn their creation into a movie. There were no limits on genre. Students just needed to dream up an image and a title.
"I entered the contest in late November [2018], and then completely forgot about it for some time,'' explained West, a Providence native. "I never thought that it would actually win.''
Braff was such a fan of her piece — a gathering of objects that includes an apple core, a notepad, scissors, a candlestick, a pencil, and a phone — that it beat out more than 1,000 other posters to win the competition. The actor's movie based on West's poster premiered at the Fairmont Copley Plaza in the Back Bay this Thursday.
Just over 11 minutes long, the film stars Alicia Silverstone ("Clueless'') and Florence Pugh (of the forthcoming "Little Women''), with cameos by Andy King (of Fyre Festival fame) and Leslie David Baker (Stanley Hudson in "The Office''). It follows a frustrated, 19th-century social media influencer (Pugh), who rides in a horse-drawn carriage and takes selfies using smoky flash photography.
West, who flew to Los Angeles to watch her design come to life, had no idea what kind of film Braff had written before arriving on set.
"When I first met [Braff], he was super personable and really kind,'' West said. "He goes, 'Sam, look at this!' and he pulled out his phone, and my poster was the background on his cellphone, which is really funny and sweet. And he was like, 'This is how I've been trying to figure out what the movie's gonna be about. I just make sure I look at this every day.' It's just very surreal, knowing that a celebrity used [my design] as a phone background.''
Her poster's visuals were inspired by a class assignment, for which the goal was to take $15 to Goodwill and come back with materials to create a three-dimensional painting.
"Back in the studio, I was surrounded by all these pre-owned, unique objects, and I was really drawn to the way that they lent themselves to the visual narratives my classmates were creating,'' West said.
She went through a few rounds of brainstorming for the film's title, in the end choosing "a random text message that [she'd] sent to a friend.'' In the months between creating her design and seeing the script, West imagined inklings of what the final product could be like, but she never had a definitive vision. That was sort of the point, she said.
"I wanted it to be open to interpretation,'' West said, "because I'm interested in the stories that we project onto things that don't necessarily have innate narratives and what those stories, in turn, say about us.''
[fragment number=0]