Movies
What critics are saying about Amy Poehler's Netflix movie 'Wine Country'
The Burlington native's directorial debut premiered on the streaming platform on May 10.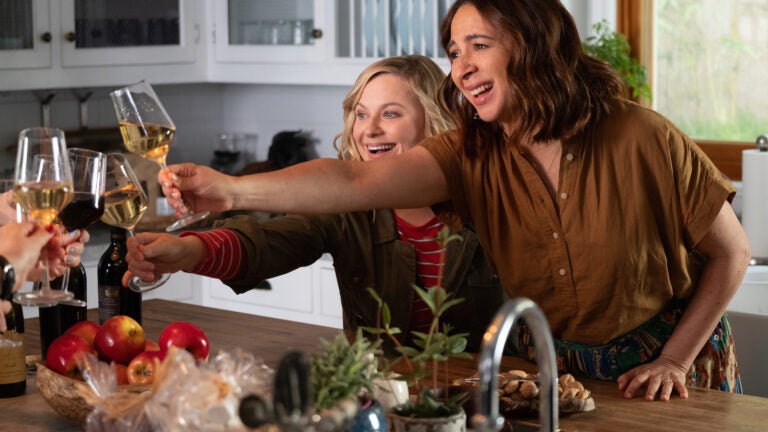 It's been more than a year since Amy Poehler first put out a preview of what she had planned for her directorial debut, "Wine Country, " which features former "Saturday Night Live" stars Poehler, Tina Fey, Lexington native Rachel Dratch, Maya Rudolph, Ana Gasteyer, and veteran "SNL" writers Paula Pell and Emily Spivey. In the shaky, handheld video, Poehler and her friends sing along to "Whenever I Call You 'Friend'" by Kenny Loggins and Stevie Nicks, wine bottles at their sides. Inspired by real-life trips the group of friends took to celebrate Dratch's and Gasteyer's birthdays, the film finally arrived on Netflix on May 10.
While there hasn't been a huge number of reviews yet, the critical consensus has been fairly positive so far, with the film earning a 69 percent freshness rating on Rotten Tomatoes at the time of this article's publication.
That said, a single number can't adequately capture the range of critical response, and many of the reviews coded as "fresh" or "rotten" by the critic aggregation site have a bit more nuance. To help you judge whether to rush home to your couch Friday afternoon, here's what some of the top film critics are saying, both good and bad, about "Wine Country."
The Good
Benjamin Lee of The Guardian praised Rudolph for her "standout" performance and Poehler for giving the whole cast a chance to show off their comedic chops.
"Wine Country is scrappy and, at times, misjudged but it's also very, very funny with a cast of women whose collective charm makes the patchier moments forgivable."
Yolanda Machado of The Wrap said that the movie was a relatable examination of life as a middle-aged woman.
"Turning 50 used to be the end of an actress' career in Hollywood, and in life, a sign she was long past her expiration date. 'Wine Country' shows that women in their 50s are in one of the best phases of their lives, a time to be celebrated, welcomed, and enjoyed with good friends and good wine."
The So-So
Justin Chang of the Los Angeles Times didn't find "Wine Country" overly inventive, but said that the film had its "bright spots."
"'Wine Country' is quaffable enough. If pressed to supply my own tasting notes, I might describe the blend as unwieldy but not unpleasant, sometimes acid to the point of bitterness (the tartest lines go to Amy Poehler, who also directed). It isn't good, exactly — as boozy friend-reunion comedies go, it's no 'Girls Trip' or 'The World's End' — but it has its ticklish grace notes, plus some first-rate second and third bananas, despite a script that seems to be working both too hard and not hard enough."
Manohla Dargis of The New York Times had mixed things to say about the film, likening it to walking up to a group of close friends but being unable to share in their inside jokes. 
"The comedy is situational and confessional, the flat one-liners mixed in with more memorable physical comedy. The scripted lines rarely zing, sing or sting (some seem improvised), but when the performers fall down or screw up their faces, you get to watch them fill in their characters with something like real feeling, as when Naomi drunkenly invades a musical group and grabs the mic."
The Ugly
Christy Lemire of RogerEbert.com wrote that she loves the fact that "Wine Country" exists, but wishes that it had been more focused.
"While Poehler's character, Abby, tries to keep her pals on a tight itinerary of activities over the course of a long weekend, the movie itself is almost too loose. It takes detours that don't always pay off. It features running inside jokes that aren't all that funny to begin with and can be alienating. And because Poehler obviously has such deep affection for these women both on and off screen, she tends to be overindulgent in allowing certain bits to play too long."
Time's Stephanie Zacharek wrote that Poehler and her "SNL" pals should have been the perfect team to make this movie, but the result was disappointing.
"Wine Country springs to life here and there, but there's something dispiriting about the way these women seem to be working hard for laughs rather than just being funny."