Movies
Delta restores same-sex love scenes to 'Booksmart,' 'Rocketman' after backlash
'Booksmart' director Olivia Wilde called attention to the edited version of her film on Twitter.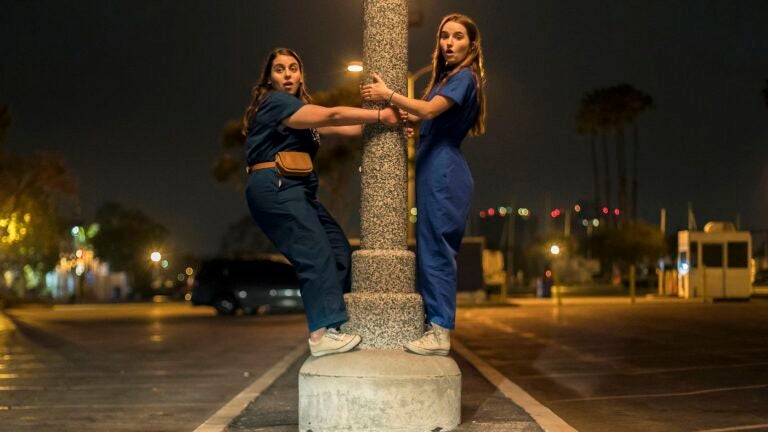 What's so inappropriate about same-sex love scenes? Olivia Wilde, director of "Booksmart," recently asked Delta that pointed question after learning the airline's in-flight version of her teen comedy had been edited to remove romantic moments involving protagonist Amy (Kaitlyn Dever) and her love interest Hope (Diana Silvers).
Last week, Wilde – who attended boarding school at Phillips Academy in Andover — used Twitter to call out the double standard inherent in Delta's inclusion of a heterosexual kiss but omission of a kiss between two women. And by Friday, Delta had changed course, announcing that it would restore same-sex love scenes to both "Booksmart" and Elton John biopic "Rocketman," which had similarly been edited to exclude them.
"We are immediately putting a new process in place for managing content available through Delta's in-flight entertainment," Delta said in a statement. "Studios often provide videos in two forms: a theatrical, original version and an edited version. We selected the edited version and now realize content well within our guidelines was unnecessarily excluded from both films. We are working to make sure this doesn't happen again."
Delta added that the films' studios were working to provide new edits that restored the scenes in question. Wilde tweeted in return, "Thank you, Delta," tagging the airline.
Thank you, @delta. https://t.co/V4rk2loBV3

— olivia wilde (@oliviawilde) November 2, 2019
After film journalist Michaela Barton first tweeted at Wilde to call attention to the missing "Booksmart" scenes, Wilde expressed shock and disappointment last Sunday. "There's no nudity in this scene," she wrote. "What makes it too obscene for airplane viewing?"
Wilde doubled down that evening on the red carpet at the Academy's Governors Awards, discussing the censorship with Variety. "There's insane violence of bodies being smashed in half [in Delta-approved movies] and yet a love scene between two women is censored," Wilde said. "It's such an integral part of this character's journey. I don't understand it. My heart just broke."
Upon further investigation, Wilde learned that the Delta edit had watered down her film's treatment of female sexuality across the board, going so far as to censor the word "vagina" within scenes that featured actual, uncensored expletives.
"Most disappointingly, they cut most of Amy and Hope's love scene in the bathroom, which involves zero nudity, but does involve an essential plot point for a lead character," Wilde wrote on Twitter. "What message is this sending to viewers and especially to women? That their bodies are obscene? That their sexuality is shameful?"
I finally had the chance to watch an edited version of Booksmart on a flight to see exactly what had been censored. Turns out some airlines work with a third party company that edits the movie based on what they deem inappropriate. Which, in our case, is … female sexuality? ?

— olivia wilde (@oliviawilde) October 30, 2019
It was also reported this week that Delta's in-flight version of Elton John biopic "Rocketman" removed references to the singer's sexuality, including love scenes between Taron Egerton's John and another character played by Richard Madden.
Delta maintains via a statement that it had not asked for specific cuts to "Booksmart" and "Rocketman," and that it is currently working to obtain a new edit that retains the same-sex love scenes in question "as soon as possible."