Movies
Netflix's new 2019 holiday movies, reviewed and ranked
Here are the five available new Netflix movies from best to worst.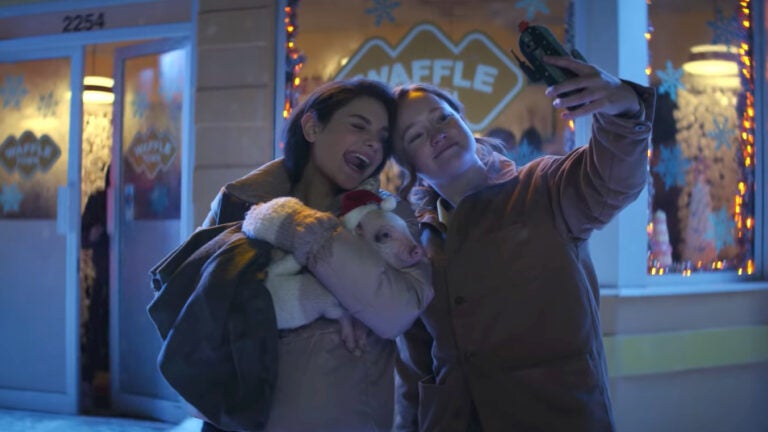 This season, Netflix is adding a half-dozen original holiday movies to a catalog that is already bulging with seasonal fare. This move should not surprise anybody: Quantity, after all, is the calling card of the company that turned binge watching into a business model — and besides, when is there a better time to indulge in a little excess?
We reviewed and ranked the five available films from Netflix's Class of 2019. (A sixth, "A Christmas Prince: The Royal Baby," doesn't debut until Thursday.)
Here they are, presented from best to worst.
1. 'Let It Snow'
Based on three linked stories by John Green, Maureen Johnson and Lauren Myracle, this winningly sweet-tempered movie is about what happens when teenagers trying to play it cool finally let down their guard. Set on Christmas Eve in Idyllic Small Town, Illinois, "Let It Snow" follows clean-cut youths who pair off in couples so adorable that you genuinely root for them. Julie (Isabela Merced) plays host to Stuart (Shameik Moore), a rising pop star whose only visible flaw is that he picks "Goats Head Soup" as his favorite Rolling Stones album. Dorrie (Liv Hewson) is crushed out on Kerry (Anna Akana), who responds in kind except for those times when her cheerleading teammates can see her.
As for Tobin (Mitchell Hope), he has been friend-zoned by Angie (Kiernan Shipka, of "Mad Men"), a lover of vinyl and the Waterboys. Will she realize her soul mate was next to her all along?
This all sounds familiar, and admittedly it is. But in its own unprepossessing manner, this fat-free, affectionate debut feature from director Luke Snellin embodies the Christmas spirit of tolerance and generosity — spiced up with some genuinely funny scenes. It's a minor miracle, but a miracle nonetheless.
Rated PG-13. Running time: 1 hour 33 minutes.
2. 'Klaus'
After hatching the "Despicable Me" franchise, Spanish animator Sergio Pablos took off and created his own studio. His debut effort as a director, "Klaus," happens to be Netflix's first original animated feature — and a good Christmas movie to boot, speedy of pace and light on the treacle.
A mailman-in-training, the spoiled brat Jesper (voiced by Jason Schwartzman) is sent to prove his mettle and learn responsibility in the frozen town of Smeerensburg. There, he befriends a mysterious bearded old man who enjoys making toys (J.K. Simmons), and we quickly realize the movie is telling us how Santa Claus and his little handout scheme came to be.
Mixing 1950s Disney and "The Triplets of Belleville," the stylized design and moody color palette are a welcome departure from current animation trends, and they add to the general ambience of surreal eccentricity. If you ever wondered why misbehaving children get a lump of coal in their stocking or how Santa began using reindeer to pull his sleigh, "Klaus" provides answers that are as good as any, and probably better.
Rated PG. Running time: 1 hour 38 minutes.
3. 'Holiday in the Wild'
The "holiday" in the title of this Kristin Davis vehicle refers more to a vacation than to Christmas — the Yule action takes up so little time that it feels as if it were tacked on at the last second to justify the timing of the film's release.
Within the first 10 minutes, Davis' Kate packs her son off to college and gets dumped by her husband. No problem: The couple's trip to Zambia, which she had booked as a second honeymoon, just became a solo adventure. Although the nominal love interest is Derek, a laid-back bush pilot played by Rob Lowe (who gets shirtless, so there is that), Kate's life-changing encounter is with an orphaned elephant, which prompts her to volunteer at a local sanctuary — good thing she's a vet!
Reflecting Davis' interest in elephant conservation, "Holiday in the Wild" has its heart in the right place. It should also get credit for acknowledging that, when it comes to the holidays, a big world exists outside of the United States and fantasy kingdoms. But it's hard to overlook the slow pace and unrelenting barrage of clichés, from the ever-smiling, good-natured Zambians to the portrayal of New York as a haven for neurotic people and pets. (So maybe this last bit is not entirely untrue.)
Not rated. Running time: 1 hour 26 minutes.
4. 'Holiday Rush'
The easygoing, charming Romany Malco could easily carry a good romantic comedy. He will have to wait a bit longer, though, because "Holiday Rush" is not it.
Malco's Rush Williams is a successful New York radio personality who loses his job when his station is bought by a conglomerate right before Christmas. Strapped for cash, Rush must scale down his lifestyle and move back to his childhood home with Aunt Jo (Darlene Love). It's a nice house by most standards, but a dump in the view of Rush's materialistic children.
Once this premise is established, the movie throws up its figurative hands and crawls to a halt, as if the screenwriters had decided to go on vacation halfway through. As the Villain and the Love Interest, Tamala Jones and Sonequa Martin-Green are given nothing of note to do. We don't even get to see Rush's kids be humbled into learning a valuable lesson at the school of hard knocks — they just start acting nice on their own, which, as every parent knows, happens so often in real life.
Not rated. Running time: 1 hour 34 minutes.
5. 'The Knight Before Christmas'
Vanessa Hudgens is fast becoming Netflix's holiday MVP: Between last year's "The Princess Switch" and its just-announced sequel, "The Princess Switch: Switched Again," she managed to squeeze in this mediocre rom-com. Her character, Brooke, is a teacher in another Idyllic Small Town — this time in Ohio — who barely raises a manicured eyebrow upon meeting Sir Cole (Josh Whitehouse), a knight from 14th-century Britain sent out on a quest by a mysterious crone.
Mind you, the movie simmers at such a low boil that Cole, himself, betrays few signs of major surprise as he encounters cars, Alexa and personal hygiene for the first time. This lethargic approach contaminates the entirety of "The Knight Before Christmas," with several cast members looking as if they were biding their time until a real movie turned up.
It might get worse: In what may be a sign that Netflix is building an interconnected Marvel Universe-type world of Christmas flicks, Cole at one point watches another of the company's seasonal slate. (Hint: It's No. 3.)
Not rated. Running time: 1 hour 32 minutes.