Movies
'When it was over, I didn't want to leave my seat': 28 celebs share their first movie theater memories
Feeling nostalgic about a night out at the movies? We asked the people who make them to share their earliest memories.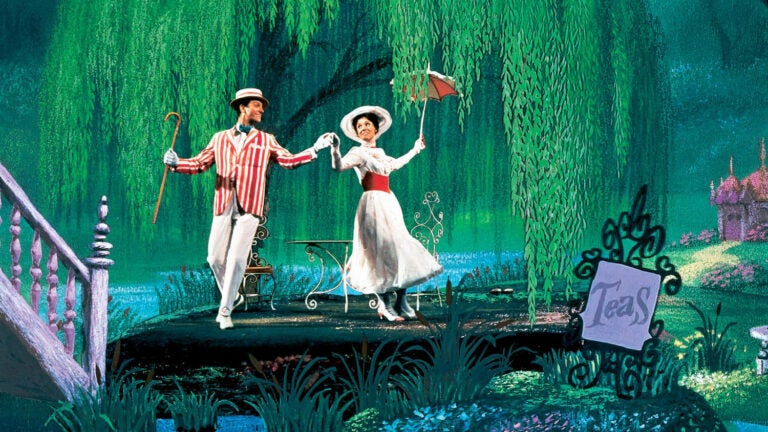 Like a first kiss, most people don't forget the first movie they saw in a theater.
Nothing to do with the movie industry in 2020 is normal. Movie studios are hedging their bets – delaying the vast majority of big budget movies (such as "Jungle Cruise," "West Side Story," "Fast & Furious 9," and "Deep Water") for more than a year, and releasing others such as "Hamilton" and "Mulan" via streaming. Some, like Paramount, are selling their titles — "The Trial of the Chicago 7″ and "The Lovebirds" — to Netflix. Warner Bros. took a chance and released 'Tenet" in theaters that were open, replete with social distancing mandates (which in Massachusetts requires theater owners to sell a maximum of 25 tickets per auditorium and no concessions). The results were so disastrous that the studio delayed "Wonder Woman 1984" again, and Disney took "Black Widow" off the 2020 release schedule. There is no telling when most movie lovers will want to go back to theaters, or when studios will next release a big budget film in theaters.
That's why we asked over two dozen celebrities with local ties to tell us their earliest memory of seeing a movie in a theater. Actors like Casey Affleck remembered watching a revival of a 1972 flick at the now-shuttered Off the Wall Cinema in Cambridge, and Holyoke native Ann Dowd talked about "Mary Poppins" at the Victory Theatre. Many of the stories they shared are sweet and humorous, whether it was being able to remember crying in the parking lot after the movie, or being dragged to G-rated musicals with their big sister.
Ahead, twenty-eight celebrities share the first movies they saw in theaters. What was the first movie you ever saw? Tell us below or email [email protected], and your response may be included in an upcoming Boston.com article.
"I moved to Andover when I was 9. The first movie I remember seeing in a movie theater was 'Bambi' [1957 re-release] in New Rochelle, N.Y." — Jay Leno, Emmy winning host of "The Tonight Show with Jay Leno" 1992-2014, "Jay Leno's Garage" and upcoming reboot of "What's My Line?"
"The first title I can recall seeing [in a movie theater] is 'Gulliver's Travels' at the Madison Theater, Albany, N.Y." — Tony Vinciquerra, chairman and CEO of Sony Pictures Entertainment; former general sales manager and station manager at WBZ-TV from 1986 to 1992
"'Bridge on the River Kwai,' [1957] directed by David Lean, starring Alec Guinness and William Holden. I saw it at the Sack [Cutler Majestic, now the Emerson Majestic] Theater on Tremont Street, owned by Sumner Redstone." — Peter Guber, owner of the Los Angeles Dodgers; owner of Golden State Warriors; CEO and chairman of Mandalay Entertainment; former chairman and CEO of Columbia Pictures; NY Times #1 Best Selling author of "Tell To Win" and "Hit & Run"; born and raised in Newton
"I'm pretty sure [my first movie in a theater] was 'Seven Brides for Seven Brothers' — which I loved. [I] saw it at the Surf Theater on the main drag in Swampscott. When I was a little older, starting in Junior High — a group of us went to the Surf every weekend. There was a steady diet of cowboy movies." — Lesley Stahl, Emmy winning correspondent, "60 Minutes", 1991-present; began her career as a producer and on-air reporter at original Channel 5, WHDH-TV; grew up in Swampscott
"The first movie I remember seeing in a movie theater is 'My Father the Hero' at the Acton Twin Cinema [in Acton, Mass]." — Scott Evans, "One Life to Live," "Grace & Frankie"; grew up in Sudbury with his older brother, Chris, "Captain America"
"The first movie that I can remember seeing [in a movie theater] was 'Mary Poppins' [1964]. When it was over, I didn't want to leave my seat, I wanted it to start again. There was a little girl crying and her father was holding her because she was so sad that Mary Poppins left at the end. The name of the theater was the Victory Theater in Holyoke, Mass." — Ann Dowd, Emmy winner, Best Supporting Actress, "The Handmaid's Tale," upcoming "Rebecca" remake; born and raised in Holyoke
"I started going to the movies at a very young age. But one that I remember most is 'Naughty Marietta' with Jeanette MacDonald and Nelson Eddy. I saw it about 48 times in Hollywood." — Betty White, cultural icon; animal humanitarian; seven-time Emmy Award winning star of "The Golden Girls" and "Mary Tyler Moore"; White starred in the Boston based TV shows "The Practice" and "Boston Legal," as well as in the movie "The Proposal," which was filmed in Massachusetts
"[The first movie I remember seeing in a movie theater is] 'The Harder They Come', at Off The Wall [Cinema and Cafe] in Central Square, Cambridge, Mass." — Casey Affleck, Oscar, Golden Globe, BAFTA winner, Best Actor, "Manchester By The Sea"; grew up in Cambridge
"The first movie I remember seeing in a movie theatre was 'Star Wars' in 1977 at the Acton Twin Cinema one town over from my hometown of Concord, Massachusetts. Our town didn't have a movie theater. I was 8, my brother was 6, my Dad turned the headlights off in our 1970 Volvo driving home on Route 2, (so very dangerous), and our Mom and Dad made those screaming Empire fighter jet sounds all the way home. It remains one of my favorite movies, although 'The Empire Strikes Back,' is equally magical." — Paget Brewster, "Criminal Minds," "BoJack Horseman"
"'OLIVER!' [the 1969 Best Picture Oscar-winning musical]. I was four. It began a long tradition of my sister dragging me to G-rated musicals she was too embarrassed to admit she wanted to see on her own. For a G-rated musical, 'OLIVER!' was dark as hell. A world of murderers and thieves in the squalor of London in the mid-1800s. I LOVED all that stuff. Oliver Reed as Bill Sykes still snakes through my nightmares sometimes. I saw it at The Strand in Upham's Corner [Boston]. And I was a movie addict from that day forward. The Strand was an old vaudeville theater/movie palace and looked exactly how you would want a movie theater to look—with a high proscenium and an orchestra pit and heavy red curtains (if memory serves.) They closed it not long after I saw the movie there but then kept reviving it over the years. A special place to me, even now. I make a point to drive by it whenever I'm back in my neighborhood."  — Dennis Lehane, Edgar Award and WGA winner and author of "Mystic River," "Shutter Island," and "Gone Baby Gone"
"The first movie I remember seeing [in a movie theater] is 'Amadeus' at West Newton Cinema (circa 1985) with the whole family." — Eliza Dushku, actress, producer, influencer (1.6 million Twitter followers); grew up in Watertown
'Bambi' theatrical re-release in 1969 or 1970. At Sack Cinemas, off Route 128, in Danvers. Obviously made a career forming impression." — Andrew Stanton, Oscar winner, Best Animated Film "Wall-E" and "Finding Nemo"; grew up in Rockport
"The first movie I remember seeing [in a movie theater] was 'Bambi' [in 1942 during its first run]. I believe it was at the Coolidge Corner Theater in Brookline, my Mom's favorite [theater], and later mine also. And it's still going strong. 'Bambi' left an indelible impression on my young mind during those war years. Along with 'Dumbo' it solidified a lifelong love of wildlife and the protection of all living things. My toy rabbit was of course 'Thumper.'" — Jane Alexander, Tony and Emmy winner, four-time Oscar nominee; appointed first chairman of the National Endowment for the Arts by President Clinton in 1993; conservationist; activist; author of the 2016 best seller, "Wild Things, Wild Places: Adventurous Tales of Wildlife and Conservation on Planet Earth"; born and raised in Pill Hill, Brookline
"My mother took me to see 'East Of Eden.' I was around four years old. I was struck even then by James Dean's acting! Along with Julie Harris['s acting. I saw it] at The Plaza Theater in Kansas City." — Chris Cooper, Oscar winner, Best Supporting Actor, "Adaptation"; currently resides in Kingston
"'Bambi' was the first movie I saw in a movie theater [1957 re-release]. It was traumatic. 'Bambi, your mother is dead, dead' echoing in my baby girl brain. I can't remember the name of the theater, but it was one of those movie palaces in Boston." — Marianne Leone-Cooper, "The Sopranos" and upcoming "With/In," an anthology film set during the COVID-19 pandemic; wife of Chris Cooper; born in Newton
"'Born Free,' The Strand theater in Seymour, Connecticut" — Tom Meek, longtime member of Boston Society of Film Critics
"My first memory is 'Red Dust' [in 1933] with Jean Harlow. I was about 4 years old. It made a BIG impression. It was the depression and people took their babies to the movies," recalls Bartlett. "Bill's first memory is a Shirley Temple movie with Bill Robinson, the one where he dances up and down the steps ['The Little Colonel,' 1935]. He was about seven and wrote Bill Robinson a fan letter and got invited to the Cotton Club. My movie was at the LeClaire Theatre in Moline, Ill." — Bonnie Bartlett and William Daniels, real-life husband and wife; Emmy winners on the same night for their roles as fictional husband and wife on "St. Elsewhere," which was set in and filmed in Boston
"'Snow White & The Seven Dwarfs' — [1958 re-release] Disney's first full length animated feature. I LOVED 'Snow White' — and was absolutely fascinated by that gorgeous wicked queen! The HI-WAY Theatre located on the Stratford/Bridgeport, Connecticut line." — Joyce Kulhawik, longtime A&E Critic for WBZ-TV; current President Boston Theater Critics Association; reviews appear on JoycesChoices.com
"The first movie I remember seeing in a movie theatre is a 'Laurel & Hardy' short [circa early 1930s].  I can't remember the actual title, but I saw it at the Coolidge Corner Theater." —Frederick Wiseman, Oscar winner and director of "Titicut Follies" and the upcoming "City Hall"; born and raised on Williston Road near Washington Square in Brookline; currently divides time between Cambridge, Mass., and Paris
"The first movie I saw that felt like a genuine cinematic theatre experience was 'The Rocketeer' at The Charles Cinema by MGH in Beacon Hill. It was the biggest screen I had ever seen, and it was always empty during matinees. The theatre is gone. Which I think is a tragedy." — Jonathan Tucker, actor "Westworld," "The Deep End"; born and raised in Charlestown
"First run of 'The Wizard of Oz' (with my older sister) in 1939 in Boston." — George Mansour, producer/film booker; Back Bay resident since early 1970s
"'Willy Wonka and the Chocolate Factory' at the Lexington Theater [in Lexington, Mass.] with my friend Eve [in 1971]. I still remember the opening credits of the chocolate rolling off the factory line. One other early movie memory is seeing 'What's Up, Doc?' at the old Dennis Drive-In on Cape Cod [in 1972]. Clearly my parents just wanted to go to the movies and took us along for the ride because all I remember is something about two suitcases being switched by accident. I'm quite sure I was convinced it was going to involve 'Bugs Bunny' and was disappointed to find out this was not the case. So sad [the Dennis Drive-In] no longer exists! I know it's been a long time, but I have fond memories of driving by it at night in the family car and looking to see what movie was playing on the screen as we drove by." — Rachel Dratch, actress and "SNL" alumna; grew up in Lexington
"'E.T.' [was the first movie I saw in a movie theater, in 1982]. I was 4 and devastated by it. It was the saddest and most amazing film I'd seen in my very long life. I cried in the parking lot as my parents consoled me. I saw it at Showcase Cinemas in Revere." — Adam Robitel, director "Insidious: The Last Key", "Escape Room" and upcoming "Escape Room 2"; grew up in Revere
"'The Sound of Music' at Gloucester's Strand Theatre, which has a whopping 860 seats! I recall being awed by the enormity of the theater. The film made an immense impression on my twin sister and me. The cinematography and grandness of the movie on the big screen felt bigger than life. It was magical, dazzling, and exciting. I came away filled with hope and dreams for the future." — Robin Dawson, Director of The Boston Film Festival
"The first film I saw in theaters was 'The Swan Princess' [at an 'Entertainment Cinemas' on Cape Cod]. Both my parents brought me; it was 1994 and I was 4 years old. It had such a strong impact on me that when we adopted our puppy, shortly thereafter, I named her Swan." — Brittany Curran, "The Magicians," "Chicago Fire"; grew up on Cape Cod
"1964, the Paramount Theatre in Haverhill. I was 9. The movie was the Beatles' first, 'A Hard Day's Night.' I remember getting beaned by candy thrown from the balcony by "Crazy Josephine" (an older, shall we say "eccentric" woman so named by us kids)." — Tom Bergeron, Emmy winning Host of "Dancing With The Stars" (2005-2019); "America's Funniest Home Videos" (2001-2019); hosted the local daily TV talk show, "People Are Talking," on Boston's WBZ-TV during the 1980s; born and raised in Haverhill
"I've been going to movies as long as I can remember. Until the pandemic, I doubt two weeks passed by over the past 60 years when I did not go to a movie. My earliest memory is 'It's A Mad, Mad, Mad, Mad World,' when I was 10. I saw it at the glorious 'Fox Theatre' in Detroit (no wonder I love the Coolidge), and each was a special event." — Katherine Tallman, Executive Director and CEO of the Coolidge Corner Theater