Movies
Here's what 1,500 Boston.com readers chose as the best, and worst, holiday movies ever
"It is the official start to Christmas."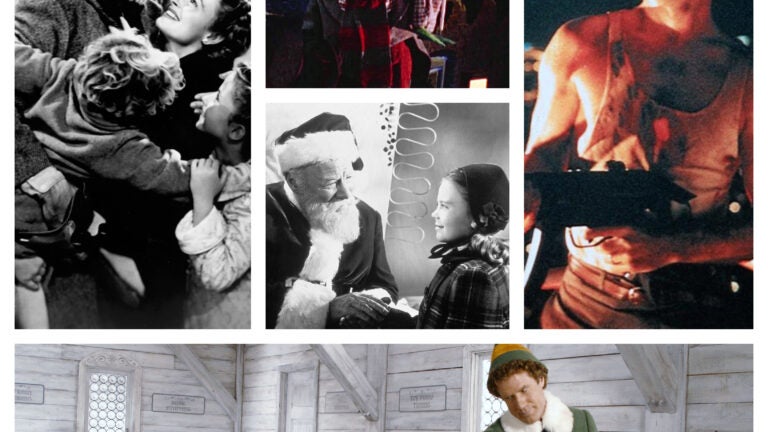 Holiday movies are a tradition as old as cinema itself — "A Christmas Carol" saw its first adaptation hit screens in 1908, after all. But surely the artists behind that silent production couldn't have predicted the sheer volume of yule-themed films at our current disposal, everything from "White Christmas" to "Love Actually" to "Die Hard." (It is too a Christmas movie.)
With that in mind, we asked Boston.com readers to name their favorite holiday films (theatrically released only — sorry, Hallmark), and also the Christmas season stinkers that made their naughty lists. More than 1,500 responded, and chose up to three favorites each for a total of more than 4,000 votes. Let's count down the top five.
5) "Home Alone" (1990)
Probably the only movie on this list in which characters are set on fire, electrocuted, impaled, and/or hit in the face by paint cans, director Chris Columbus's cheery tale of child abandonment remains a holiday staple. And you've got to admit it had a great soundtrack, and that Macaulay Culkin was a pretty cute (albeit preternaturally precocious) kid. That would probably account for the 351 votes it garnered to earn a fifth place spot in our poll. Merry Christmas, ya filthy animal.
4) "A Christmas Story" (1983)
Uncompromising and often laugh-out-loud hilarious, "Porky's" director Bob Clark's unexpected detour into family comedy has Darren McGavin as one of the funniest foul-mouthed screen dads ever, the world's greatest movie prop (you know the one), and an unforgettable tagline: "You'll shoot your eye out, kid!" It probably doesn't hurt the film's legacy that TBS seems to run it on a loop for the entire month of December — you can't help but see it every year, even if it's just by accident. This one got 458 votes to grab fourth place.
3) "Elf" (2003)
"Elf" was the first sign that Jon Favreau — previously known mainly as one of the guys from "Swingers," but who went on to make "Iron Man" and "The Mandalorian" — might be pretty good at this directing thing. His tale of Buddy (a perfect Will Ferrell), the human raised by elves who heads out to find his true dad, had the ideal blend of sly humor and holiday cheer, and a flawless cast that featured inspired turns by stalwart professionals like Bob Newhart, Ed Asner, and a brilliant James Caan, along with a star-making cameo from "angry elf" Peter Dinklage. Plus, the world's best cup of coffee! "Elf" got 522 votes for third place.
2) "National Lampoon's Christmas Vacation" (1989)
Let's face it, Clark Griswold (Chevy Chase) is kind of a horrible person. He's constantly (albeit ineptly) hitting on women who are not his wife, he engages in highway antics that almost get his entire family killed, and at one point threatens to do untoward things to his snobby neighbor (played by Julia Louis-Dreyfuss!) using a Christmas tree. And yet, there's something inspiring about his determination to create a holiday display with 250 strands of lights, or take his boss hostage. Clearly Boston.com readers agree, delivering 544 votes to give the third "Vacation" movie (technically a stay-cation) second place in our poll.
1) "It's a Wonderful Life" (1946)
Yes, it benefited from an extended stay in the public domain that led to this post-war production — which had elicited mostly shrugs upon its initial release — becoming a holiday season stalwart on every channel from PBS to HGTV. But beyond its ubiquity, it's a heartwarming story that manages (mostly) to steer clear of schmaltz thanks to a sharp script and a stellar cast, from Donna Reed's ever-plucky Mary Bailey right down to Ward Bond and Frank Faylen as the original Bert and Ernie. And of course national treasure Jimmy Stewart, who made the movie's frustrated, eventually suicidal and finally grateful hero George Bailey an everyman for the ages. In total, 566 Boston.com readers cast a vote for Frank Capra's classic, to make it the No. 1 most-loved holiday movie among our respondents.
Also worth noting:
Apparently "Die Hard" is a Christmas movie! At least according to the 172 people who voted for it in our poll, giving it seventh place. ("Gremlins," though, not so much: With 37 votes it only managed a tepid 21st place.)
The Muppets are the only characters to appear on both our favorite Christmas TV specials and favorite holiday movies lists: With 163 votes, Kermit & Co. were able to notch ninth place in our poll for "The Muppet Christmas Carol." God bless us, everyone!
"The Family Stone" should have no problem social distancing this Christmas — everybody hates them. ("None of the characters are sympathetic, they all just seem like a–holes and it is uncomfortable to watch," wrote one reader.) With 19 measly votes it's stuck at 22nd place, finishing only ahead of Adam Sandler's "8 Crazy Nights," which got four votes and, like most Adam Sandler movies, was terrible. (Although it gets some New England props for taking place in New Hampshire.)
The most-mentioned "Other" choices included several classics, including "The Bishop's Wife" (1948), the 1938 version of "A Christmas Carol," and "Christmas in Connecticut" (1945). Plus two people each named "Lethal Weapon" (1987) and "Daddy's Home 2" (2017), both of which featured Mel Gibson. So either they have a dark sense of humor, or need professional help.
See the full results in the chart below:
The worst Christmas movies
As for the worst Christmas movies, Ron Howard's bloated "How the Grinch Stole Christmas" (2000) with Jim Carrey got by far the most brickbats from Boston.com readers, with Richard from Rockland saying, "It should be renamed 'How Greedy Producers Stole Dr. Seuss,'" and another simply declaring it "terrifying."
Meanwhile, Sonya from Brockton noted that "The Grinch Musical," which aired this season on NBC, was no better: "That dumpster fire was a pure reflection of the year that was 2020."
Surprisingly, our best movie winner, "It's a Wonderful Life," also had a fair number of detractors. "Whiniest man EVER!!," one reader said of George Bailey, and Vanessa from Southie noted, "It's two movies stapled together, and then, there's that horrible alternate reality sequence where Donna Reed's character is — gasp! — a librarian! The horror! No, thank you."
Other movies that were the target of readers' ire included "Santa Claus Conquers the Martians" (1964), "Silent Night, Deadly Night" (1984), "Christmas with the Kranks" (2004), and the holiday monster movie "Krampus" (2015): " I wished everyone would just quickly get murdered and get it over with."
Here are some happier holiday movie memories from Boston.com readers:
"Watching 'A Christmas Story' in the theater as a kid with my family, and my older brother was laughing so hard at the tire change scene that he banged his mouth on the chair in front of us and chipped his front teeth."
"I am originally from the UK. I watch 'Love Actually' every Christmas Eve because it is so British and reminds me of my own school nativity plays, and brings back lovely memories of arriving at Heathrow to be with family for the holiday." — Anita, Newburyport
"'Fitzwilly' (1967, Dick Van Dyke, Barbara Felton) is a forgotten but wonderful madcap Christmas rom-com. I used to wait for my one chance each year to see it on channel 56 till I found it on VHS."
"The Alastair Sim version of Dickens' 'A Christmas Carol' (1951), watched on the eve each year since 1966 for 54 years … also 'Die Hard' since 1989." — Charles, Bourne
"'Christmas in Connecticut' — it combines the charm of the countryside, a warm cozy home, and good food." — Kim, New Hampshire
"'Mixed Nuts' (1994) is special for me being the first date movie with my once future and current spouse. Not really a very good movie and is quite stupid/silly, though I am a fan of Steve Martin, generally." — Richard, Billerica
"'The Muppet Christmas Carol' is the best version of 'A Christmas Carol' I have ever seen! True to the book, and there's even the occasional bit of social commentary. I also like that it's not syrupy-sweet, like so many other Christmas movies — but you can watch it with younger kids, unlike 'Die Hard' (which is another favorite at our house)." — Vanessa, Southie
"Every year my family and I start the holiday season by watching 'Planes, Trains and Automobiles' on Thanksgiving night and end it by watching 'A Christmas Story' on Christmas Eve and 'Christmas Vacation' on Christmas night." — John, Arlington
"At 8 p.m. on Xmas Eve when the first of many 'A Christmas Story' showings begins … It is the official start to Christmas."
Boston.com occasionally interacts with readers by conducting informal polls and surveys. These results should be read as an unscientific gauge of readers' opinion.
Get Boston.com's browser alerts:
Enable breaking news notifications straight to your internet browser.