Movies
Ethan Hawke in fundraising video: Coolidge Corner Theatre event was 'one of the best experiences of my life'
The actor and director is soliciting donations for the indie Brookline cinema.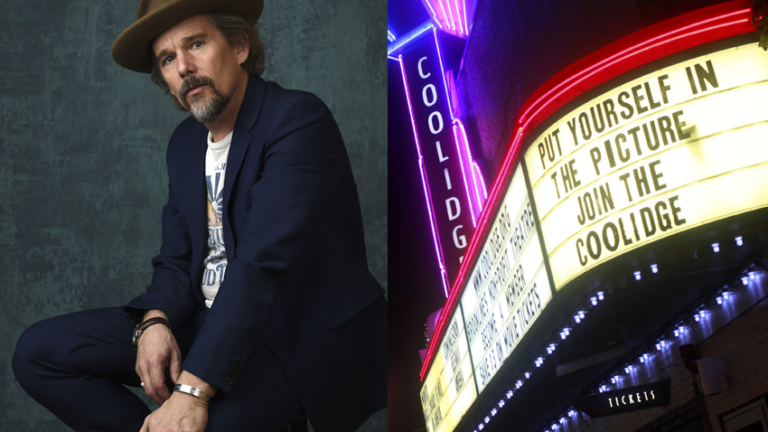 Ethan Hawke has a personal favor to ask of you: Support the Coolidge Corner Theatre.
In an effusive and extemporaneous appeal for a fundraising video, the actor and director reminisced about the independent Brookline cinema known for its arthouse sensibilities. He said that a Q&A he had at the Coolidge when he visited Brookline for a screening of his movie Blaze in 2018 was "one of the best experiences of [his] life."
"There was this beautiful dialogue that happened," Hawke said. "That was the reason… not only to make movies, but the reason to be alive, is to get to know each other and share our experiences, and turn them into something valuable that we can all learn from.
"And the Coolidge does that every week over and over again, for young people, for older people, and if we don't protect what's valuable about our society, who will?" Hawke asked. "We have to. So please support the Coolidge."
He emphasized that even in the age of online streaming, the physical movie theater is still why he dubs cinema the "church of [his] choice."
"It's because of places like the Coolidge, places in America where we go to be together, to share stories, to generate empathy together, to broaden our views and be together," Hawke said.
It's not the first time that the actor lent his image to solicit donations for the theater. He appeared in a similar fundraiser video on location in 2018, around the time of his Q&A.
A four-time Oscar nominee, Hawke is known for his roles in Dead Poets Society, Training Day, and Richard Linklater projects like Boyhood and the Before trilogy. He recently played militant abolitionist John Brown in The Good Lord Bird, a miniseries on Showtime.
"God bless the Coolidge. God bless Boston. I miss you guys. I can't wait to get home," Hawke said from a hotel room in Rome.
Like many businesses, cultural and otherwise, the Coolidge has struggled during the coronavirus pandemic. The theater is collecting donations at coolidge.org/donate.