Movies
Watch the first trailer for 'Boston Strangler'
One of Boston's most infamous crime stories is told through the investigation of two women reporters in the upcoming Hulu movie.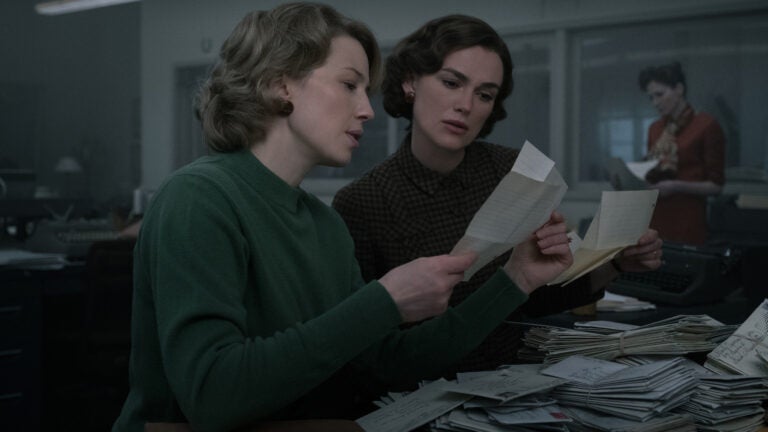 Hulu released the first trailer for "Boston Strangler" on Tuesday, giving audiences a first look at the movie version of one of Boston's most infamous crime stories, as told through the eyes of two reporters who helped to bring the case to the public's attention.
In the grand tradition of journalism films like "All the President's Men" and "Spotlight," "Boston Strangler" shows how Loretta McLaughlin (Keira Knightley) and Jean Cole (Carrie Coon), two reporters for the Boston Record-American, knocked on doors, built sources, and chased leads over years of investigations.
McLaughlin, who later became the editorial page editor at The Boston Globe, wrote a four-part series with Cole about the murders, which first coined the "Boston Strangler" moniker.
In the film, McLaughlin has to overcome an editor (Chris Cooper, "Adaptation") who doubts her reporting chops, colleagues who think assigning two women to the story is a publicity stunt, and police who seem to be bungling the investigation.
"You're on the lifestyle desk," Cooper says in the trailer. "You're not covering a homicide."
"Boston Strangler" is a homecoming of sorts for director Matt Ruskin ("Crown Heights"), who was born and raised in Watertown and whose first film, "Booster," was a crime drama set and filmed in Boston.
Capturing the authentic nature of 1960s Boston was important to Ruskin, who filmed "Boston Strangler" in the Boston area from December 2021 through March 2022. Along with Boston proper, the film was shot in Belmont, Braintree, Cambridge, Devens, Lancaster, Lowell, Lynn, Malden, Medfield, and Wellesley.
"Some of those old neighborhoods in Back Bay and the South End, those beautiful brownstones are still there," Ruskin told Boston.com. "Once we cleared all the contemporary cars out and brought those old cars from the 1950s and '60s, it was amazing to see those neighborhoods transformed."
Ruskin also said that he couldn't really envision making a movie about the Boston Strangler case until he learned about McLaughlin and Cole.
"I didn't want to just make a serial killer story, and I certainly didn't want to glorify or depict violence in a gratuitous way," Ruskin said. "As a filmmaker, I've always gravitated towards character-driven stories that are really human-centric.
"It never really clicked when I was reading the story from the perspective of the police investigating the case," Ruskin continued. "But when I discovered Loretta's story, all of the sudden it felt like a story worth telling."
Along with Knightley, Coon, and Cooper, the film will star Boston native Alessandro Nivola ("Amsterdam"), David Dastmalchian ("Dune"), Morgan Spector ("Homeland"), and Bill Camp ("Joker").
"Boston Strangler" will be released March 17 on Hulu. Check out the first trailer for the movie below.
Newsletter Signup
Stay up to date on all the latest news from Boston.com