Movies
Emerson alumni Daniel Kwan and Daniel Scheinert take home Oscars for best picture, best director
The hallucinatory, heartfelt "Everything Everywhere All At Once" was Sunday's big winner.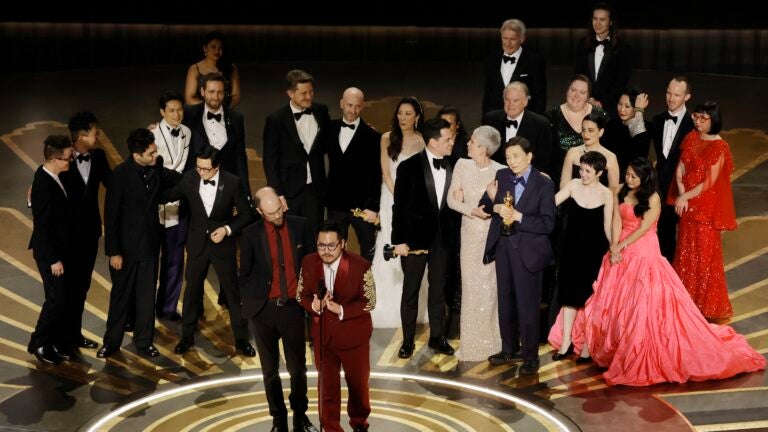 On Sunday evening, "Everything Everywhere All At Once" took home the Oscar for best picture. The film's directors, Daniel Kwan and Daniel Scheinert, met as undergraduate students at Boston's Emerson College.
Kwan, also a native of Westborough, dedicated his time to imparting a lesson he learned growing up in Massachusetts.
"One of the things that I realized growing up was that one of the best things we can do for each other is shelter each other from the chaos of this crazy world we live in. Thank you to the storytellers here who did that for me," Kwan said during his speech.
Earlier in the evening, Kwan and Scheinert won the Oscar for best directing. Scheinert gave a shoutout to his parents and all the mothers in the world during his acceptance speech. The two have spoken extensively about how important their mothers have been to them during their journey.
"We want to dedicate this to the mommies, all the mommies of the world, to our moms. Specifically, my mom and dad Ken and Becky, thank you for not squashing my creativity when I was making really disturbing horror films, or really perverted comedy films, or dressing in drag as a kid, which is a threat to nobody," Scheinert said during his speech.
Kwan and Scheinert also took home the Oscar for best original screenplay. During Kwan's speech, he acknowledged the formative influence that Scheinert had on him.
"He is the person who told me I was a storyteller and a filmmaker before I could even say that myself, and I would not be here without him," Kwan said during his speech.
The spark of this wildly creative partnership was kindled in an animation class the two took at Emerson, they said during a Q&A at Emerson last year.
After initially attending a state school, Kwan transferred to Emerson and finally felt like he belonged, he told Emerson College Today in 2016.
"There [were] just so many… people like myself, and it was just a really exciting few months when I realized I wasn't a freak," Kwan said at the time.
Although the two Daniels met as students, they did not begin making films together until after graduation. That summer, they both worked as teaching assistants at New York Film Academy's Harvard summer program for middle school and high school kids, they told The Boston Globe.
Working as essentially "camp counselors," the pair said that the job pushed them towards collaboration.
"We were jealous of the kids because they got to make movies all day, and we didn't," Kwan told the Globe.
Kwan taught Scheinert how to use the animation software After Effects, and Scheinert in turn taught Kwan how to shoot live action scenes. The result is an odd, surreal, less-than-one-minute short called called "Swingers."
Now, more than a decade later, the Daniels have ascended from plucky film students in Boston to the top of Hollywood.
In total, "Everything Everywhere All At Once" won seven Oscars.
Newsletter Signup
Stay up to date on all the latest news from Boston.com