Movies
Fall movie preview: 23 must-see films coming soon to theaters and streaming
The 2023 fall movie preview has films for every taste, including Oscar hopefuls like "Maestro," comedies like "Dumb Money," and blockbusters like "The Marvels."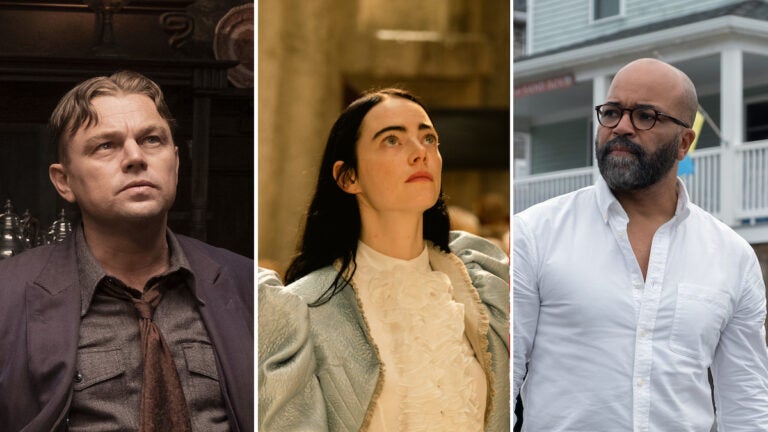 With the AMPTP and its member studios still unable to reach a deal with the WGA and SAG-AFTRA, the 2023 fall movie preview could bear an unfortunate resemblance to the 2021 edition.
Some of the most exciting films that were slated to debut this fall have already been pushed to 2024, including "Dune: Part 2" (March 15), "Ghostbusters: Afterlife 2" (March 29), and Zendaya's Boston-filmed tennis drama "Challengers" (April 26).
Elsewhere, studios will have to make tough choices about movies that are set to make their debut at film festivals this fall. Buzzy awards season contenders like "Maestro" seem all but certain to come out in the next couple of months, but smaller titles like the New Bedford-filmed Tommy Lee Jones drama "Finestkind" may sit on the shelf for a little longer.
Much like the early days of the pandemic, the studio that seems least deterred by the disruptions — at the moment, anyway — is Netflix. The streaming giant has 28 films set to debut through the end of the year, including several awards contenders that will hit theaters first like "Maestro," David Fincher's "The Killer" (Oct. 27), and the Emily Blunt/Chris Evans pharmaceutical drama "Pain Hustlers" (Oct. 20).
Below, you'll find release dates for the 23 biggest movies of fall 2023. But be warned: Those release dates could change at the drop of a hat — or the announcement of a Taylor Swift concert movie.
(Release dates are theatrical unless indicated otherwise)
"Love at First Sight" (Sept. 15 on Netflix)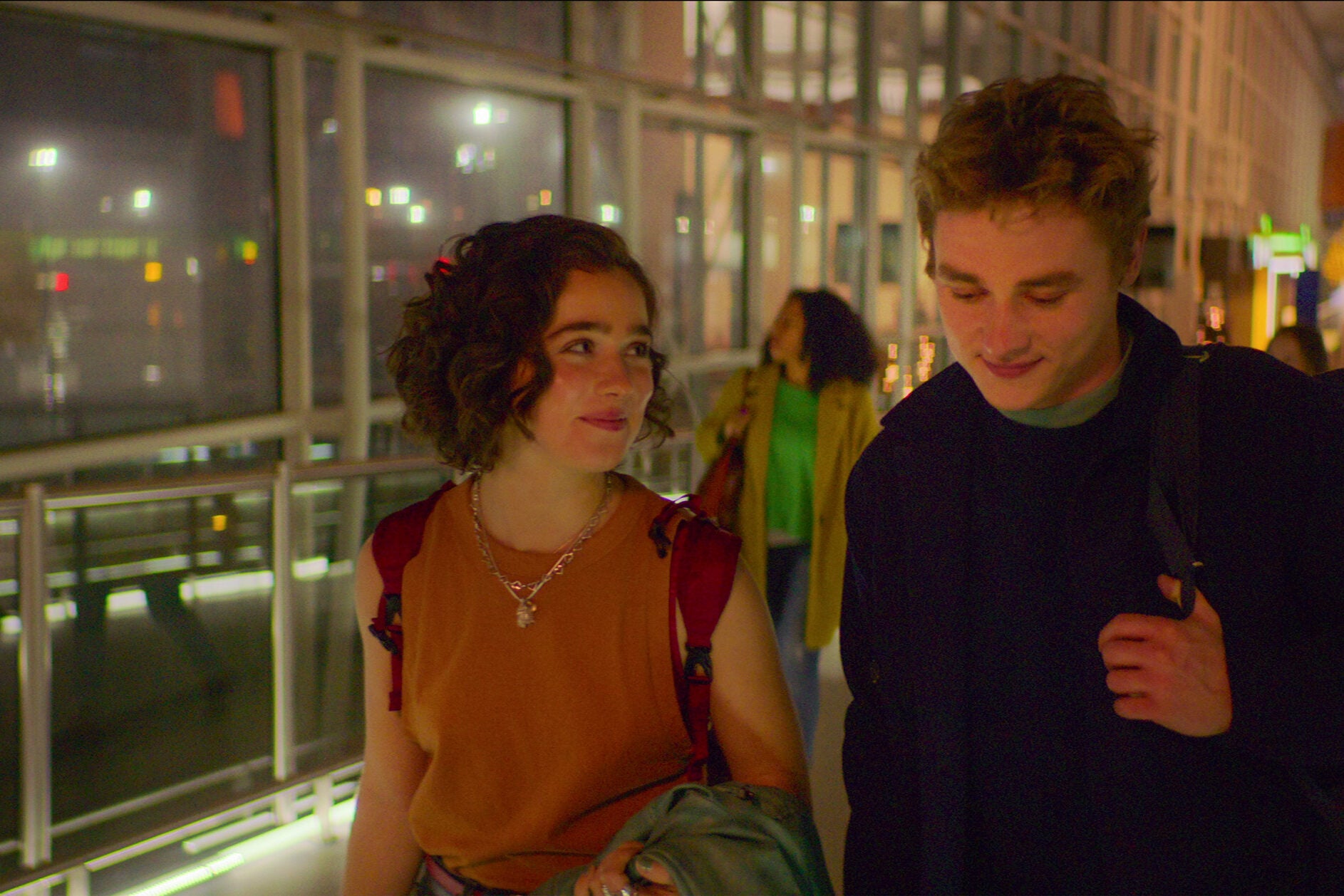 Starring: Haley Lu Richardson, Ben Hardy, Jameela Jamil, Rob Delaney
This jet-setting rom-com centers around Hadley (Haley Lu Richardson, "Split") and Oliver (Ben Hardy, "Bohemian Rhapsody"), who meet after Hadley misses her flight from New York to London. Sparks fly at the gate and on their rebooked flight, but then Hadley and Oliver lose each other in the crowd at customs. This being a rom-com, fate has a way of intervening on the behalf of this transatlantic couple. Co-starring Jameela Jamil ("The Good Place") and Marblehead native Rob Delaney ("Deadpool 2"), "Love at First Sight" begins streaming September 15 on Netflix.
Watch the trailer for "Love at First Sight"
"The Creator" (Sept. 29)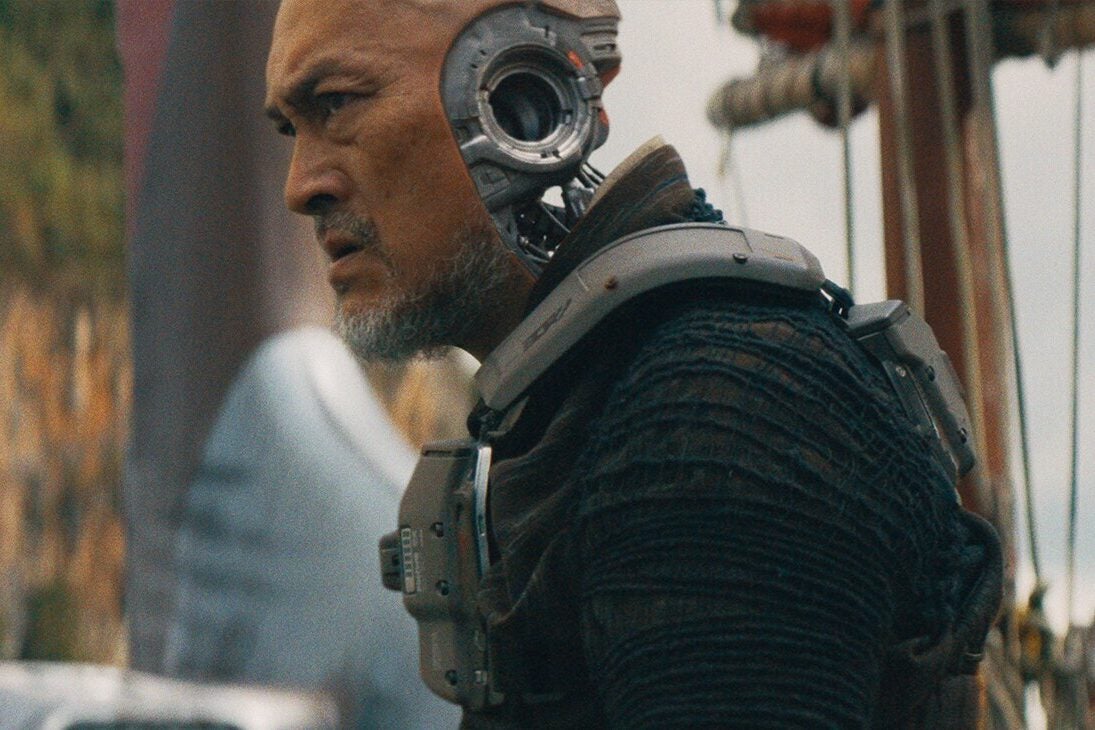 Cast: John David Washington, Gemma Chan, Ken Watanabe, Allison Janney
Taking a page out of the "Terminator" and "Blade Runner" playbooks, "The Creator" tells the story of a war between humans and the AI they originally designed to help them. Joshua (John David Washington, "Tenet") is tasked with hunting down a secret AI-designed super-weapon that threatens to eradicate mankind. The mission becomes complicated when Joshua and his squad find the weapon, an advanced AI in the form of a young child. Co-starring Ken Watanabe ("Inception"), Gemma Chan ("Eternals") and Allison Janney ("The West Wing"), "The Creator" blasts into theaters September 29.
Watch the trailer for "The Creator"
"Reptile" (Sept. 29 in theaters, Oct. 6 on Netflix)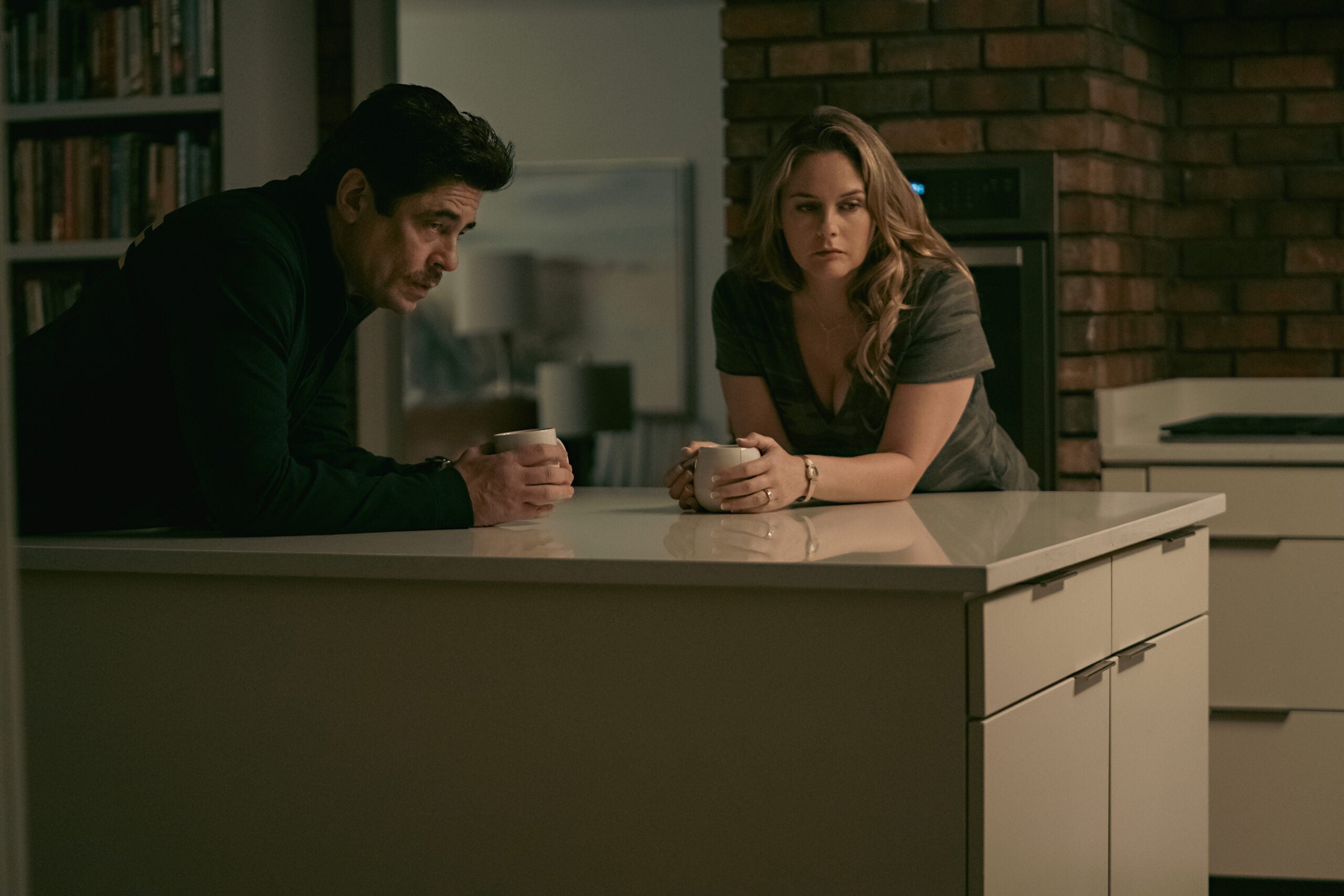 Cast: Benicio Del Toro, Justin Timberlake, Eric Bogosian, Alicia Silverstone
Gritty crime thrillers will be plentiful on Netflix this fall, including this detective drama starring Benicio Del Toro. The Oscar winner plays a detective attempting to unravel a complicated case involving the murder of a young real estate agent. Co-starring Justin Timberlake, Alicia Silverstone ("Clueless"), and Woburn native Eric Bogosian ("Uncut Gems"), "Reptile" slithers into theaters for a limited release on September 29 before debuting globally October 6 on Netflix.
Watch the trailer for "Reptile"
"Dumb Money" (Sept. 29)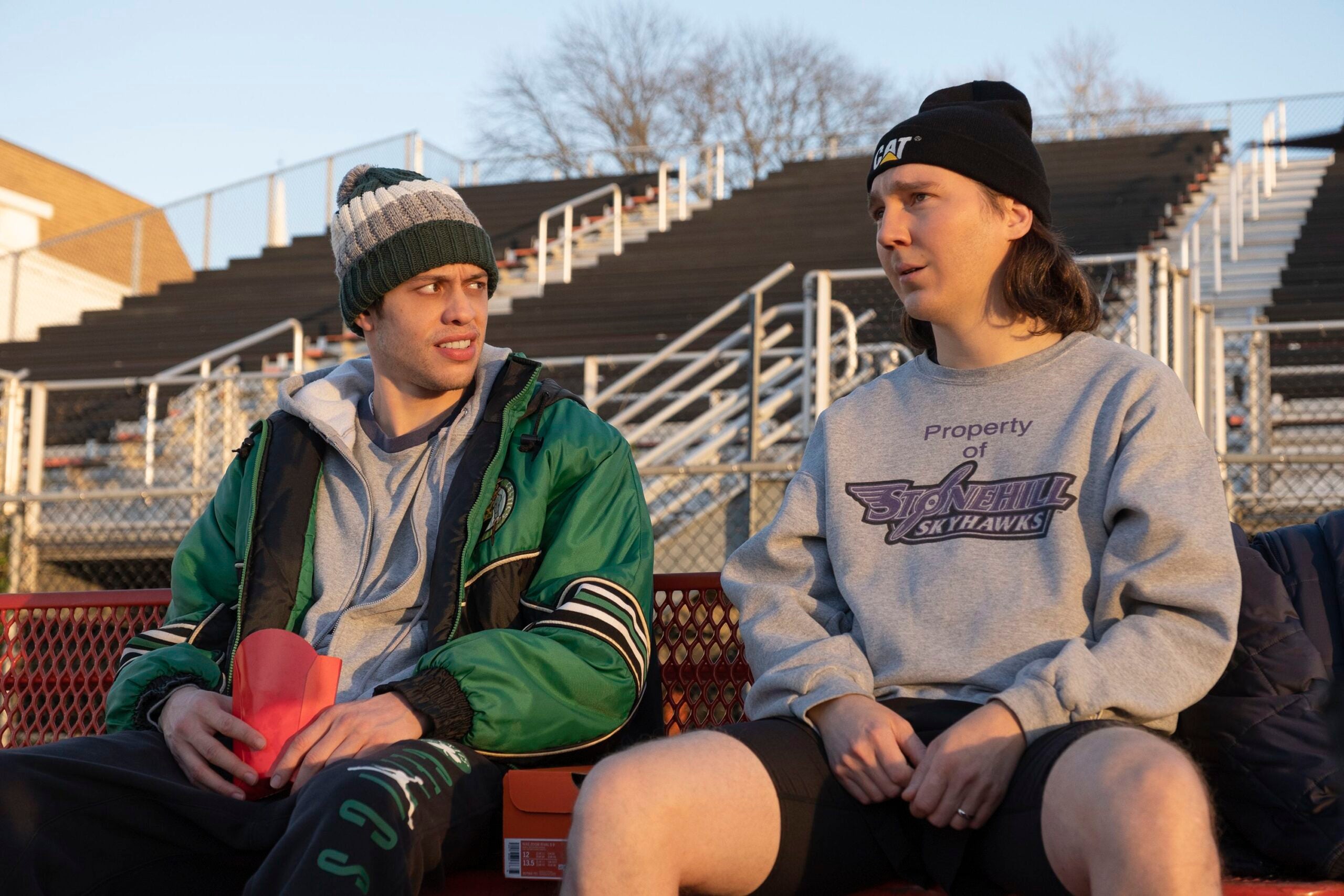 Cast: Paul Dano, Seth Rogen, Pete Davidson, Shailene Woodley, Nick Offerman
It feels like a lifetime ago, but it's only been a little over two years since Reddit users banded together to send the stock of video game retailer GameStop "to the moon," costing hedge funds who shorted the stock billions in the process. Now comes the big-screen version of the David vs. Goliath tale, based on a book by Boston native Ben Mezrich, whose previous novel, "The Accidental Billionaires," was adapted into "The Social Network." Paul Dano ("There Will Be Blood") plays a Massachusetts man named Keith Gill, who had touted GameStop stock for more than a year and became the poster child for the WallStreetBets movement, making tens of millions in the process. Co-starring Seth Rogen ("Knocked Up"), Pete Davidson ("Saturday Night Live"), Shailene Woodley ("Divergent"), and Nick Offerman ("Parks and Recreation"), "Dumb Money" charges into theaters Sept. 29.
Watch the trailer for "Dumb Money"
"The Exorcist: Believer" (Oct. 6)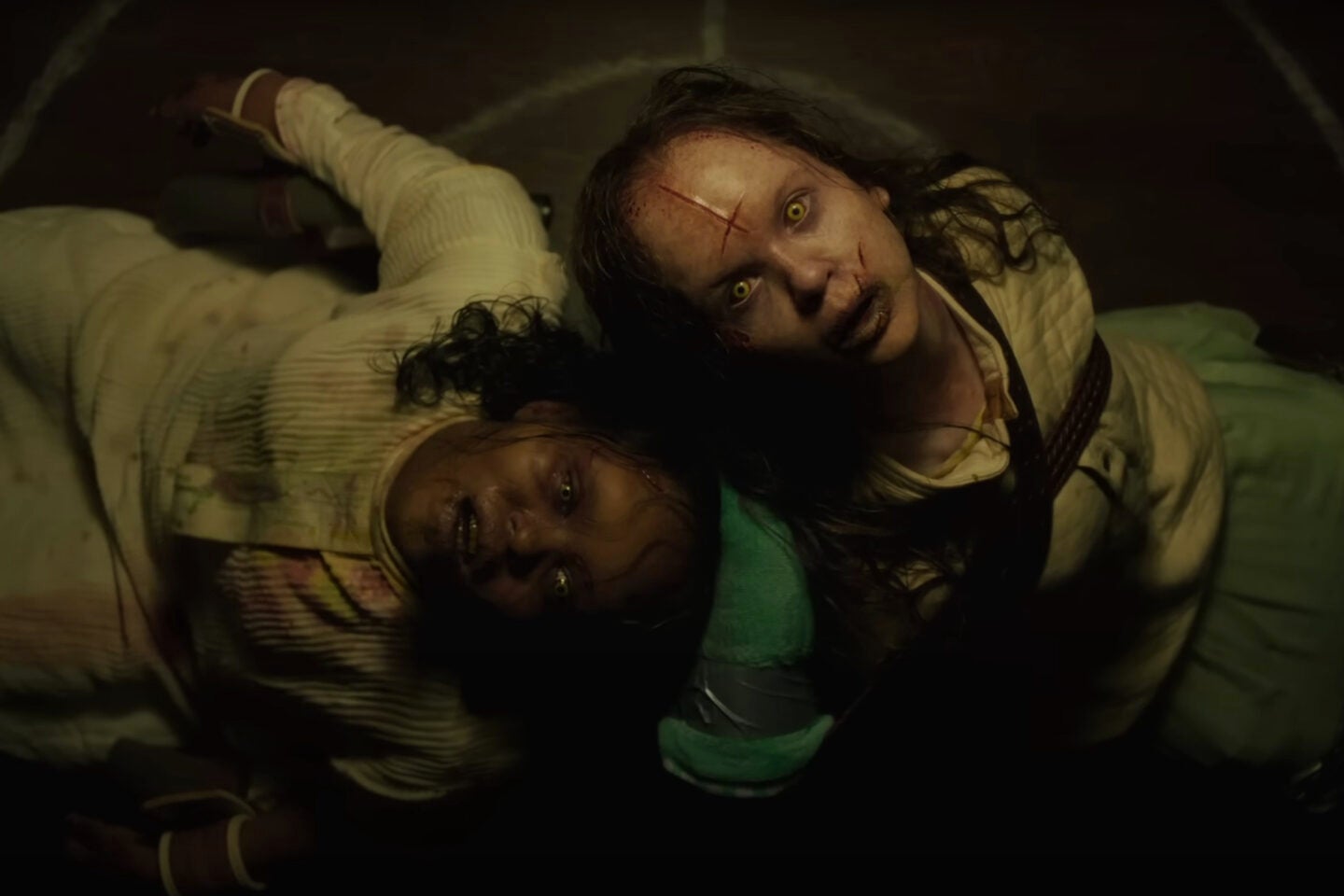 Cast: Ellen Burstyn, Jennifer Nettles, Leslie Odom Jr., Ann Dowd
It's been 50 years since "The Exorcist" seized the consensus title of the scariest movie ever, so it's no surprise that Universal is cashing in with a sequel to the William Friedkin classic about a little girl possessed by an otherworldly demon. Featuring Ellen Burstyn in her role from the original film, the 2023 "Exorcist" will also star Leslie Odom Jr. ("Glass Onion: A Knives Out Mystery") and Holyoke native Ann Dowd ("The Handmaid's Tale"). "The Exorcist: Believer" will turn heads when it hits theaters October 6.
Watch the trailer for "The Exorcist: Believer"
"Old Dads" (Oct. 20 on Netflix)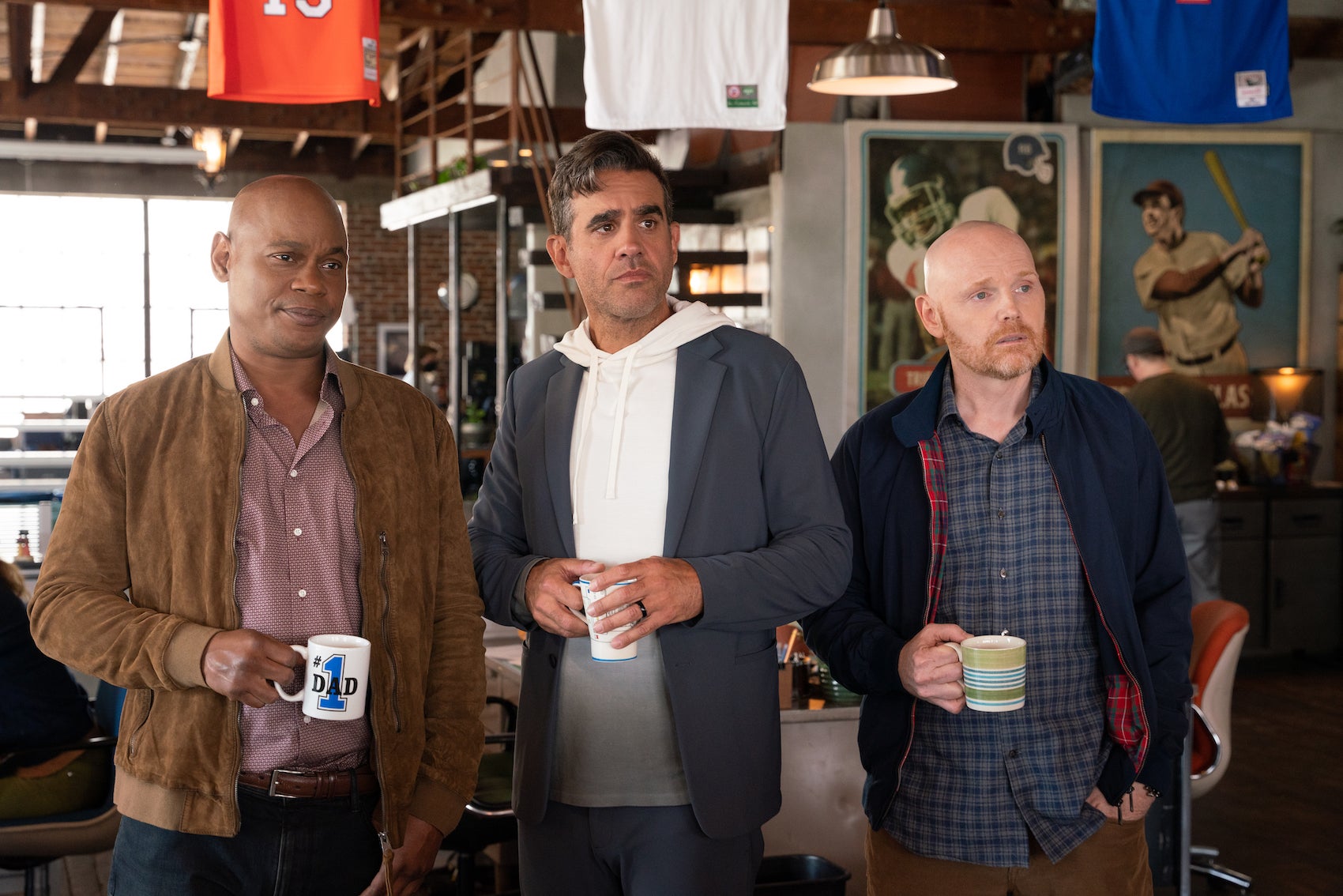 Cast: Bill Burr, Bobby Cannavale, Bokeem Woodbine
Cantankerous comedian (and Canton native) Bill Burr has leaned into a grouchy father persona in recent years, skewering ever-changing societal norms and the younger generations driving them in his standup act and on his podcast. "Old Dads," which Burr also directed and co-wrote, is a perfect fit for his recent material. Burr, Bobby Cannavale ("Boardwalk Empire") and Bokeem Woodbine ("Fargo") play best friends who find themselves at odds with "preschool principals, millennial CEOs, and anything created after 1987," according to a studio synopsis. "Old Dads" begins streaming October 20 on Netflix.
"Pain Hustlers" (Oct. 20 in theaters, Oct. 27 on Netflix)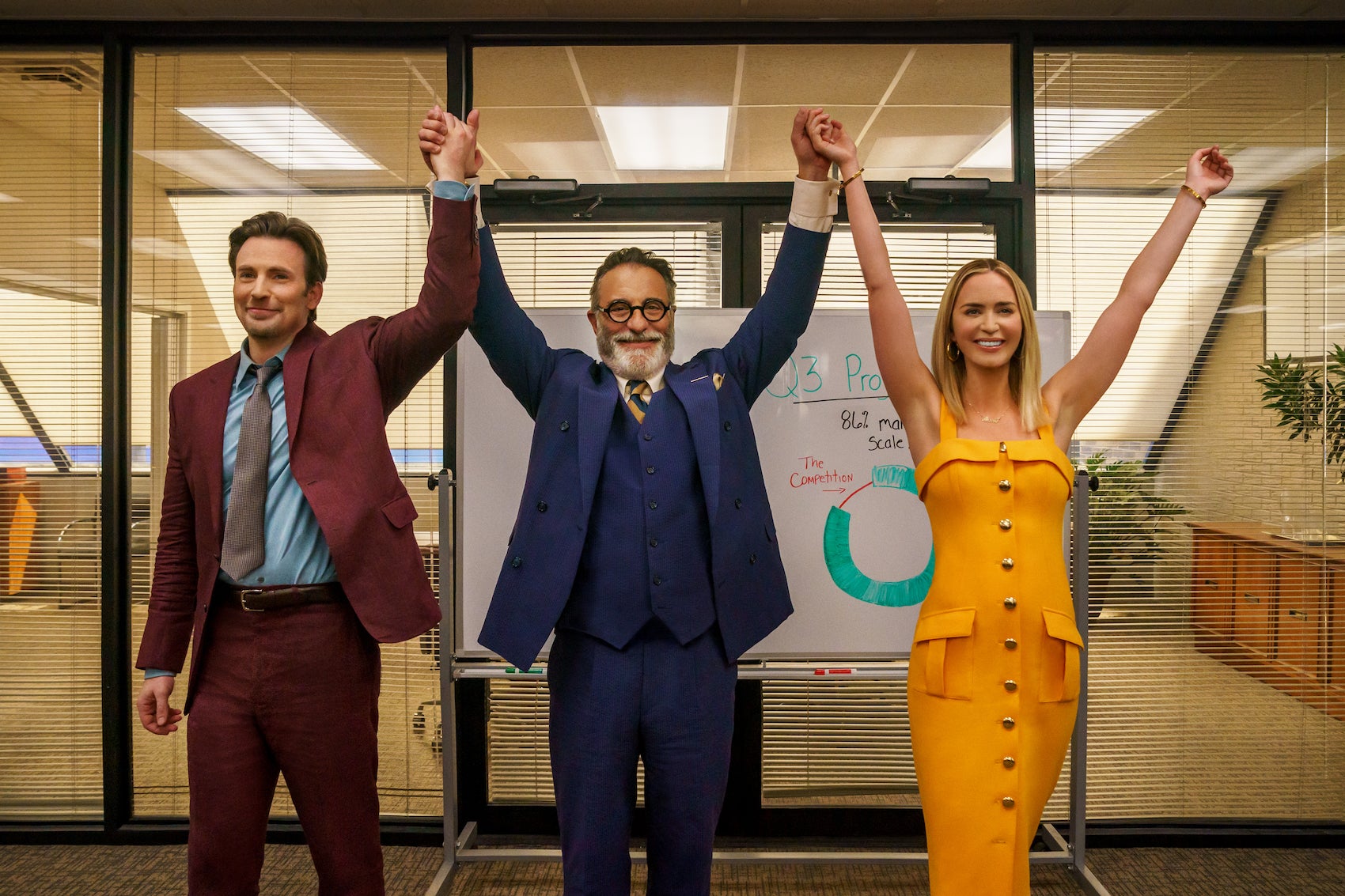 Cast: Emily Blunt, Chris Evans, Catherine O'Hara, Andy Garcia, Jay Duplass, Brian d'Arcy James
Director David Yates is predominantly known for directing every "Harry Potter" and "Fantastic Beasts" film since 2007, so it will be interesting to see if the British filmmaker — who got his start directing TV dramas — can switch back to more adult-oriented fare with "Pain Hustlers." Emily Blunt ("A Quiet Place") plays a working-class woman struggling to pay the bills and raise her daughter. Then she takes a job at a pharmaceutical startup that operates outside the law to push pep pills over the phone. Along with Blunt, "Pain Hustlers" stars Sudbury native Chris Evans, Andy Garcia ("Ocean's 11"), Catherine O'Hara ("Home Alone"), Jay Duplass ("Industry"), and Brian d'Arcy James ("Spotlight"). Following a one-week exclusive theatrical run, "Pain Hustlers" will begin streaming October 27 on Netflix.
"Killers of the Flower Moon" (Oct. 20)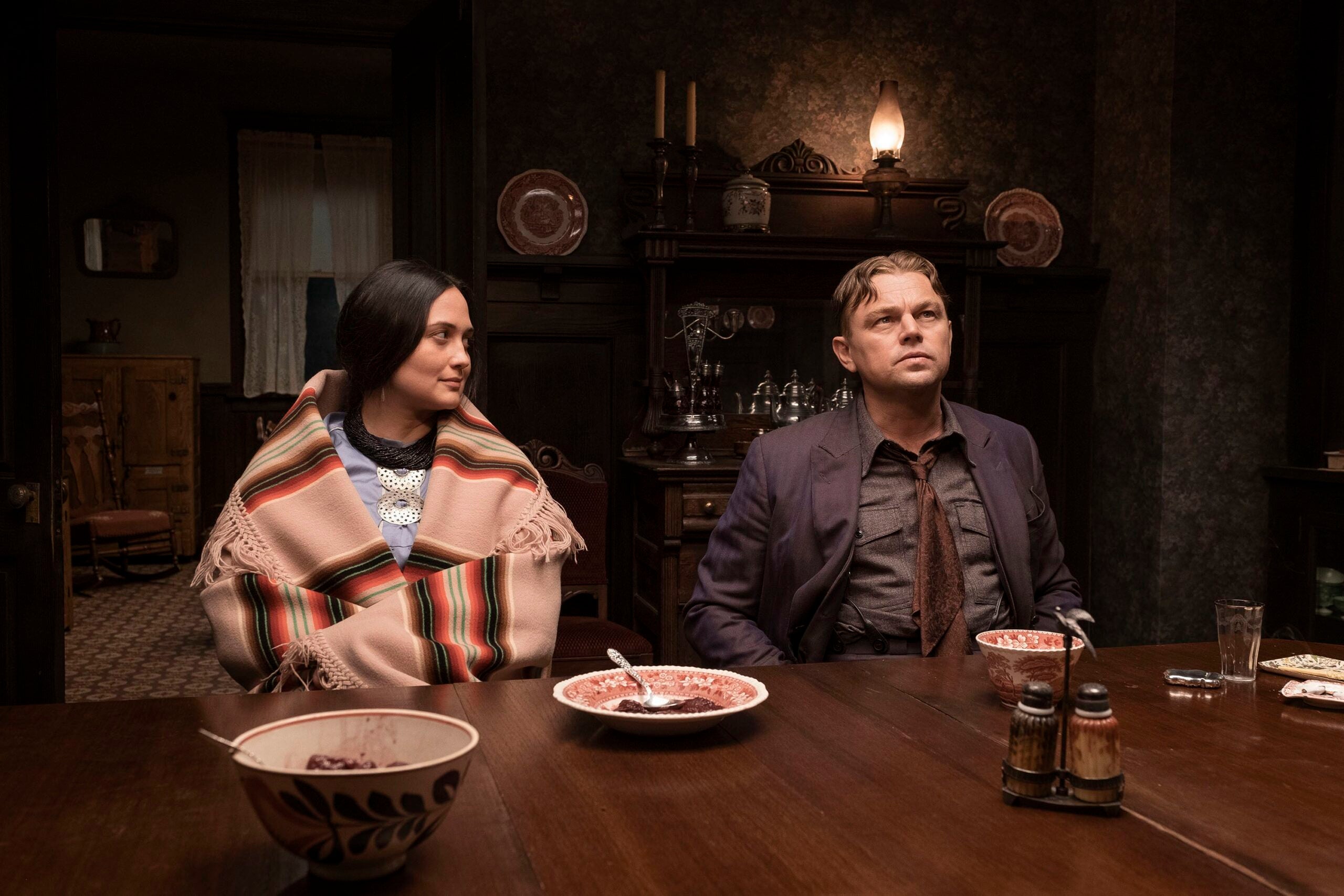 Cast: Leonardo DiCaprio, Robert De Niro, Jesse Plemons, Lily Gladstone
Martin Scorsese remains one of the few working filmmakers who can draw a crowd based on name recognition alone, which is likely why Apple and Paramount shelled out more than $200 million for this epic Western crime drama, which debuted to rave reviews at Cannes in the spring. Based on the nonfiction book of the same name, "Killers" is set in 1920s Oklahoma, where members of the Osage Nation have become fabulously wealthy thanks to oil rights on their land. Starring Leonardo DiCaprio as a dim-witted man who is steered into marrying an Osage woman (Lily Gladstone, "Certain Women") by his scheming uncle (Robert De Niro), "Killers" tells an intimate story from a dark moment in history that textbooks rarely discuss. "Killers of the Flower Moon" sneaks into theaters October 20 before debuting on Apple TV+ at a later date.
Watch the trailer for "Killers of the Flower Moon"
"The Killer" (Oct. 27 in select theaters, Nov. 10 on Netflix)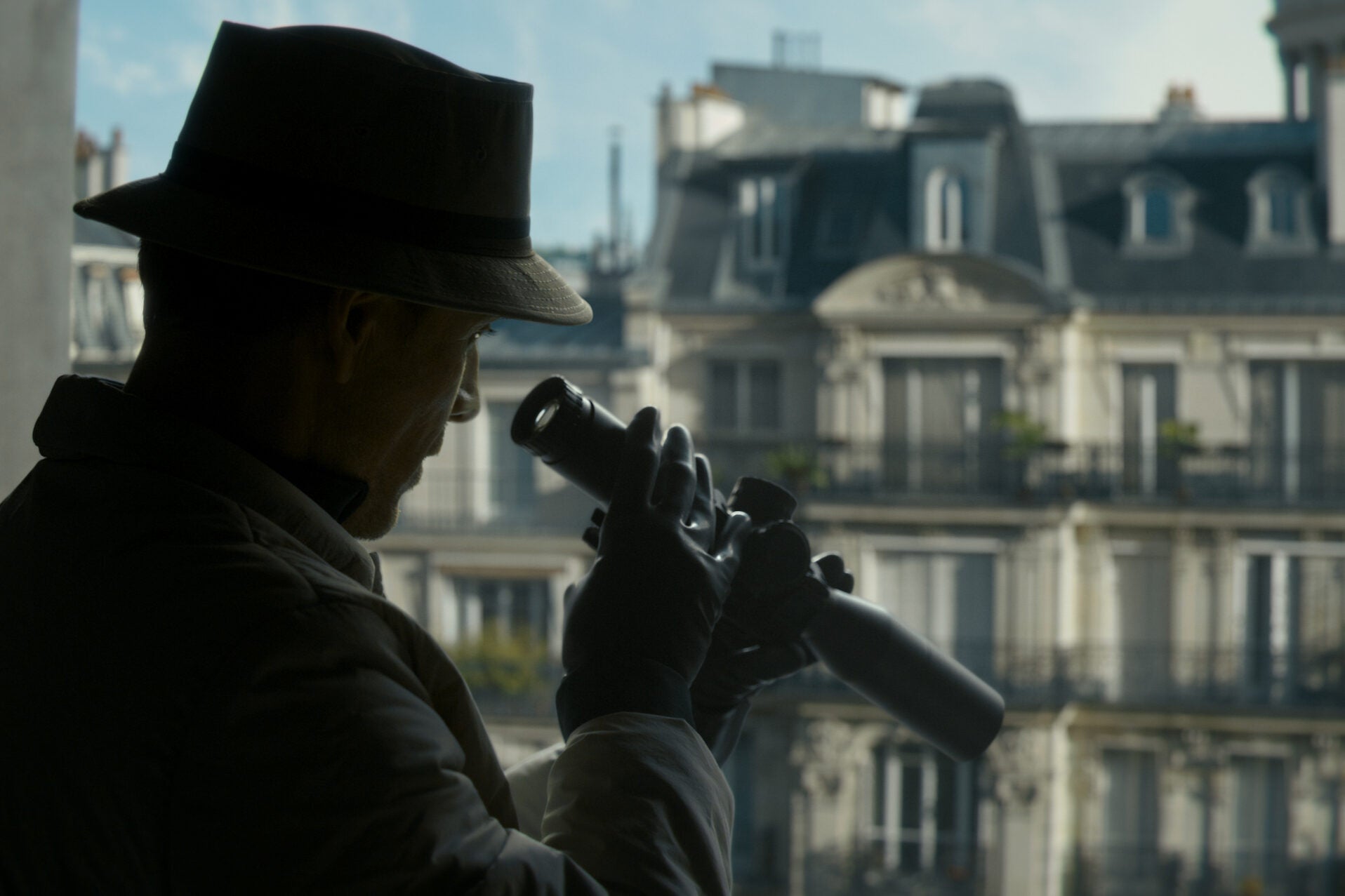 Cast: Michael Fassbender, Arliss Howard, Charles Parnell, Tilda Swinton
Speaking of bankable, critically acclaimed directors, David Fincher has rarely missed in his three-decade feature filmmaking career, helming some of the most tense, dramatic films of the past century, such as "Zodiac," "The Social Network," and "Gone Girl." Based on the graphic novel series of the same name, "The Killer" follows a professional assassin (Michael Fassbender, "Shame") whose cold, calculating demeanor is put to the test after an assignment in Paris goes awry. As is often the case in spy thrillers, the unnamed killer soon finds himself targeted by his own employers, and must traverse the globe to avoid an early grave. Co-starring Arliss Howard ("Full Metal Jacket") and Tilda Swinton ("Suspiria"), "The Killer" shoots into select theaters October 27 before making its global streaming debut November 10 on Netflix.
Watch the trailer for "The Killer"
"Priscilla" (Oct. 27)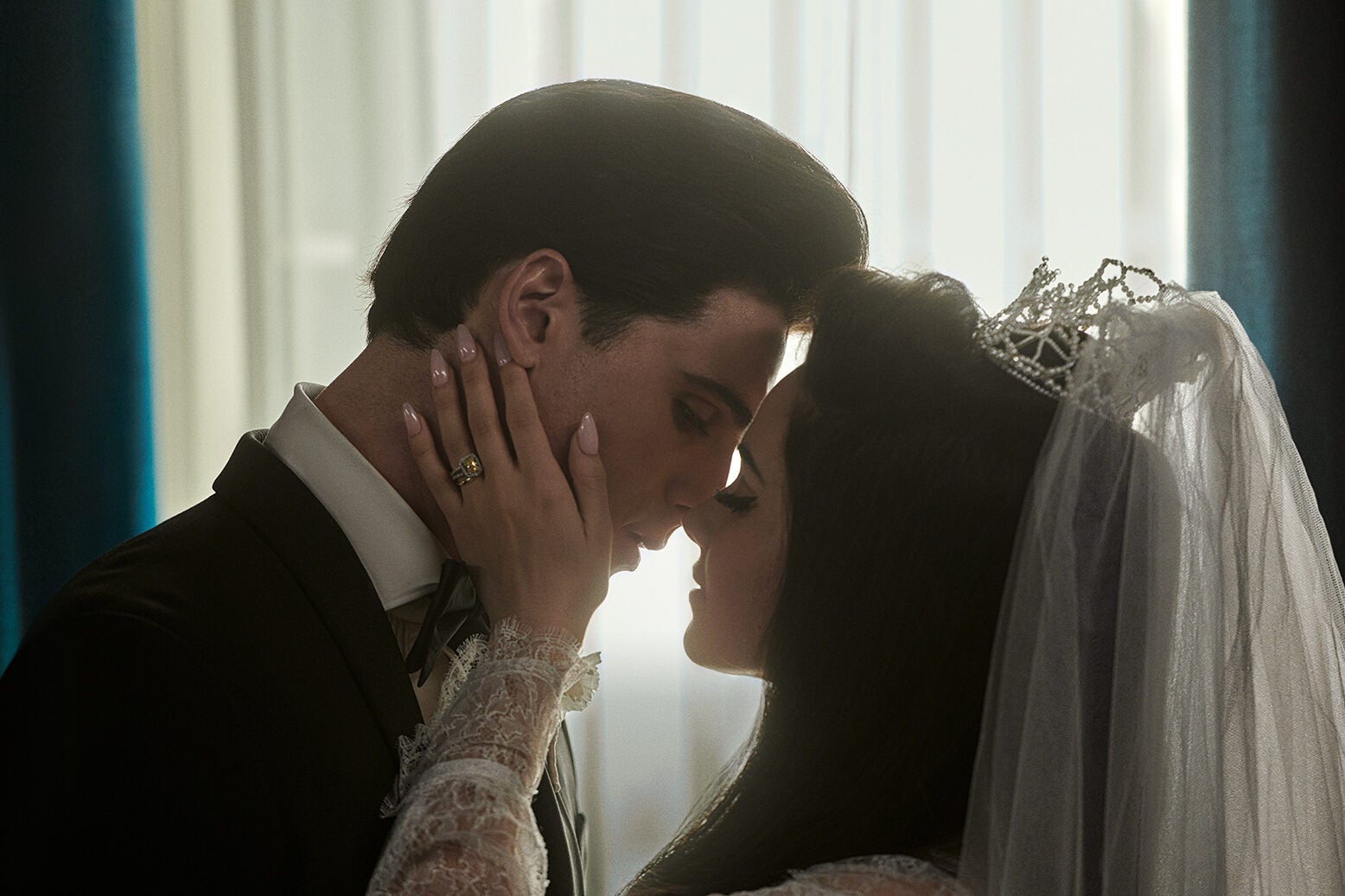 Cast: Cailee Spaeny, Jacob Elordi
One year after Austin Butler scored an Oscar nomination for Baz Luhrmann's "Elvis," Jacob Elordi ("Euphoria") will have his turn to play the King of Rock 'n' Roll in Sofia Coppola's biopic. As the film's title indicates, however, "Priscilla" focuses on the perspective of Priscilla Presley (Cailee Spaeny, "Pacific Rim Uprising"), who meets Elvis at a party and finds the singer quite different than his onstage persona. "Priscilla" tracks the couple's journey from courtship to marriage to divorce, providing a new perspective on the life of a pop culture icon who became more icon than man. "Priscilla" dances into theaters October 27.
Watch the trailer for "Priscilla"
"The Holdovers" (Nov. 10)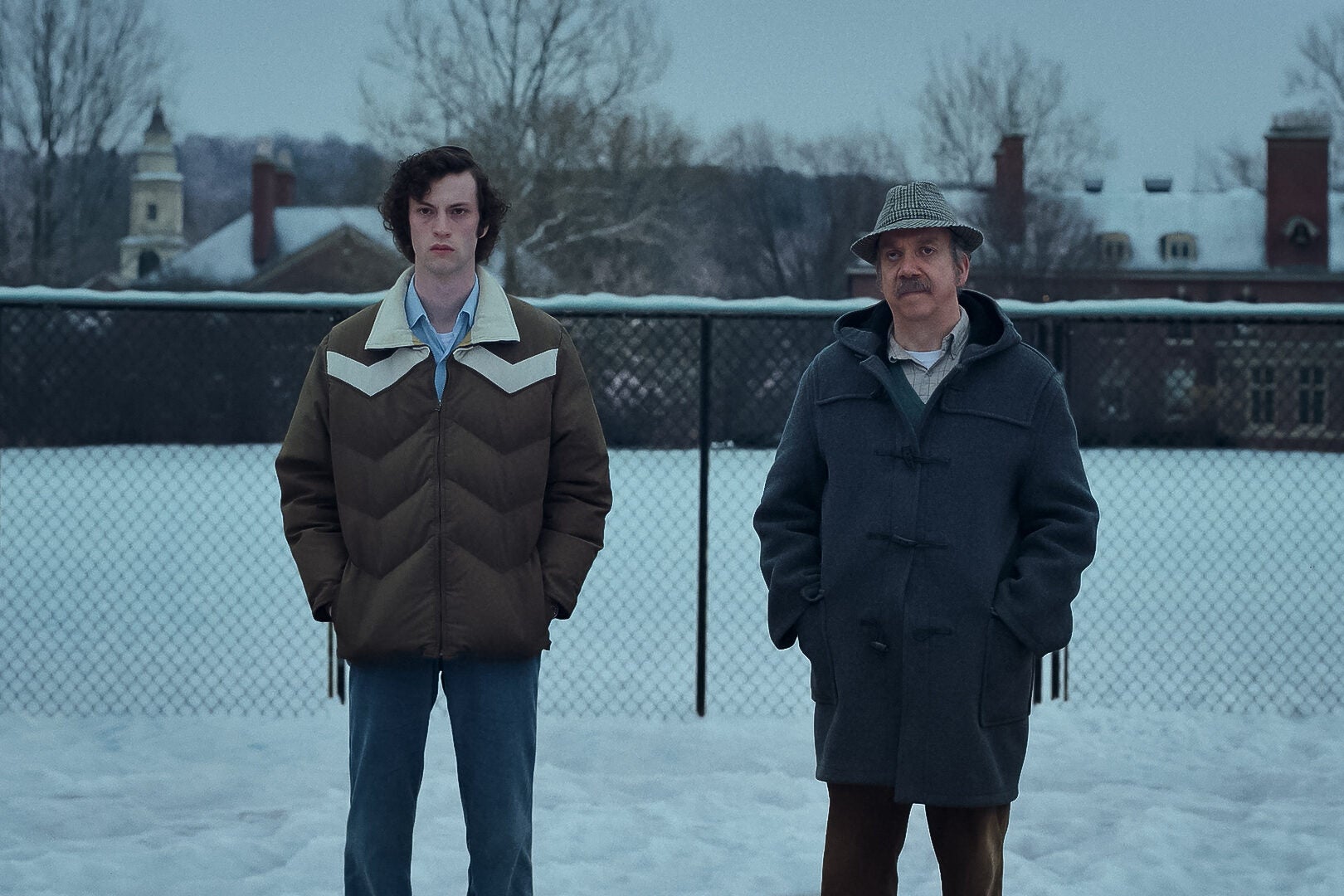 Cast: Paul Giamatti, Dominic Sessa, Da'Vine Joy Randolph
Almost two decades after collaborating on the Oscar-winning film "Sideways," actor Paul Giamatti ("Billions") and director Alexander Payne ("The Descendants") reunited to film "The Holdovers" in Massachusetts last year. The film takes place at prep school Deerfield Academy over the Christmas holidays in 1970, where roundly disliked professor Paul Hunham (Giamatti) is tasked with supervising students staying at the school over break. Eventually, the only "holdovers" left are Paul, Deerfield's head cook Mary (Da'Vine Joy Randolph, "Empire"), and a 15-year-old troublemaking student named Angus (newcomer Dominic Sessa). "The Holdovers" will hope to stick around for the holiday break after it hits theaters November 10.
Watch the trailer for "The Holdovers"
"American Fiction" (Nov. 10)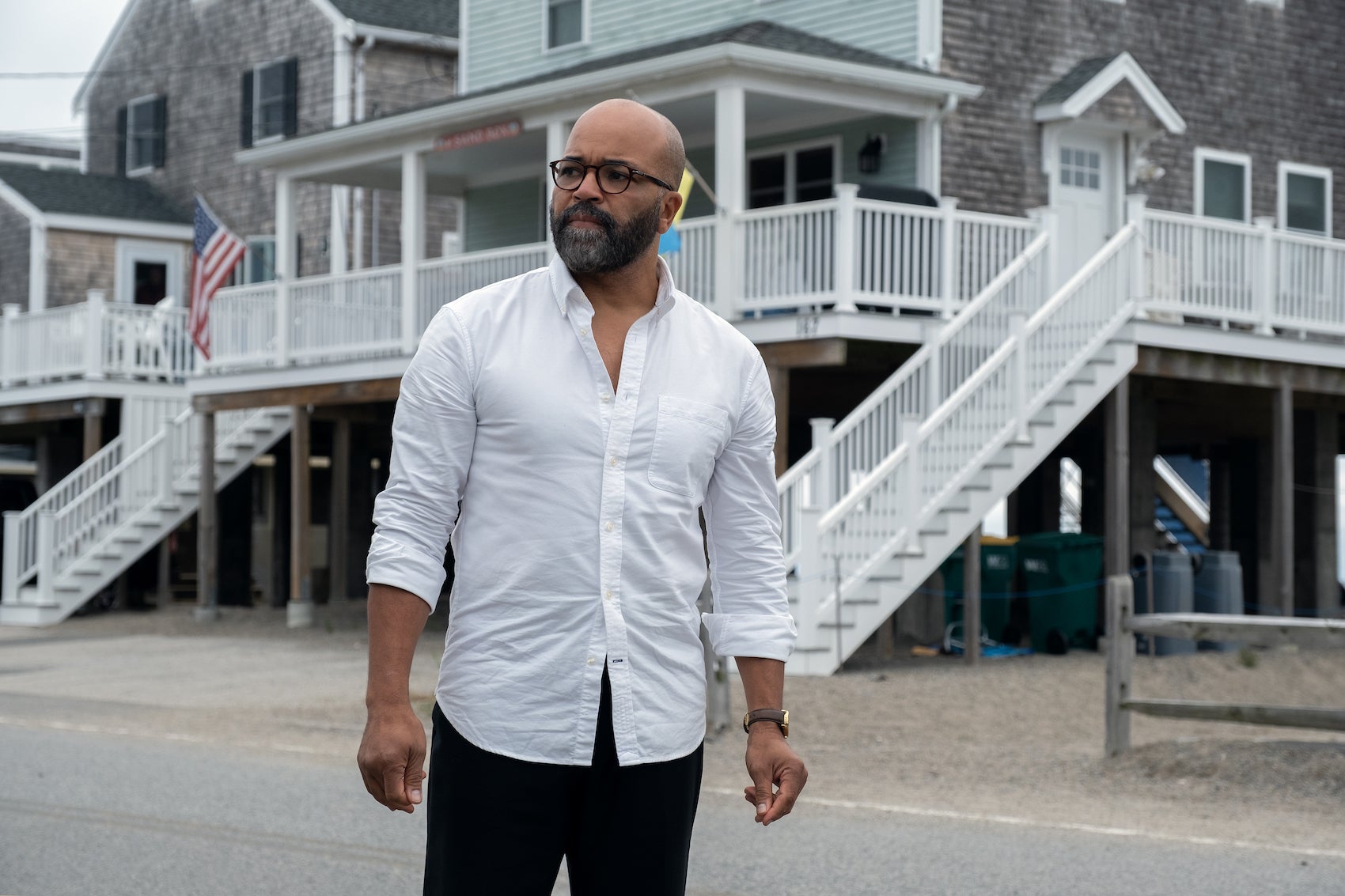 Cast: Jeffrey Wright, Tracee Ellis Ross, Adam Brody, Issa Rae, Sterling K. Brown.
Cord Jefferson ("The Good Place," "Watchmen") has successfully made the jump from blogger to screenwriter to director with his debut "American Fiction," a scathing comedy filmed in Massachusetts last year. Jeffrey Wright ("The Batman") plays Monk, a Black novelist who's sick of seeing publishers profit off of works he sees as playing into tired stereotypes. As an act of rebellion, Monk writes an absurd, satirical "Black" book under a pen name, but soon finds his morals tested when the book becomes a massive hit. Co-starring Tracee Ellis Ross ("Black-ish"), Issa Rae ("Insecure"), and Sterling K. Brown ("This Is Us"), "American Fiction" arrives in theaters November 10.
"The Marvels" (Nov. 10)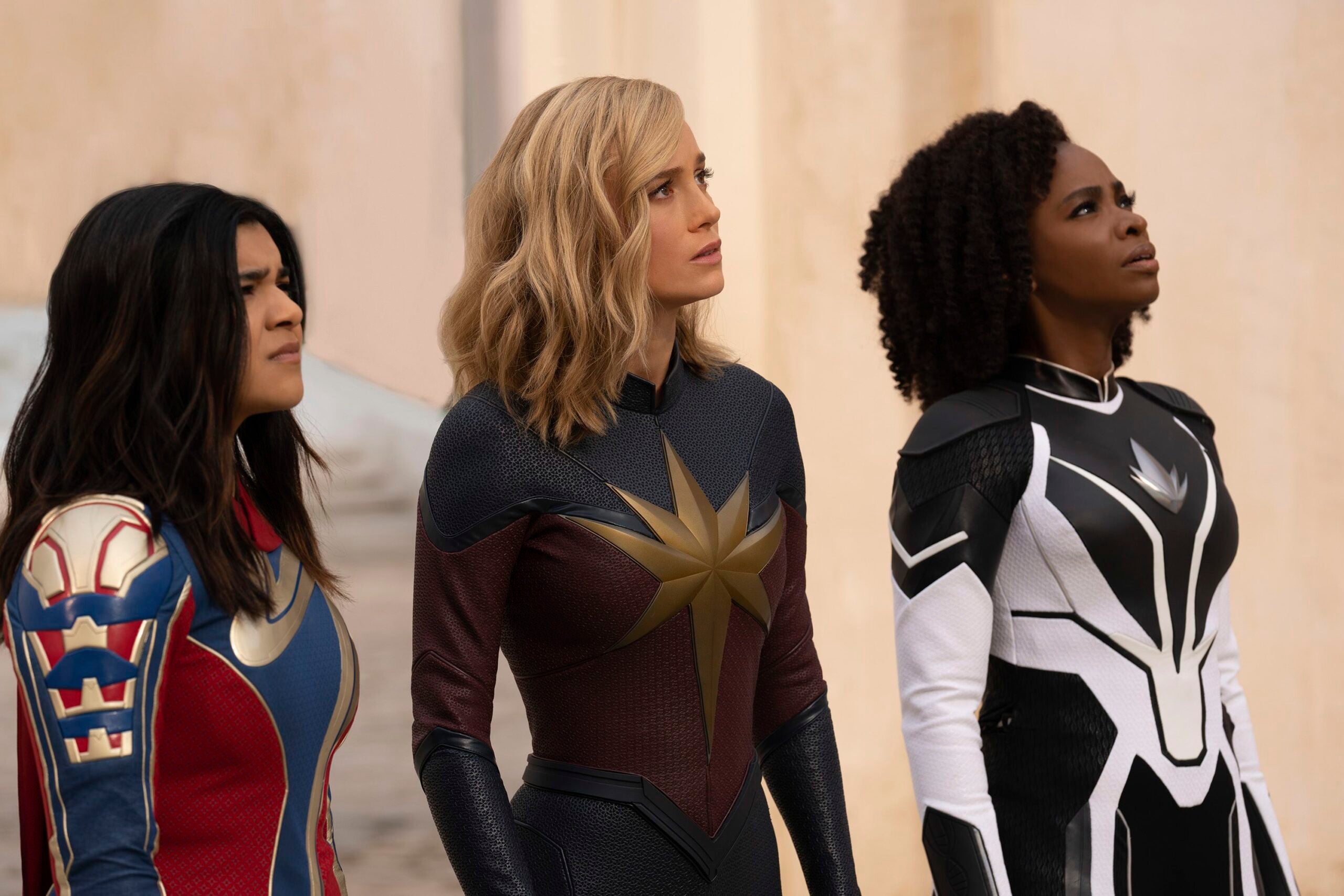 Cast: Brie Larson, Teyonah Parris, Iman Vellani, Samuel L. Jackson
Marvel had an up-and-down 2023 "Guardians of the Galaxy Vol. 3" achieved modest financial and critical success while "Ant-Man and the Wasp: Quantumania" flopped at the box office and "Secret Invasion" became one of the worst-reviewed MCU shows ever. Kevin Fiege and Co. are hoping that "The Marvels" will help Phase Five move in the right direction. The "Captain Marvel" sequel brings back Carol Danvers (Brie Larson) and teams her up with Monica Rambeau (Teyonah Parris) and Kamala Khan (Iman Vellani), who showed off their own abilities in "WandaVision" and "Ms. Marvel," respectively. (In case it wasn't already clear, you may want to catch up on Phase Five before watching this one.) "The Marvels" flies into theaters November 10.
Watch the trailer for "The Marvels"
"The Hunger Games: The Ballad Of Songbirds And Snakes" (Nov. 17)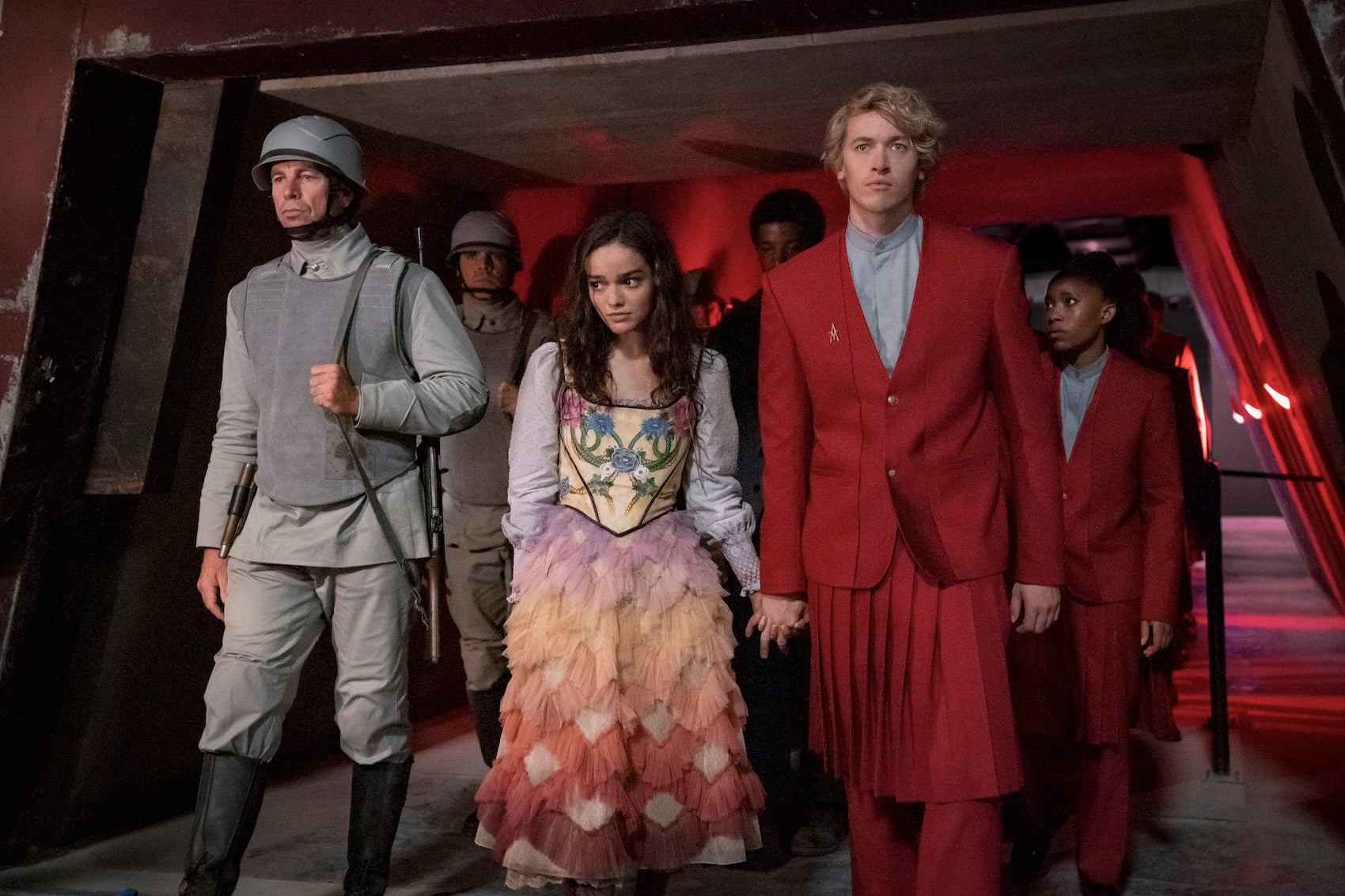 Cast: Tom Blyth, Rachel Zegler, Peter Dinklage, Jason Schwartzman, Viola Davis
Decades before Katniss Everdeen (Jennifer Lawrence) volunteered as tribute, "The Hunger Games: The Ballad of Songbirds and Snakes" shows audiences a Panem that hasn't yet fallen under the autocratic thumb of President Coriolanus Snow. Indeed, the Snow family is on the decline, with a young Coriolanus (Tom Blyth, "The Gilded Age") the last hope for the once-prominent family. Snow is assigned to mentor District 12 tribute Lucy (Rachel Zegler, "West Side Story"), and when she proves popular, begins to woo her. Are Snow's feelings genuine, or is he simply advancing his family's interests? Lionsgate hopes you'd like to find out when "The Hunger Games: The Ballad of Songbirds and Snakes" flies into theaters November 17.
Watch the trailer for "The Hunger Games: The Ballad Of Songbirds And Snakes"
"Please Don't Destroy: The Treasure of Foggy Mountain" (Nov. 17 on Peacock)
Cast: Martin Herlihy, John Higgins, Ben Marshall, Bowen Yang, Conan O'Brien
If you've watched "Saturday Night Live" recently, you've probably seen (and enjoyed) the work of comedy troupe Please Don't Destroy. Ben Marshall, John Higgins, and Martin Herlihy have served in a hybrid role since joining the show in 2021, working as writers and shooting pre-recorded shorts that build on the weirdo sketches they posted on social media in recent years. (Personal favorites of that pre-"SNL" era include "I Got Vaccinated,"Hide and Seek," and "I Got Stuck.") Following their "SNL" success, the trio steps into feature film territory with "The Treasure of Foggy Mountain," which finds the boyhood pals seeking a hidden treasure that will let them live out their dreams. For Ben, that means taking over the family sporting goods store from his disapproving dad (Brookline's own Conan O'Brien); for Martin, it means buying a house for him and his extremely religious fiancé. In reality, the treasure hunt is a loose plot device that lets PDD get up to their usual antics, which remain laugh-out-loud funny even in a full-length film. Directed by "SNL" veteran Paul Briganti, "Please Don't Destroy: The Treasure of Foggy Mountain" begins streaming November 17 on Peacock.
"Leo" (Nov. 21 on Netflix)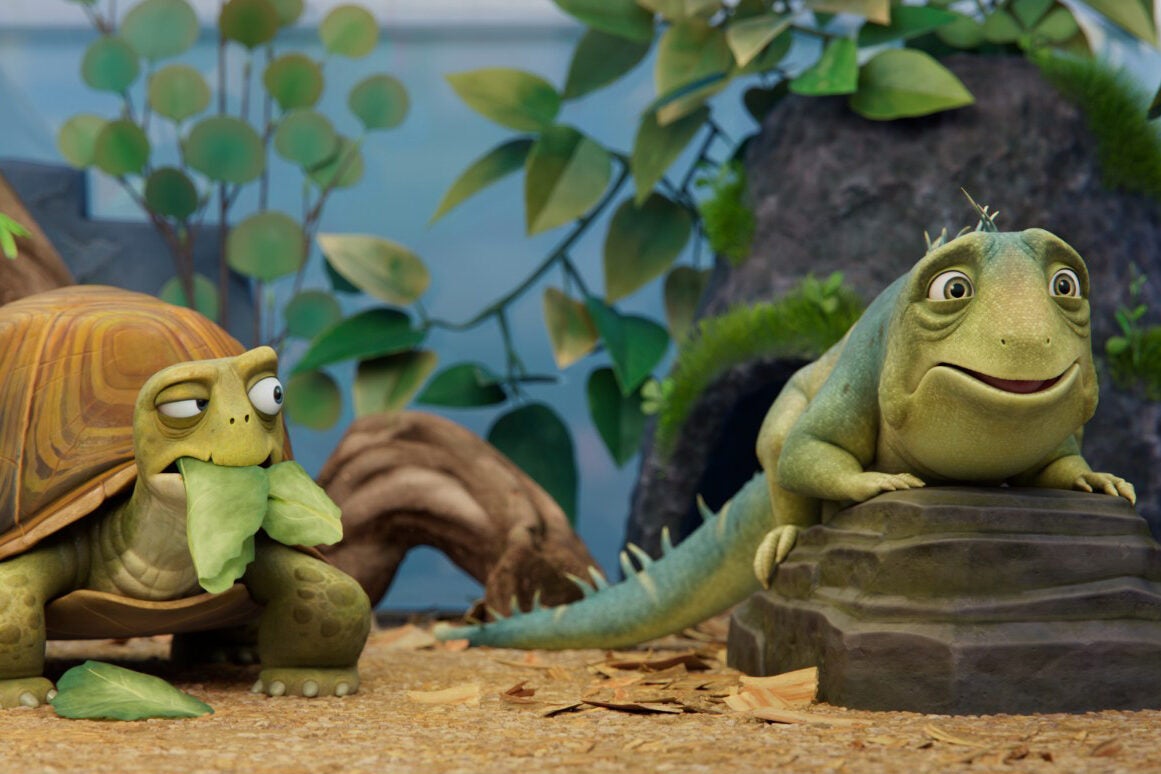 Cast: Adam Sandler, Bill Burr, Cecily Strong, Jason Alexander
With "Hotel Transylvania" and its three sequels, Adam Sandler proved he can channel his manchild energy into fun movies aimed at actual children. In that vein, "Leo" is an animated comedy starring Sandler as a lizard and Bill Burr as a turtle who live together in a fifth grade classroom. When the septuagenarian lizard finds out he only has one year to live, Leo breaks out of his tank for an adventure across the state of Florida. Along with Sandler and Burr, "Leo" features the voice talents of Cecily Strong ("Saturday Night Live"), Jason Alexander ("Seinfeld"), and Sandler's teenage daughters, Sadie and Sunny, who can also be seen in the recent Netflix Original "You Are So Not Invited to My Bat Mitzvah."
"Maestro" (Nov. 22 in theaters, Dec. 20 on Netflix)
Cast: Carey Mulligan, Bradley Cooper, Matt Bomer, Maya Hawke, Sarah Silverman
If early reviews from the Venice Film Festival is any indication, Bradley Cooper has created a masterpiece with "Maestro," his biopic of famed composer Leonard Bernstein. "Maestro," which was partially filmed in Western Mass. at Tanglewood in 2022, chronicles the complex, decades-long relationship between Bernstein (Cooper) and activist Felicia Montealegre Cohn Bernstein (Carey Mulligan, "Drive"). Like many artists, Bernstein was a complex, passionate figure prone to contradiction. He was devoted to Felicia and their family, but his extramarital affairs and his narcissistic tendencies strained their partnership. Through it all, Felicia stood by "Lenny," making for a film that Netflix calls an "epic portrayal of family and love." "Maestro" will land in select theaters November 22 before it begins streaming December 20 on Netflix.
Watch the trailer for "Maestro"
"Napoleon" (Nov. 22)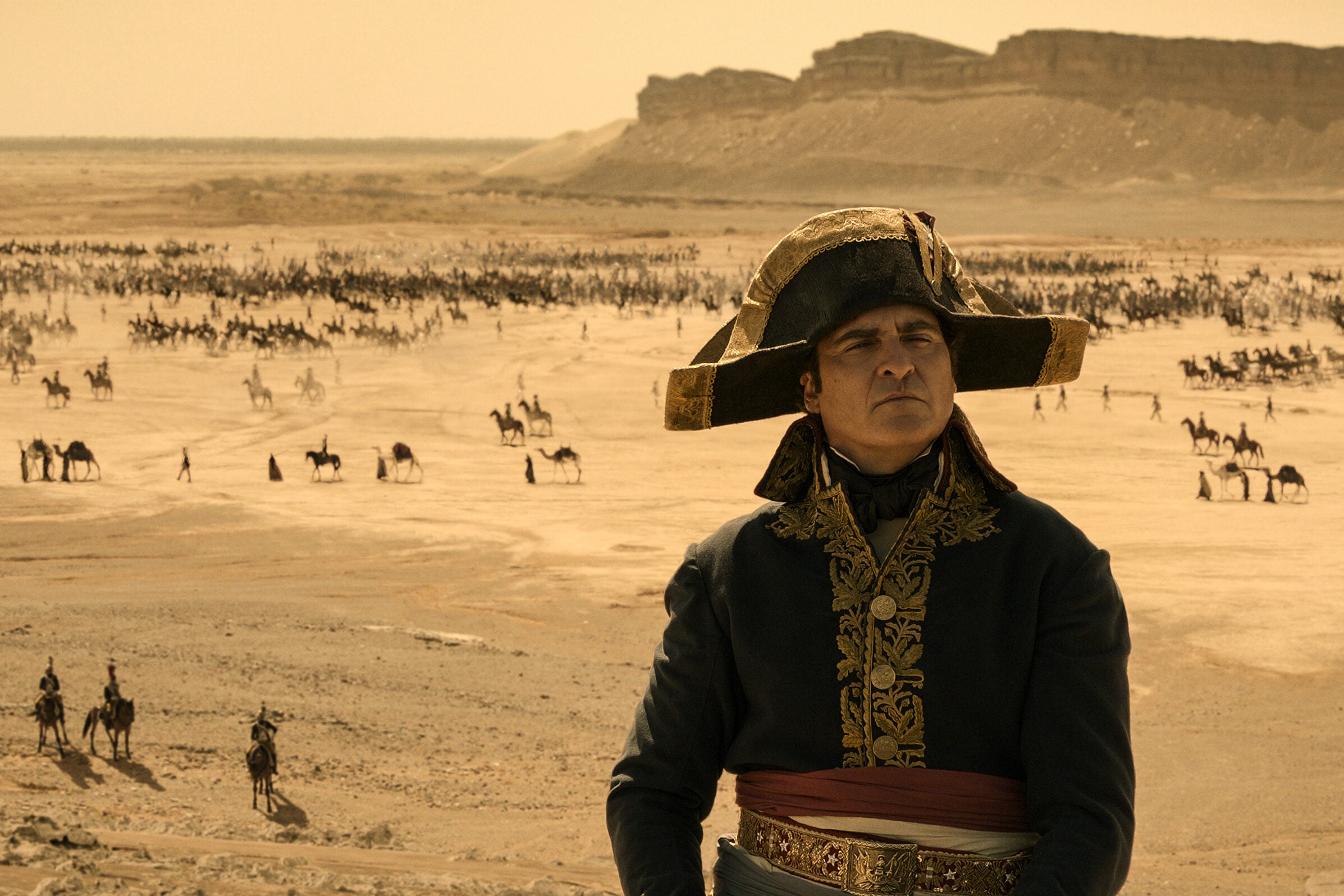 Cast: Joaquin Phoenix, Vanessa Kirby, Tahar Rahim, Mark Bonnar
Despite making some of the most influential films ever over his 46-year career, director Ridley Scott ("Alien," "Blade Runner," "Gladiator") has never won an Oscar. Scott and Apple Studios hope that will change with "Napoleon," a historical drama that reunites Scott with "Gladiator" co-star Joaquin Phoenix ("Joker") as the legendary French emperor. "Napoleon" is likely to be as epic in scope as Napoleon's ambition, chronicling Bonaparte's rise through the ranks and his insatiable love of power and his wife, Josephine (Vanessa Kirby of the "Mission: Impossible" franchise). Scott has claimed he has a "fantastic" four-and-a-half hour director's cut of the film, but audiences will have to settle for the 158-minute version for now when "Napoleon" charges into theaters November 22. (Apple has not announced a date for when "Napoleon" will be streaming on Apple TV+).
Watch the trailer for "Napoleon"
"Wish" (Nov. 22)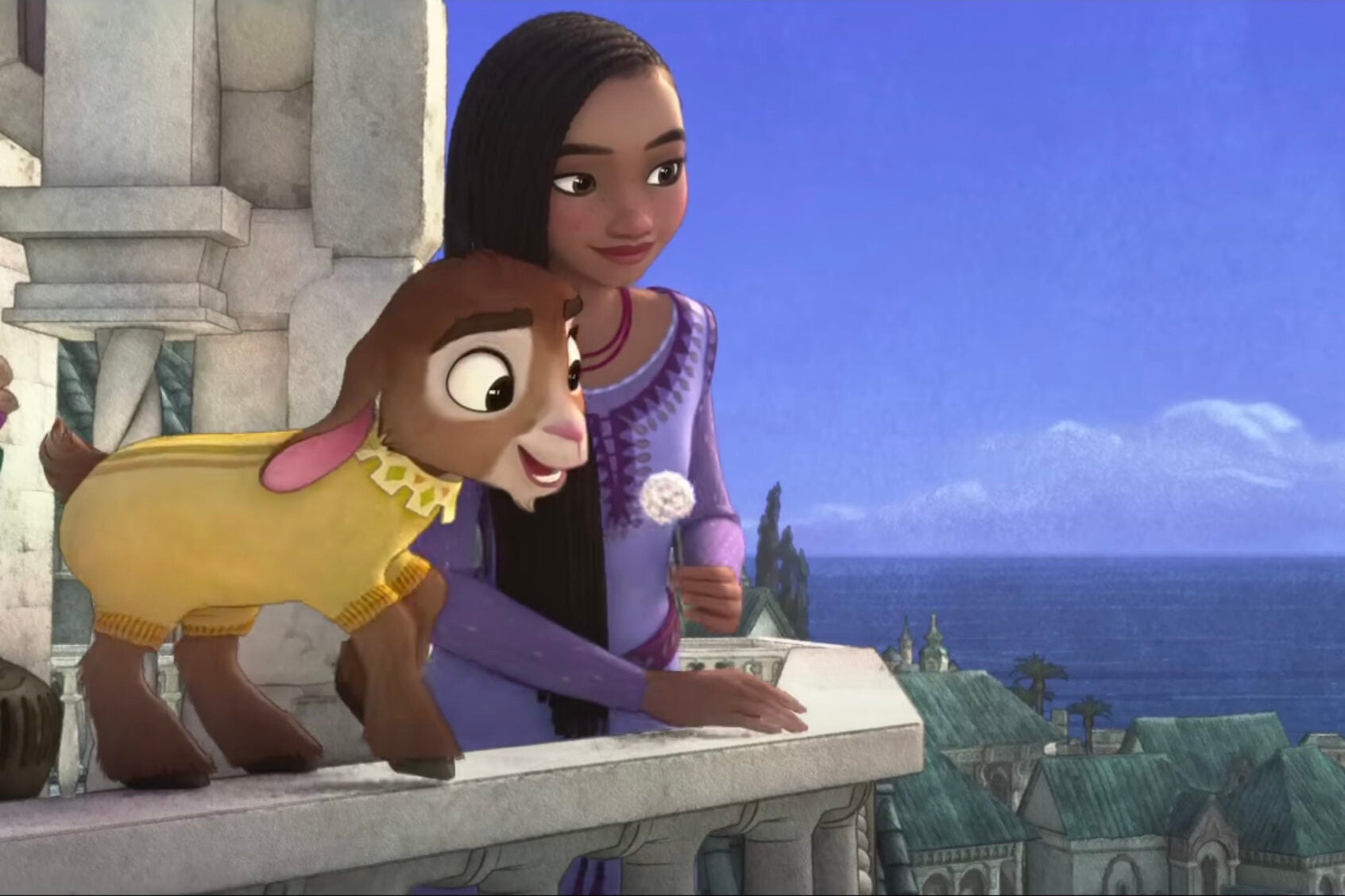 Cast: Ariana DeBose, Chris Pine, Alan Tudyk
Disney is celebrating its 100th anniversary this year, and its newest film, "Wish," evokes some of the studio's earliest successes, from "Cinderella" to "Pinocchio." Asha (Arianna DeBose, "West Side Story") lives in the village of Rosas, where people flock to make wishes to the powerful King Magnifico (Chris Pine, "Star Trek"), who promises to grant them all — when he feels like it. When Asha makes a wish so strong that an anthropomorphic star descends from the heavens, Asha and her newly talking goat (Alan Tudyk, "Moana") will help free her community from the whims of Magnifico and realize the power of pursuing their own dreams. "Wish" arrives just in time for the post-Thanksgiving family movie outing, hitting theaters November 22.
"Poor Things" (Dec. 8)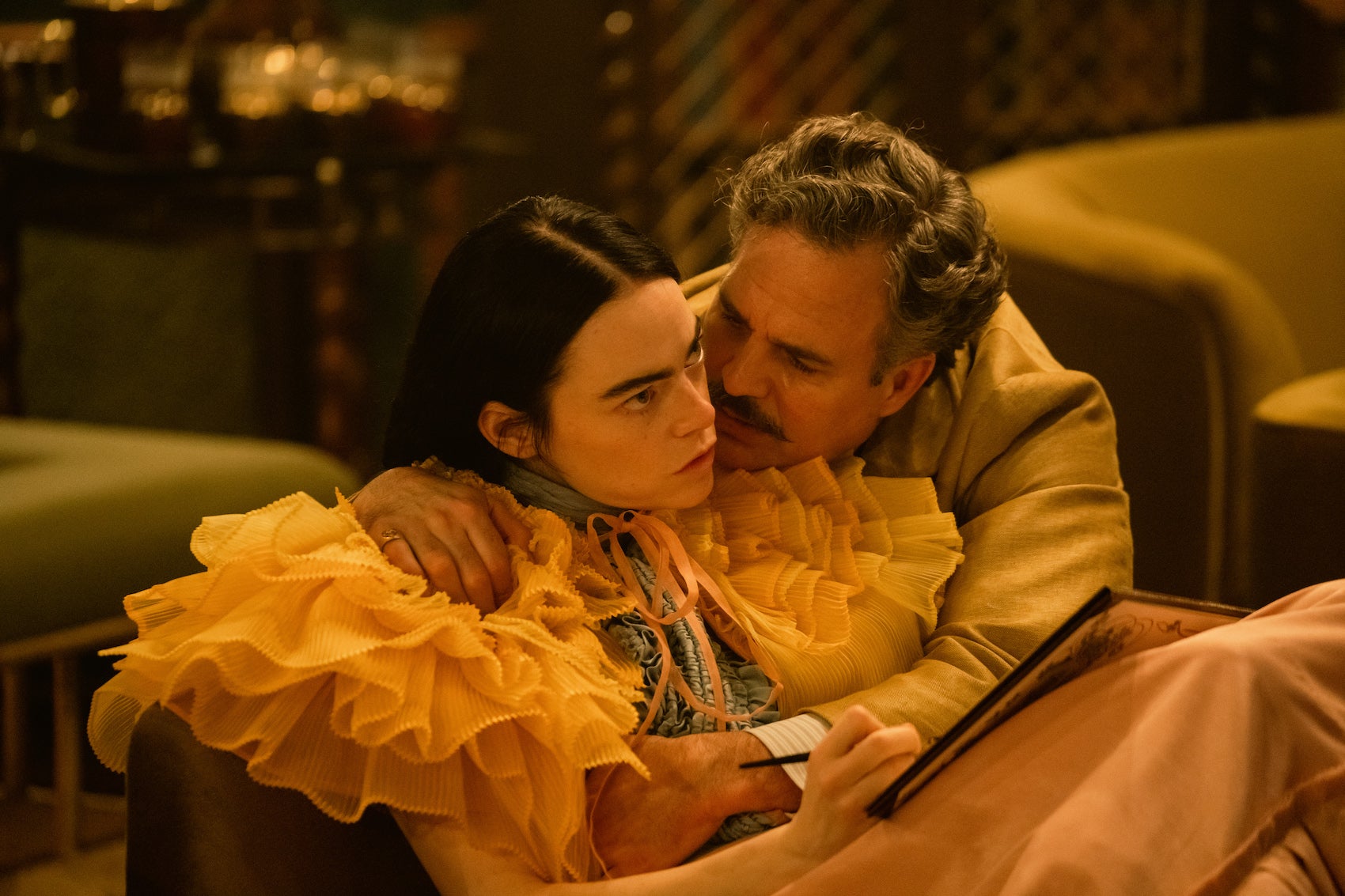 Cast: Emma Stone, Willem Dafoe, Mark Ruffalo, Ramy Youssef
The festival buzz around "Poor Things" has been seismic, with critics drawing parallels between "Barbie" and Bella Baxter (Emma Stone), a woman who has been crudely brought back to life by a mad scientist (Willem Dafoe, "Platoon") in Victorian-era England. Bella initially knows little of the world, but gets a crash course when she is whisked away by debauched lawyer Duncan Wedderburn (Mark Ruffalo, "Spotlight"). Director Yorgos Lanthimos ("The Lobster") has already collaborated with Stone once before on a twisted Victorian tale with "The Favourite," and you can expect "Poor Things" to be deeply weird, sexually graphic, and wickedly funny. "Poor Things" lands in theaters December 8.
Watch the trailer for "Poor Things"
"Wonka" (Dec. 15)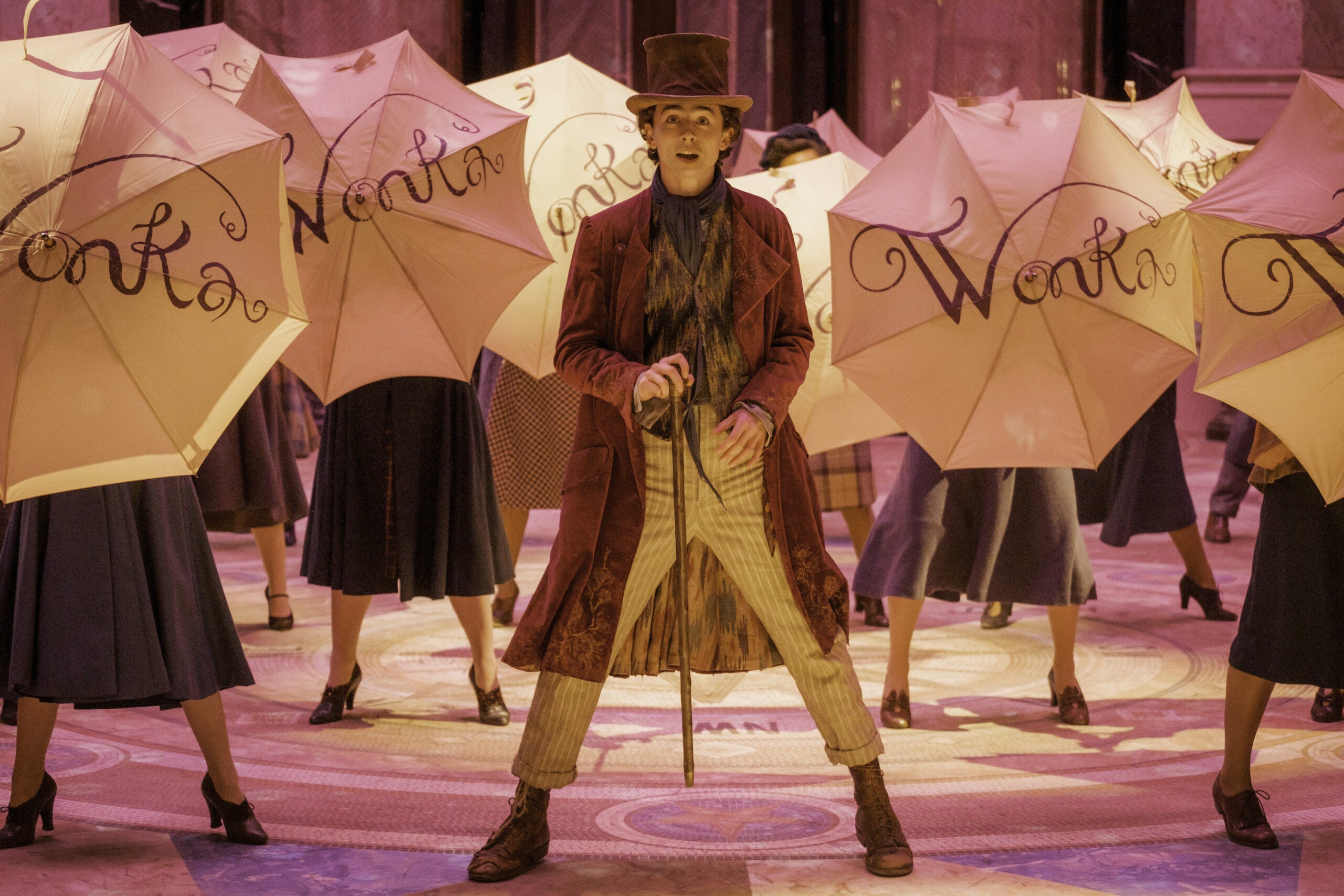 Cast: Timothée Chalamet, Calah Lane, Keegan-Michael Key, Rowan Atkinson, Olivia Colman, Hugh Grant
Given the ages of Gene Wilder (38) and Johnny Depp (42) when they portrayed Willy Wonka, Timothée Chalamet ("Dune") — who is 27 but could pass for a college student — seems like an odd choice as Roald Dahl's fictional chocolatier. Warner Bros. and director Paul King ("Paddington") have solved that problem by making "Wonka" a prequel, with Chalamet playing Wonka as an upstart who must rely on his creative talents to break the hegemony of candy CEOs Slugworth, Prodnose, and Ficklegruber. Co-starring Keegan-Michael Key ("Key & Peele"), Olivia Colman ("The Favourite") and Hugh Grant ("Notting Hill"), you can buy a golden ticket to "Wonka" starting December 15.
"The Color Purple" (Dec. 25)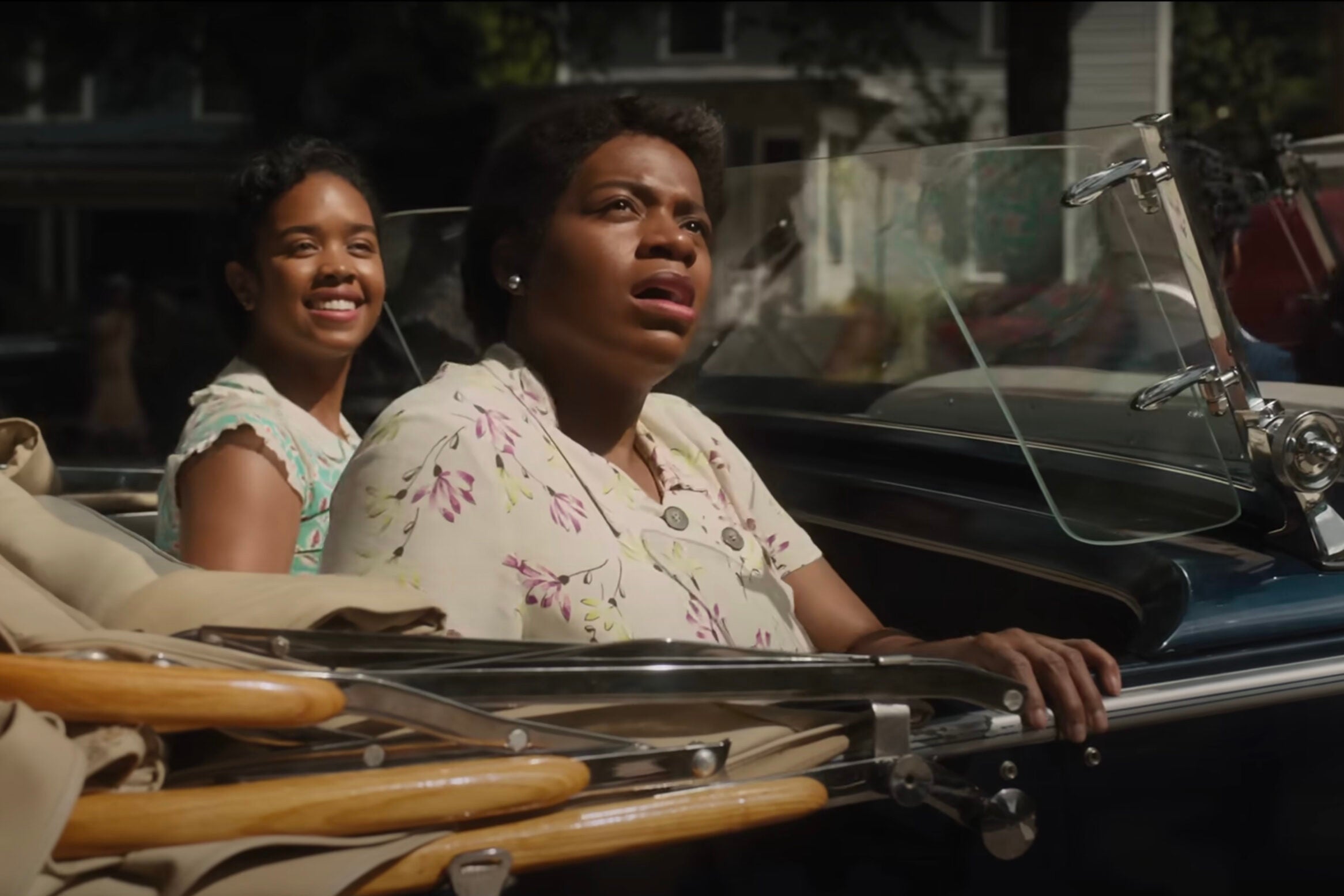 Cast: Fantasia Barrino, Taraji P. Henson, Danielle Brooks, Colman Domingo
Steven Spielberg, who directed the 1985 film adaptation of Alice Walker's Pulitzer-winning novel, is stepping into a producer role for the 2023 remake, handing the reins to Ghanaian filmmaker Blitz Bazawule. A Reconstruction-era story of heartbreak, trauma, and triumph, "The Color Purple" tells the story of of three women — Celie (singer Fantasia Barrino), Shug (Taraji P. Henson, "Hidden Figures"), and Sofia (Danielle Brooks, "Orange is the New Black") — who lift each other up in the face of abuse from the men in their lives. "The Color Purple" won zero Oscars despite nine nominations at the 1986 Academy Awards, so Spielberg and fellow producers Oprah Winfrey and Quincy Jones will be hoping for more this time around. "The Color Purple" arrives in theaters December 25.
Watch the trailer for "The Color Purple"
"Ferrari" (Dec. 25)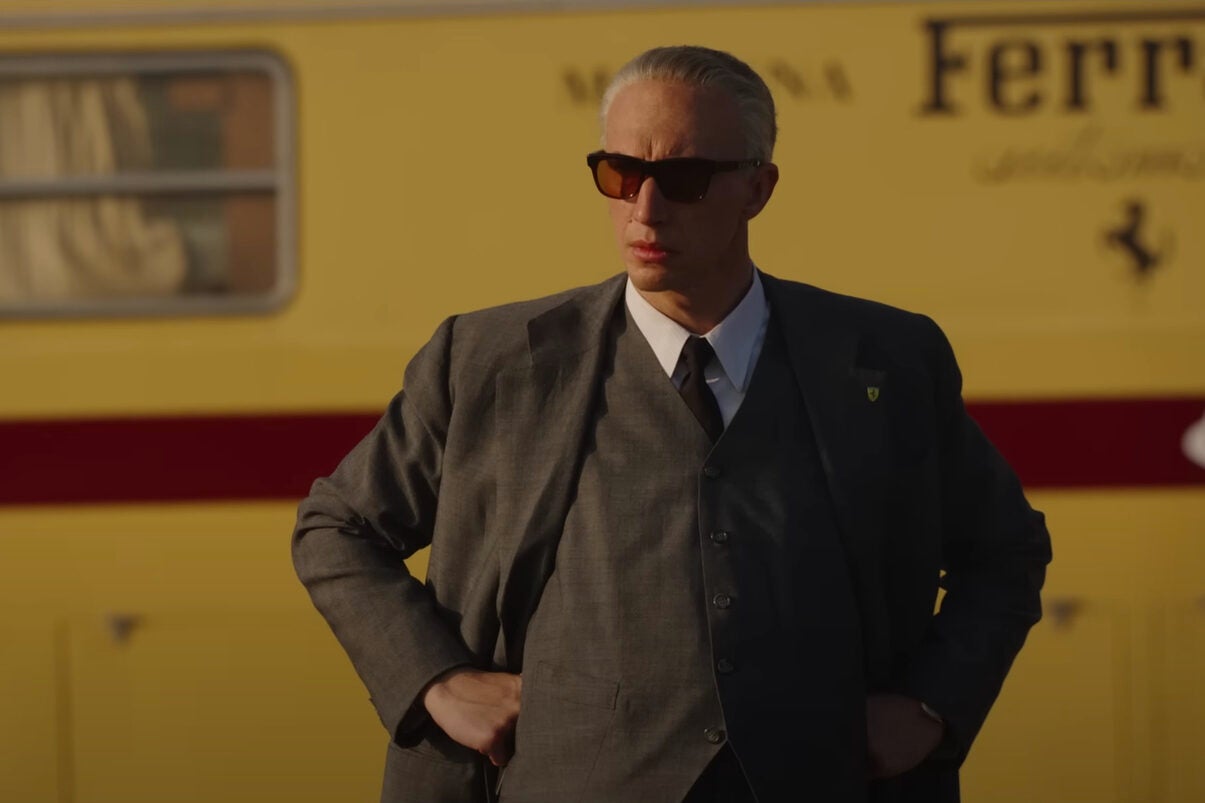 Cast: Adam Driver, Penélope Cruz, Patrick Dempsey, Jack O'Connell, Shailene Woodley
After playing Maurizio Gucci in 2021's "House of Gucci," Adam Driver is continuing his Italian phase playing automaker Enzo Ferrari in this biopic from Michael Mann ("Heat"). Set during the summer of 1957, Ferrari is facing bankruptcy, marriage trouble, and the continued emotional impact of the death of his son. Facing a breaking point, he stakes his entire fortune on a single race across Italy, the treacherous 1,000-mile Mille Miglia. Co-starring Penelope Cruz ("Blow"), Patrick Dempsey ("Grey's Anatomy"), and Shailene Woodley ("Divergent"), "Ferrari" races into theaters December 25.
Watch the trailer for "Ferrari"
Need weekend plans?
The best things to do around the city, delivered to your inbox.