Movies
Watch the gory trailer for 'Thanksgiving,' a new horror movie set in Plymouth
Newton native Eli Roth ("Hostel") is running with his idea of a Thanksgiving slasher film first seen by audiences back in 2007.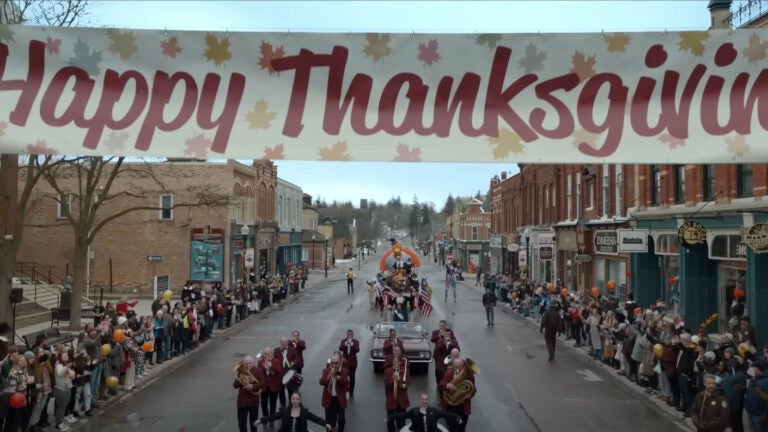 Why should Halloween get to have all the horror movies?
The first trailer for "Thanksgiving," a gory new slasher movie from Newton native Eli Roth ("Hostel"), proves there's more than one holiday that can provide an effective backdrop for jump scares and grisly deaths.
"Thanksgiving" has been in the works for years now, going back to when Roth made a fake trailer for the intermission of Quentin Tarantino and Robert Rodriguez's 2007 double feature "Grindhouse."
After years of false starts, Roth settled on a script set in the birthplace of Thanksgiving — Plymouth, Mass. (Eagle-eyed viewers will probably notice that production actually took place in Canada, however.)
After a Black Friday riot at a fictional department store ends in tragedy, a serial killer dressed as a pilgrim begins terrorizing the town.
In the first trailer for the film, we see the homicidal "Jack Carver" (presumably named for the first governor of Plymouth Colony) using items you might find on a Thanksgiving table, like corn holders and potato mashers, as instruments of terror.
Also featured in the trailer is Patrick Dempsey ("Grey's Anatomy") as a Plymouth sheriff who, in a questionable Boston accent, informs us that "Thanksgiving is an institution here."
Though Carver's carnage may initially seem random, the trailer quickly reveals that as movie serial killers often do, he has targeted a group of Plymouth teens.
Along with Dempsey, "Thanksgiving" features TikTok star Addison Rae, Milo Manheim ("Zombies"), Jalen Thomas Brooks ("Animal Kingdom"), Nell Verlaque ("Big Shot"), Rick Hoffman ("Suits"), and Gina Gershon ("Cocktail").
"Thanksgiving" slices its way into theaters November 17.
Watch the red-band trailer for Eli Roth's "Thanksgiving" below.
Newsletter Signup
Stay up to date on all the latest news from Boston.com