Music
Boston Pops Bring Energy in 129th Season Opener with Jason Alexander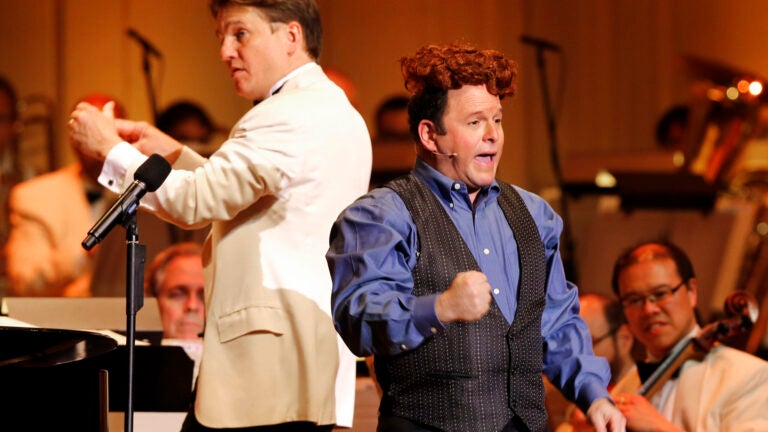 As the lights flickered and called forth symphony-goers at the 129th season opener of the Boston Pops on Wednesday night, an air of anticipation filled Symphony Hall.
The vocal buzz echoing through the storied theater quickly turned to applause as the Pops, clad in a classic combination of white tops and black bottoms, promptly took the stage at 8 p.m. In the two hours that followed, veteran conductor Keith Lockhart and his orchestra presented a two-part concert that included eight instrumental numbers (published over the span of a century), and a captivating handful of Jason Alexander-accompanied arrangements.
The first part of the evening was filled with selections from the program dubbed "The Very Best of the Boston Pops,'' including a world premiere arrangement of "Blue Rondo à la Turk'' by Chris Brubeck, son of the song's composer, Dave Brubeck. Lockhart called the performance a "tribute to the immortal music of [Dave Brubeck]'' in his introduction, and once the piece was finished, the younger Brubeck was praised with a standing ovation after he revealed himself as a member of the audience.
The rest of the first hour consisted of Aaron Copland's "Buckaroo Holiday'' from "Rodeo,'' "Largo'' from Antonín Dvořák's "New World Symphony,'' "It Don't Mean a Thing (If It Ain't Got That Swing)'' by Duke Ellington, Irving Mills, and Don Sebesky, and the theme from "Jurassic Park'' (1993) as composed by Pops laureate conductor John Williams. The instrumental portion of the evening wrapped up with a performance of Abba's "Dancing Queen,'' for "something completely different,'' Lockhart remarked, referencing Monty Python.
After a short break, the Pops returned to their positions and attendees filed into their seats in anticipation of the evening's second act, featuring Jason Alexander.
The "Seinfeld'' actor who got his start on Broadway in "Merrily We Roll Along'' (1981) in his early 20s, took the crowd on a journey that started at his first Broadway show when he was 5 years old ("The Last 5 Years''), through present day, ultimately ending with a farewell arrangement that brought audience members to tears.
There were also lighter moments with the taste of Alexander's career in comedy. For one musical number, Alexander joked that after returning to New York following "Seinfeld,'' Broadway executives refused to give him certain "inappropriate'' roles, which prompted a medley mash-up of said roles (with props). He performed lines from songs and shows like "Jesus Christ Superstar,'' "Phantom of the Opera,'' "Annie,'' "Evita,'' and "Dreamgirls.''
Alexander closed on a somber but powerful note with a performance of William Finn's "Elegies,'' a moving tribute spoken from the voice of someone who has died, after remarking on his own father's last words: "I'll see ya later.''
The emotional moment was soon forgotten after Alexander exited stage left and the Pops struck up John Philip Sousa's "The Stars and Stripes Forever.'' The fireworks were sorely missed, but the drop of a massive flag and a patriotic light show helped fill the void during what Lockhart called one of his top five Pops songs of all time.