Music
Boston Rapper Bia Debuts on Oxygen's 'Sisterhood of Hip Hop' Aug. 12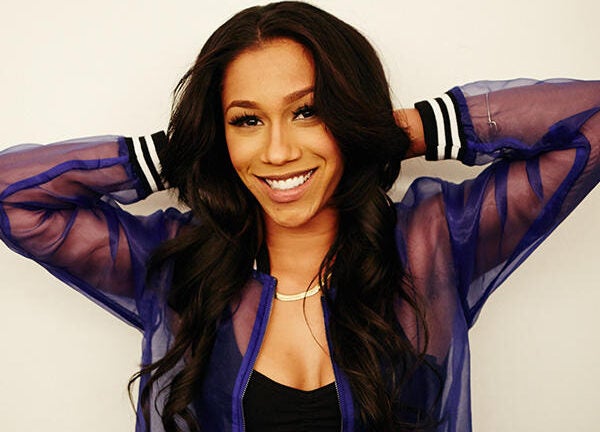 There are a few things you might not associate with hip-hop — Boston and Oxygen Media could be two — but after hearing what local emcee Bia has to say, she hopes you'll change your mind.
Bia (real name Bianca Landrau) is a 23-year-old graduate of Medford High School who also happens to be signed to Pharrell's label. The Hub-bred artist is one of five female rappers featured on Oxygen's "Sisterhood of Hip Hop,'' a program that hopes to empower women in the male-dominant industry, premiering Aug. 12 at 9 p.m.
Despite graduating from Medford High, Bia has called several areas of Massachusetts her home and she wants to show the world what Boston is all about.
"I feel like people don't really know what it's like to grow up in Boston,'' Bia said during a phone interview with Boston.com on Friday. "I feel like they think we're so detached from everywhere else and we're a melting pot just like New York or California. There's so many people that come in and out of Boston and it effects our style, not only how we dress, how we talk.
"People underestimate [Boston] so much,'' Bia added. "So I think there's a toughness and an educated side that comes from growing up there.''
Bia's style — relaxed, crisp, clean, and infectious — is a reflection of her days in a friend's East Boston recording studio where, as she said, "rap was just rubbing off on me, just being implanted in my brain.''
Before she started recording tracks of her own, Bia hung out in Downtown Crossing where a culture of Jordan sneakers and rap battles encompassed Washington Street after school.
"Everyone just lived to wear Jordans and buy sneakers,'' Bia recalled. "[We'd] go outside, all the boys used to battle rap. That's a side of Boston that people don't know… I hope I can shed some light on the people that don't think we have that hip-hop scene there, because it's always been there.''
[fragment number=0]After she got serious about her rap career, Bia began networking, but she was skeptical of the process of finding representation. It took a month of phone calls with her current manager, Famlay (a.k.a. Fam), to get her to fly to Miami to meet him in person.
"He was like 'Look, I just want to meet you. I want to fly you out. I don't want to tell you who you're going to meet so much,''' Bia remembered. "He didn't really want me to get too psyched out. He got to know me for, I want to say maybe a month, before I actually flew down.''
It was during that trip that she linked up with Pharrell, who according to an Oxygen video, gave Bia a shot at spitting on a beat. Luckily for her, it went well.
"[Pharrell] just said, 'Listen, I got this song. If you write a good verse for it, I'll keep you on it. If it's bad, I'll take you off,''' she said in the video. "So I was like "Oh [expletive], it's do or die. This gotta be good. You're always given a moment, you've got to take a hold of your moment and make it your moment. That was my moment, and here I am.''
Since she inked the deal with Fam and Pharrell two years ago, Bia has recorded enough tracks to fill an eventual album (she's just being selective about the final tracks), and filmed "Sisterhood of Hip Hop,'' which she said has humbled her.
"I don't want to say we get lazy, but we get to a point where we get really confident. When you do something that you love so much and you think you're the best at it in a sense, you know?'' Bia said of her experience in the rap industry. "But being around other girls that work just as hard as me, it always puts my mind back into perspective like, 'Yo, you've got to work for this because there's tons of people that want this just as bad as you do.'''
The work ethic is something that Bias's carried with her because she feels like she has a higher purpose than making music for herself. When asked what she wants her fans to know about her, Bia replied, "I just want them to know, man, I'm doing it for the city. It's bigger than me.
"I have a voice for a reason and I just want to bring as many looks back home as I can. We have a farm for talent, so when they see me, just know I'm doing it for us. I'm doing it for everybody that's there because we have so much going on.''