Music
Why the Free U2 Album is Pissing Off Apple Users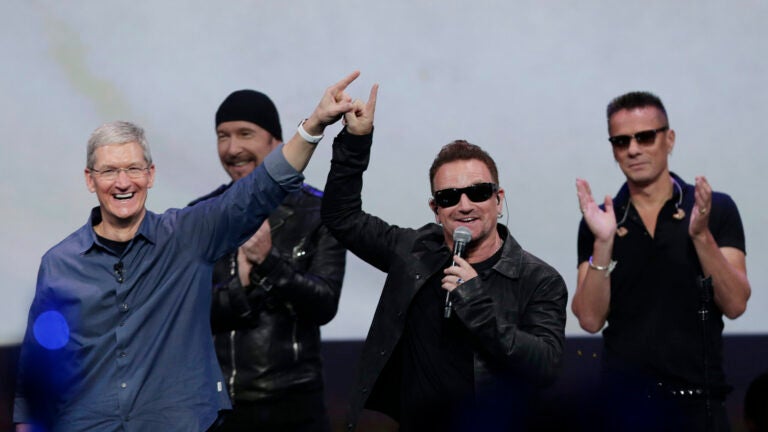 Like many iTunes users, I was pretty ticked off when I found U2's new album inconspicuously sitting in the purchases section of my iPhone following Apple's big event last week.
It's not that I don't like the Irish rockers — 1983's "Sunday Bloody Sunday'' is a personal favorite of mine. However, I would have preferred being able to choose whether or not to add "Songs of Innocence'' to my account rather than have it automatically synced for me without my permission.
Without permission.
That's the key idea stemming from the backlash to Apple's album giveaway.
It's not that people had an issue with getting a free record, because who doesn't like free stuff? No, many users were in a frenzy because a piece of virtual space that's meant to be personal and private, i.e. an iPhone's or an iPad's storage system, was invaded by a corporate entity without anyone's consent.
If you're having trouble seeing the problem here, imagine if you were in a grocery store and, intermixed with all your favorite goodies, a clerk had added a giant sack of old, moldy potatoes to your cart. Now, you don't have to pay for the food, but you are required to take it home with you.
Oh, and if you want to throw it away, there's a complicated, four-step procedure you have to follow. That is, unless you snag the store's nifty clean-up tool that will get rid of the old potatoes for you in just one step.
Replace potatoes with U2, and you'll understand why people are mad at Apple.
Now, I wouldn't be surprised if somewhere in the iTunes' user agreement, there was a paragraph — more likely a few pages — on allowing the company to automatically download content for you. In a way, Apple already does this when you have to update your operating system, but at least they ask if you want to upgrade before it starts downloading.
With this latest controversy, the questions arises as to whether your device is actually yours at all, since it seems more like a shared tool with Apple instead.
As consumers, sharing is integral to the way we use the web in 2014. We wouldn't be able to use location apps like Google Maps or find a band we might like on Spotify unless we gave corporations permission to use our personal online data to track our whereabouts, preferences, etc.
Of course, things like personalized ads on Facebook are annoyances that come with this more open, online culture, however, it appears that Apple and other technology companies want to push the envelope even further.
If we're okay with giving away our personal information for free, then we shouldn't be surprised when the inverse happens and corporations force their own information, or rather products, down our collective throats (or in this case, into our ears), right?
Moans and groans over the invasion of one's online personal space aside, I have to say, it was a pretty effective marketing strategy by Apple and U2.
According to Apple Senior Vice President Eddy Cue, over 33 million iTunes users accessed the album in some form following its release last week.
Not only did the stunt put more eyeballs on "Songs of Innocence,'' but 26 other U2 titles all charted at the same time on iTunes' top 200 albums rankings just two days after the new record dropped. That's an impressive feat considering the band had no albums on the chart prior to Apple's big event.
In fact, U2 hasn't got this much exposure in years. The band's last record, 2009's "No Line on the Horizon,'' sold only 5 million copies — a disappointment by the group's standards (2004's "How to Dismantle an Atomic Bomb'' sold over 10 million copies).
If giving away a mediocre album like an unwanted fruitcake at Christmas is the only way for a band to get noticed in today's industry, I shudder to think at what the future may hold.