Music
'I'm Shipping Up to Boston': 10 Years of A Working-Class, Boston Anthem
Frontman Ken Casey takes a look back at the band's biggest commercial hit.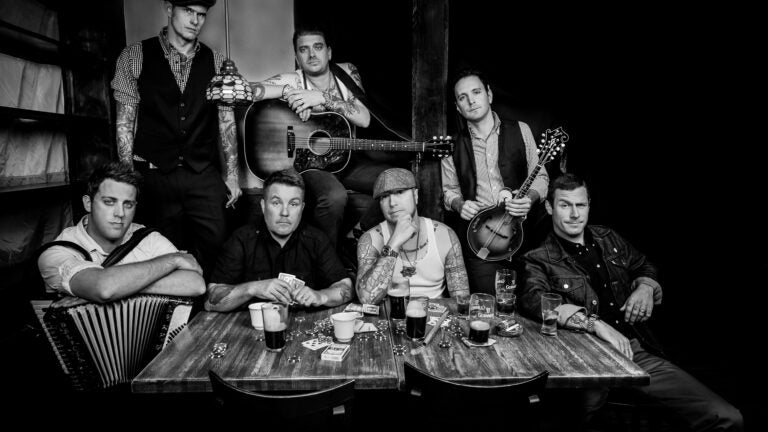 It was fate that brought Woody Guthrie's lyrics about a "sailor peg'' who lost his leg to Ken Casey's doorstep.
Over a decade ago, the Dropkick Murphys frontman was invited by the family of the late folk legend to check out his extensive archives. It was by chance that Casey stumbled upon the fragmented lines of what would eventually become the band's biggest commercial hit: "I'm Shipping Up to Boston.''
While Dust Bowl-era folk and Celtic punk rock are not typical bedfellows, the song has become an anthem for the city of Boston and its working-class citizens since it was released 10 years ago.
It's funny to think that Casey nearly dismissed the lyrics for being too comical when he first saw them.
"I laughed at it when I saw it. 'I'm a sailor peg, and I lost my leg.' What the hell,'' Casey told Boston.com. "So I took it as a laugh, you know? I went home, and we were rehearsing the song that we had musically, but we had no lyrics to. I visually remembered looking at those lyrics and just said, 'Oh, I think I have something good that would go with this song.' And that's how it came about.''
Shipping Up to the Big Time
Since it was released on the band's 2005 album "The Warrior's Code,'' "I'm Shipping Up to Boston'' has become a huge part of the city's pop culture history.
The song first made a splash on the national scene in Martin Scorsese's 2006 mob drama The Departed. Casey says hearing it over the film's opening credit during the Boston premiere was one of "the biggest moments'' of his career.
"I'm kind of a pessimist, you know, I like to have low expectations and be pleasantly surprised,'' he said. "To hear it come on in the theater over the opening credits, it was really loud, I was like, 'Oh my God.' Then they use it again later in the movie, so I was kind of blown away that it got that prominent a feature in The Departed.''
Beyond entertainment, the song has become a rallying cry for fans at Boston sports events.
Famously, it was used by former Red Sox closer Jonathan Papelbon as his walk-out track from the bullpen, which was sometimes accompanied by his funky dance moves.
As a die-hard Sox fan, Casey confesses he couldn't really get into Papelbon's production, but it's because he doesn't really feel right rocking out to his own tunes.
"I'm a Red Sox season ticket holder, the closer is coming out of the bullpen, and everyone is clapping, but like, I can't clap along to it,'' Casey said. "It's like a guy rocking out to his own song, you know what I mean? I'm crossing my arms awkwardly, have my hands in my pockets, so it's cool and a bizarre feeling at the same time.''
Hearing "I'm Shipping Up to Boston'' at a Sox game may be a bit cringe-inducing for Casey, but that doesn't mean he's sick of the song. Far from it, actually.
"People say, 'You ever get sick of playing that song?''' he said. "It's 2 minutes and 20 seconds, if that. I'm grateful that our biggest song wasn't some five-minute-long anthem that I had to play for five minutes every night.''
Paying Homage to Woody
Guthrie had a penchant for capturing the spirit of America's diverse and aching workforce, and he does this once again in his brief writing about sailors in Boston during his era. Perhaps the music pioneer thought of these words while on one of his famed trips across the country, the likes of which inspired such great works as "This Land Is Your Land.''
It seems like more than mere coincidence that Guthrie's grandson would become a fan of the Dropkick Murphys, which, in turn, inspired his mother Nora, Guthrie's daughter, to invite Casey to take a look at the archives.
Despite hailing from different ends of the musical spectrum, the band shares a lot in common with Guthrie, specifically when it comes to their ideological views. Like the late folk star, the Dropkick Murphys are not afraid to speak out on important issues and often act as a voice for working-class citizens right here in Boston.
Casey agrees that some sort of cosmic force must have compelled him to find the now iconic lyrics buried within the thousands and thousands of pages Guthrie left behind.
"I think so. It's kind of ironic, I mean, it said 'Shipping up to Boston,' which caught my eye of all the songs,'' Casey said. "I definitely think that we share a lot philosophically with Woody.''
As outspoken advocates for unions and organized labor, the Dropkick Murphys truly embody Guthrie's spirit by championing the same causes he did.
The band's commitment to their beliefs has caused a few tussles with politicians, most recently with Scott Walker, the Republican governor of Wisconsin. Walker used "I'm Shipping Up to Boston'' as his entrance song during the Iowa Freedom Summit in January, and after catching wind of what happened, the Dropkick Murphys promptly tweeted out their displeasure with the staunchly anti-union governor.
[fragment number=0]
"We stick to our guns. When that happened recently, I was shocked at how many people couldn't believe [what] we were saying that about the guy,'' Casey said. "If you don't know that our politics and lyrics are certainly Democrat — and certainly pro-working class and organized labor — it is who we are. That's what we've been during our time as a band, so for Scott Walker, there are plenty of bands out there to choose from, just don't choose us.''
Woody would be proud.
Working Class Legacy
Casey would be the first to tell you that he's not a fan of big arena shows, and even admits he walked out of a U2 concert at Gillette Stadium once, because he felt like he was too far away from the action.
Yawning in the face of pyrotechnics and on-stage gimmicks, the Boston-bred rocker much prefers the intimacy and simplicity of shows at smaller clubs. It's why the band continues to play at the House of Blues, an annual tradition during St. Patrick's Day weekend.
The Dropkick Murphys loved playing at the venue even way back when it was known as the Avalon.
"We did the last show ever at Avalon, before it was torn down,'' Casey said. "We made a shirt that was a tour shirt with the dates in the back, but all the dates were all the times we played Avalon. It was like over 50 times I think, and now, House of Blues, we've probably done that. I don't know, we've probably played over 100 shows there.''
Casey says there's something about smaller clubs that create an energy, a connection between the band and the fans.
While he'll always cherish memories like playing at Fenway Park or the TD Garden, Casey said he believes that the Avalon and House of Blues shows will stand out more in his mind — and likely the minds of fans — when it's all said and done.
"They've supported us and have been great when we wanted to do the Garden and when we wanted to do Fenway and when we wanted to do Agganis,'' Casey said. "I think everybody knew those were goals for us as a band, but when the dust settles, people's preference is to see Dropkick Murphys in a midsize club or a large club, not to see us in an arena because—I'll be the first to admit—there's something about bands of our nature: It's not meant for arenas, it's meant to be in a more intimate setting.''
Their close connection with fans coupled with the band's commitment to working-class causes are why the city has so feverishly embraced the Dropkick Murphys. And don't think for a second that the band hasn't tried returning the favor over the years.
The Dropkick Murphys have done more than just speak out for local labor unions or play benefit concerts, like in the wake of the Boston Marathon tragedy. They've given back in so many other ways as well.
For instance, the band has allowed certain local businesses to use their songs in advertisements over the years without having to pay royalty fees. They've also done a lot of work for various charities, especially those involving veterans and members of the armed forces.
Casey, a fixture around Boston in his own right, has also been very involved with his community. Recently, he's delved into the world of boxing by putting on fight cards around the area, as well as managing Framingham native Danny O'Connor.
Casey sees the once flourishing local boxing scene as in need of some help, and wants to make sure that the young talent coming up avoids the pitfalls of show business.
"I kind of wanted to help Danny and protect him from a lot… it's very similar to music, so I kind of felt I already knew a lot of the ins and outs somewhat,'' Casey said. "It's the same thing with music, there's not [a lot] of venues for new, young bands to play in—they can't flourish. If no one is putting on fight cards, then no one is getting a chance to come up through the ranks.''
20 Years of Dropkick Murphys
After celebrating the 10-year anniversary of "I'm Shipping Up to Boston'' and the release of "The Warrior's Code'' this year, the band has another big milestone coming up.
While band members have come and gone over the years, 2016 will mark 20 years of the Dropkick Murphys.
It may pain Casey to admit that so many years have gone by, but he's grateful for every one of them.
Having never traveled beyond the borders of Boston before the band, Casey has since been able to set foot on almost every continent on the globe. The success of the Dropkick Murphys has opened up so many doors for him and the band, and experiences they are eternally grateful for.
That said, 20 years is still a long time.
"It makes me feel f—ing old,'' Casey said with a laugh. "But I'm so grateful. As a guy who really never left Boston before the band, I've got to see the whole world and have friends in most of the world… It's opened my eyes and opened my life up and all my bandmates' lives up so much more than what we knew. We're all very grateful for the opportunity to have done this for a living.''