Music
Prince's Boston shows proved just what a talented enigma he was
A short history of the artist's local concerts.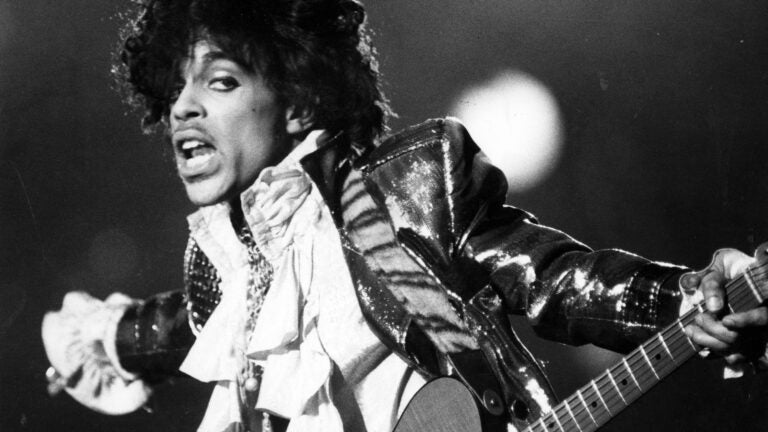 On Thursday, Prince Rogers Nelson, known worldwide as Prince, passed away at the age of 57. The artist was originally from Minneapolis, but performed in Massachusetts several times throughout the years, leaving indelible impressions on fans and critics along the way.
Prince's first stop in Boston was on February 17, 1980 at the Paradise Rock Club as part of the "Prince Tour." It was the last date on the tour before the musician joined Rick James on the road for two months.
The Boston Globe first caught a glimpse of Prince playing live the next year, when the artist played the Metro on Lansdowne St. on March 18, 1981 as part of his "Dirty Mind Tour." Globe writer Steve Morse revered the artist's blend of funk, rock 'n' roll, and was most impressed by his performing style:
"Half black and half Italian, the uninhibited Prince is a bulletin board of bizarre, seemingly incongruous influences," Morse wrote. "Part Smokey Robinson (his falsetto voice); part Jimi Hendrix (his suggestive fingering of his guitar neck); part Mick Jagger (his arms akimbo stance and manic struts); and part Sly Stone (his long singalong funk tunes)."
Morse interviewed Prince after the show and noted the quiet confidence that would become career-long staple for the musician.
"He seems assured of becoming another Sly Stone in terms of popularity, but he professes indifference," Morse wrote. "Surprisingly shy and unassuming after the show, he said: 'I don't want to be another nothin'. And what was I when Sly was big – 10 years old? I don't remember him.'"
The caption underneath the review's photo of Prince encompasses the show's general vibe in three short words:
Prince would return to Boston several times throughout the '80s. Shortly after his appearance at the 1985 Academy Awards, Prince did two nights at the Worcester Centrum. Once again, Steve Morse was the man on site for the Globe, and once again, Prince's sexuality permeated into his incomparable stage presence:
"Prince got racey by briefly rubbing his genitals against the mike and by climbing into a hydraulically lifted bathtub (was he making an MTV video?)," Morse wrote. "But for the most part he had toned his program down, at least sexually, from past New England visits. He was much more romantic this time, having a red neon heart hoisted above the stage at one point and speaking to the women with less pandering lust."
In 1985, Prince returned to the modest-sized Metro, but this time it was a secret show. Fans lined up all the way down Lansdowne St. to catch a glimpse of His Purpleness.
"Everything is Prince," 19 year-old Boston University student Sharon Provencher told the Globe, while waiting outside. "It's like a religion."
Prince would play the Centrum again in 1988, even adding a benefit show at Citi in Boston to honor a Berklee student who was struck by a car and killed while waiting in line to purchase tickets to one of his concerts. According to the Globe, all proceeds from the show went to a scholarship trust fund at Berklee in the student's name. The performance was attended by boxer Marvin Hagler, Peter Wolf of J. Geils Band, Penn & Teller, Aerosmith's Brad Whitford, and two Kennedys, among others. The late-night show was a rare treat for Boston, with Citi owner Patrick Lyons telling the Globe, "There's never been a Boston public rock concert at this hour."
Almost two decades later, with several local performances between, Prince returned to the area for the last time, this time opting to play Mohegan Sun instead of a venue in Boston. James Reed for The Boston Globe, commenting on the longevity and energy of Prince's set, reviewed his December 27, 2013 show.
"That was his shorthand for his approach: old-school," Reed wrote. "He uttered those words a handful of times, and it was an accurate description for the sheer energy and electricity he channeled throughout the night, often leaving you breathless. As one woman remarked on her way out, 'I don't know how he's going to play another show tomorrow night.'"