Music
Summer music in Boston: 18 things you absolutely have to hear
From local garage rock festivals to reggae by the beach.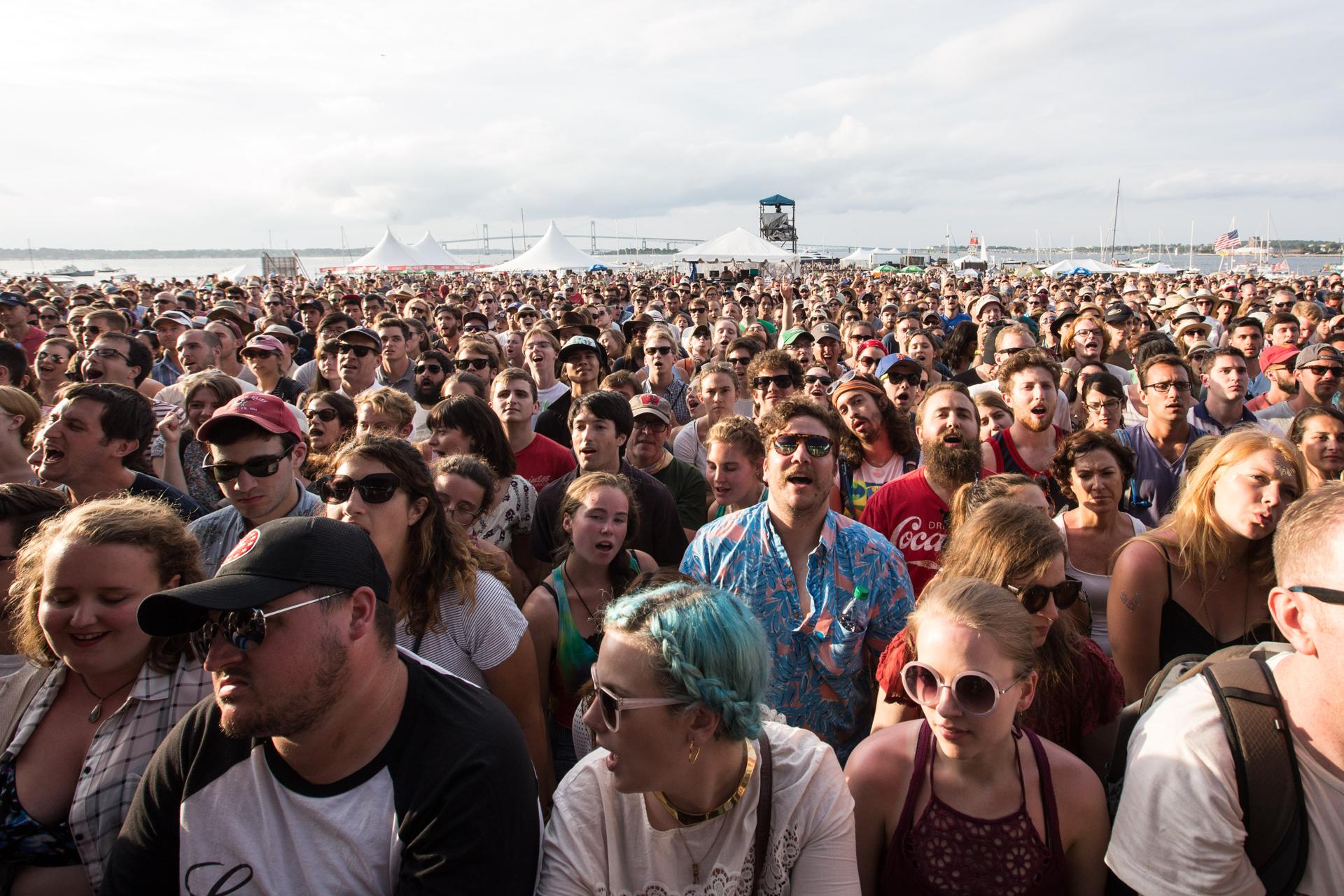 Venues
Out of the Blue Too
Part art gallery, part music venue, Out of the Blue Too has evolved to become a multi-sensory stimulation station for local bands and DIY touring acts alike. The venue has recently hosted performers like David Liebe Hart and Mono No Aware, and this summer will welcome Strange Mangers (June 7), Nice Try (June 21), and a whole lot more.
Lowell Summer Music Series
Now in its 27th year, the Lowell Summer Music Series brings big acts to a the quaint outdoor setting of Boarding House Park, right in the middle of downtown Lowell. The ambiance lends a bit of a festival-feel, but without the hassle of camping, not showering, and waiting in lines of traffic. Kick your shoes off and do some dancing to this summer's impressive lineup, which includes Guster (June 11), Indigo Girls (June 23), Case/Lang/Viers (July 23), Dr. Dog (August 13), and Weird Al Yankovic (September 1).
The Beachcomber
After the Quincy Beachcomber was retired last summer, the Wellfleet outpost will have to pick up the slack. It shouldn't be a problem with shows from G. Love, John Brown's Body, Chadwick Stokes, and many more already on the calendar. In addition, the Cape Cod staple will host live reggae nights every Tuesday and a funk dance party every Sunday. 38 years after opening, the venue continues to provide consistent entertainment for both vacationers and locals.
Residencies
ZuZu Mondays
For your local music fix, look no further than the living-room atmosphere of ZuZu in Cambridge. The same room that bursts at the seams on Saturdays for Soulelujah keeps the volume up on Mondays, featuring the best in Boston's garage rock, psychedelic, and much more. In-house promoter Rad Castle will welcome Creaturos (June 13), Nice Guys (June 27), and many more.
MFA Concerts in the Courtyard
There's a lot to look at at the Museum of Fine Arts, and in the summer, there's a lot to hear, too. The Concerts in the Courtyard series provides an opportunity to lay out a blanket or lawn chair, order some food, and enjoy the diverse lineup of performers which includes Walter Martin of The Walkmen (July 13), local collective Walter Sickert & The Army of Broken Toys (July 27), salsa big band Edwin Pabon Orchestra (August 17), and Bowie saxophonist Donny McCaslin (August 24).
Bearly Dead
Every Wednesday night, the Grateful Dead lives on at Somerville's Thunder Road. A mish-mash of players from within New England's jam band community team together to create Bearly Dead, a funky, improvisational hat-tip to Jerry Garcia and company. If you're not looking to spend the cash on Dead & Company at Fenway, or if you just need a good excuse to space out for a night, twirl your way past hump day with some fellow Deadheads.
Subway Cipher
When not enough local venues book hip-hop, sometimes artists need to take matters into their own hands. Such is the case every Sunday from 3 p.m. to 6 p.m., when lyricists of all experience levels gather at the Downtown Crossing T stop to trade rhymes and perform for the masses. All are welcome, and participation is encouraged.
Festivals
Green River Festival
Always an underestimated force in the summer festival scene, Greenfield's Green River Music Festival is taking its thirtieth year to grow bigger and better than ever. Not only will this year's event, taking place July 8-10, boast an enormous music and food lineup, but it will allow camping for the first time ever. Bring your tent, bring your appetite, and get ready for sets by Peter Wolf, Dawes, Tedeschi Trucks Band, Shakey Graves, and many more, all within a couple hours of Boston.
Levitate Music and Arts Festival
A music festival presented by a local surf shop? It doesn't get much more laid back than that. Now in its fourth year, Levitate, taking place July 9, is just south of Boston in Marshfield, and allows camping at the nearby Wompatuck State Park. This summer's event will feature performances from Tedeschi Trucks Band, Los Lobos, Lettuce, and more.
Festival at the Farm
Three years removed from the beloved Life Is Good Festival, Festival at the Farm brings live music back to the grassy location of Prowse Farm in Canton, nestled comfortably next to Blue Hills. Just a stone's throw from Boston, Festival at the Farm not only brings acts like Ryan Montbleau Band and Turkuaz, but will serve a farm-to-table menu from the head chef at b.good.
Fuzzstival
Local promoter Illegally Blind pulls out all of the stops to celebrate the best in local garage rock, punk, and psych rock with the annual Fuzzstival. The weekend-long celebration hosts more than 30 of the region's burgeoning bands, with the volume cranked to eleven the entire time. Now in its fourth year, the events lineup has yet to be announced, but has featured bands like Drug Rug, Quilt, New Highway Hymnal, and more.
Newport Folk Festival
New England's most scenic and historic celebration of songwriters returns to Fort Adams State Park, bringing with it a lineup that's as strong as ever. Patti Smith, Alabama Shakes, Elvis Costello, Flight of the Conchords, and more will perform at this year's event, which takes place July 22-24 in Rhode Island. If you weren't lucky enough to get general admission tickets, you have less than two months to find a buddy with a boat.
Bands
Black Beach
The release of March's Shallow Creatures helped prominently put Black Beach into the local garage rock lexicon. The band's set at May's Boston Calling Music Festival went further, proving to those who may not have their ears to the ground that Boston has a new power trio to keep an eye on. The Allston rockers have plenty to celebrate, and celebrate they will with their first show at The Sinclair (July 8) and a set at Out of the Blue Too (June 29) already on the calendar with more to come.
Debo Band
Jamaica Plain's Ethiopian pop collective makes music that can't be found everywhere in the States, but could make even the biggest square cut a rug on the spot. The band just released its new album Ere Gobez in May and celebrated with an enormous release show at The Sinclair. While no other shows are currently on tap for the summer, the band's new music is ideal for any backyard barbecue.
Marissa Nadler
The local songwriter released her seventh album, Strangers, in May, and is currently touring in Europe to promote it. She'll return ashore to trek across the states for the remainder of the summer, including Great Scott on July 19. If you can't catch her live, Nadler's latest music is perfect for soundtracking dark summer evening drives through wooded New England towns.
Token
Salem-based Ben Goldberg is only 17 years old, but it hasn't stopped him from making major moves in the hip-hop world. The young lyricist silenced famous rap radio host Sway with a freestyle earlier this spring, toured Europe, performed with the likes of Method Man and Redman, and is even Mark Wahlberg's favorite new rapper.
Lake Street Dive
The Boston-bred soul quartet may not be so local or so secret anymore, but it's mostly because they've been touring the world in support of their new album, Side Pony. They won't stop in town again until October 7 at the Wang Theatre (except for two dates in August at the Amourasaurus Festival in Florence, Mass), but their new record provides ample doses of vibrant dance music to keep your beach trips funky and to tide you over until the fall.
Big Leano
No summer night warmup would be complete without a listen through this Boston rapper's new mixtape, Tales from the Mud. The artist has gotten nods from fellow local Cousin Stizz, and the mixtape's first single "Lean For Sale" is pushing 150,000 listens on Soundcloud. Leano makes music for a number of different moods, but your summer spirit will maximize with his new beats on your stereo.