Music
50 years ago, this Boston band toured with The Beatles, then broke up immediately
The story of Boston's garage rock legends, The Remains.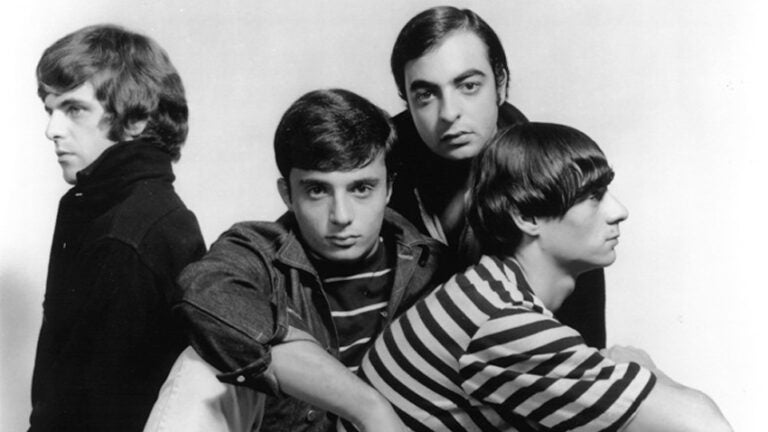 On Sunday, Paul McCartney will play Fenway Park. The appearance will mark 50 years since The Beatles's final show in Boston. That concert took place on August 18,1966 at Suffolk Downs, one stop on what would be the band's last tour. The legendary group's opening act that summer, The Remains, was a burgeoning garage rock quartet comprised of Boston University friends. The tour ended up being the final one for The Remains, as well, but not before they experienced a firsthand dose of Beatlemania.
In 1964, Barry Tashian was a freshman at BU. He had temporarily packed up his guitar upon enrolling in college and was living in Myles Standish Hall in Kenmore Square, when he decided to travel Europe that following summer.
"That [trip to Europe] turned out to be a fateful journey because I went to London, and I saw all these great bands over there that hadn't really quite reached the States yet," Tashian said. "I saw the Kinks and the Zombies on television over there and went down into the entertainment section in London and saw some clubs with great bands. They were redoing songs that I had grown up listening to as a kid."
In the fall of 1964, Tashian returned to BU for his sophomore year filled with inspiration. He and three classmates—Vern Miller, Bill Briggs, and Chip Damiani—quickly began rehearsing in the basement of Myles Standish, and before long, they were gigging regularly as The Remains at The Rathskellar down the street.
"It was the beginning of a new phase of bands in Boston," Tashian said. "I think we were right on the front edge of that. There were bands around that were well-known in Boston, but it was a different style. I would call them more of an old style. There was this wave of new bands redoing the old sound."
A fast taste of the big time
Within months, this new sound caught the attention of a booking agent, who secured The Remains gigs at colleges around New England, and of a representative from Columbia Records, who released their single "Why Do I Cry?" on their subset Epic Records. The band decided to put their junior year at BU on hold in order to play and record more regularly. And the opportunities kept on coming.
"We were down in New York during Christmastime for quite a while, and we played this club called Trude Heller's," Tashian said. "It was kind of this popular touristy spot. When we were there, Ed Sullivan came into the club and shocked us by listening to us for a set and then telling us that he wanted us to be on his program the following week."
The Remains aired on Ed Sullivan's Christmas show on December 26, 1965. They relocated to New York and got a new manager. Then came the biggest opportunity of their young careers: a 14-city North American summer tour opening for the biggest band in rock, The Beatles.
Private jets, rock 'n' roll, and pandemonium
The tour kicked off in August 1966 in Chicago. Both bands traveled in a private jet from stop to stop, giving The Remains, a band not yet two years old, a taste of the rock 'n' roll high life. The whole experience happened so quickly that Tashian's memories are very vague, but he does recall a funny experience involving Beatles guitarist George Harrison.
"I remember after the Toronto show, I went to George Harrison's room and hung out with him for a while," Tashian said. "I saw my first-ever cassette player that night; he played me Ravi Shankar. I also left my sunglasses in his room, and we got up early the next day, and I saw The Beatles arriving at the gig. I noticed that George was walking up the steps into the plane and came up the aisle, and he had on two pairs of sunglasses. I thought, 'Wow, cool, he wore my sunglasses.'"
Both bands played Boston next, packing Suffolk Downs with 25,000 screaming fans. Despite being late to the show because their bus never arrived at the Bradford Hotel where they were staying, the band was welcomed in a big way, even if not necessarily on purpose.
"I remember riding into the venue in a black limousine onto the track and there just being pandemonium," Tashian said. "It wasn't the first time on that tour that we were riding along and people thought it was The Beatles."
Not to say The Remains didn't have a strong crowd of their own—Tashian said that, by that point, there was a local Remains fan club, and somebody had hired a plane to fly overhead with a banner that read, "Welcome home, Remains. Boston loves you best." Included in the crowd: a 13-year-old Joseph Kennedy, who caravanned up from Hyannis with 34 friends and relatives to catch The Beatles. Per the Boston Globe the next day:
"A leaflet circulating around the track declared in bold letters: 'Beatles plan retirement.' Young Kennedy frowned. 'I don't believe it.' A friend sitting next to him, 15 year-old Chuck McDermott, agreed: 'It wouldn't be a sound economic investment to retire now.'"
Not looking back
Despite the boys' good faith, it was true. It was the last time The Beatles played Boston. It was also the last hurrah for The Remains, who, despite the incredible opportunity, felt somewhat lost after the tour ended.
"It was pretty amazing to do that tour, but after it was over, it was really kind of a big drop from the top back to regular life again," Tashian said.
Drummer Chip Damiani had also left the band just before the Beatles tour had started. With a taste of the big time still fresh on their minds, the group decided to not continue playing.
"We probably could have toured back through all of those cities, and our record Don't Look Back had just come out," Tashian said. "I'm sure we would have had some good chart action. But we didn't. We didn't really play again for another 15 years."
Harking back again
Tashian doesn't necessarily regret the decision, and looks back on the experience with fond memories. After the group had some time to pursue other things, Tashian relocating to Nashville and continuing to record music, the band eventually began playing again, even if just sporadically.
While The Remains only released two albums before breaking up in the '60s, their catalog has accrued a cult following over the years. In 2008, a documentary about The Remains, called America's Lost Band, premiered at the Boston Film Festival. Two years later, the band was inducted into the Hall of Fame at the 2010 Boston Music Awards. It's not quite a U.S. tour with the Fab Four, but Tashian continues to enjoy playing with the band, and the crowd tends to reciprocate the love.
This past spring, the band returned to town to play ONCE Ballroom in Somerville. For the lead singer, it was nice to hear the city rock as hard as it did 50 years before.
"We love Boston," Tashian said. "It sounded really great in there. I felt like were were back in 1965."