Music
How four Boston ad professionals and a Volkswagen shed light on an almost-forgotten music career
After a commercial launched in 2000 with his music, Nick Drake went from hidden gem to cult hero.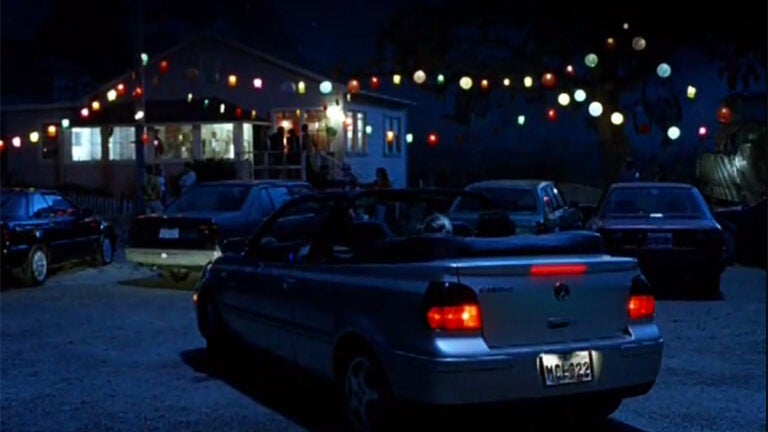 Four young, sweatered twenty-somethings drive down a moonlit country road in a Volkswagen Cabrio convertible.
The scene is a summer night's dream, and in one minute, a commercial with no dialogue would leave a lasting impression on viewers nationwide. But it's not the sleek look of these hipsters, nor is it the beautiful aerial shots of the Northern California. Sadly, it's not even the silver Cabrio convertible that leaves this resonant image.
It's the breathy vocals and fragile acoustic strums of the song the soundtracks it that garners such interest.  
British songwriter Nick Drake passed away in 1974 at the age of 26. 25 years later, his three-album catalog was a mystery to many, save for small groups of record-store junkies who not only knew about the artist, but reveled in his "hidden gem" secrecy.
These were exactly the types of people that four young professionals at Boston's Arnold Worldwide aimed to reach with its 1999 "Drivers Wanted" campaign.
"The people who drove Volkswagens, they thought of themselves as being more underground—a little bit cooler and younger—and they were," said Lance Jensen, who was working as a copywriter and group creative director at Arnold at the time. "You needed to show, that we know what your CD collection looks like. We used bands like The Orb and Lush and Spiritualized. You'd only hear it on college radio and Sunday nights on WBCN."
[Video above: The original Driver's Wanted campaign pitch video featuring Lance Jensen and Alan Pafenbach as actors]
Jensen, along with Shane Hutton, Alan Pafenbach, and Tim Vaccarino, would be tasked with creating the perfect one-minute TV spot to resonate with this crowd. The four worked together at Arnold, an ad agency that has been headquartered in Boston since its founding 70 years ago. The final result would be a romantic short film entitled "Milky Way," and its music choice, "Pink Moon," would be important in re-launching the music of Nick Drake.
The first task was to figure out how to tell a story around the Volkswagen Cabrio. Arnold had already had success with the "Drivers Wanted" campaign, producing ads like "Sunday Afternoon" (Da Da Da) since 1995. The Cabrio was a convertible, though, which to the four Arnold creatives was a game-changer.
[Video above: 1997's "Sunday Afternoon" (Da Da Da), also from the Driver's Wanted campaign]
"Most of the time when people do commercials about convertibles, you see people driving around under the sunshine at the beach or something," said Jensen. "But driving around in a convertible at night is amazing. To me, it's like a transcendent experience."  
The team came to this realization after scouting locations in Northern California near Bodega Bay.
"We rode Tim's Saab convertible all day and into the evening," said Hutton, who was a writer at Arnold at that point. "The next day, Tim came in and said, 'I was thinking, you always see people drive around in convertibles in the daytime: suns out, guns out, tunes up on the radio. But there's something kind of magical that happens that's kind of otherworldly when you have a convertible drive at night.'"
The scene was set, but the storyline? Not so much. Jensen described the group's early storyboard presentation to Ron Lawner, Chief Creative Officer of Arnold at the time.
"I begin the verbal description of the spot: 'A group of friends is driving on a country road winding through…' and I describe the stars and the grayed-out fields," Hutton said. "When I'm done describing all that, Ron Lawner goes, 'I love it! Now, come back when you have an idea.'"
The story arc that formed was the hip twenty-somethings' decision upon arriving at the party to just keep driving into the night—only a slight change to the original concept, with the whole point being to preserve the magic of the drive. A big factor in that preservation came down to music choice.
Nick Drake was not a household name, even when he was making music in the late '60s and early '70s. A quarter-century later, the only people who were listening to his songs were loyal music nerds who had stumbled upon his albums in their networks of record-store clerks and fellow collectors. Jensen doesn't recall how he first heard about Nick Drake, but Hutton recalls his first experience vividly.
"Coincidentally, Nick Drake's 'Pink Moon' was the first song that I'd ever heard streamed over the Internet," Hutton said. "It was probably either an AIFF file or a WAV file, but a buddy of mine who is now deceased, Andrew Power, showed me this song that he had fallen in love with. I think it was '93 or '94."
"Pink Moon" wasn't the only song that the group considered to soundtrack the ad. Other contenders included "Under The Milky Way" by The Church (hence the commercial's title "Milky Way), "Lament" by The Cure, and "You, The Night and The Music" by Tones on Tail. While all four team members clicked with "Pink Moon" early on, it took the right approach to sell it.
"There's a strategy to getting music past Lance, so you sometimes don't want to hit him with the one you really want first," Hutton said. "To Lance's credit, you want to do your diligence on the music. 99 times out of 100, the first one is not the right one. But the whole time my heart is palpitating because I don't think it's gonna be 'Pink Moon.' We have a term for that kind of sickness, we call it 'demo love.'"
Despite Hutton's anxieties, Arnold settled on "Pink Moon," working with Drake's sister to get approval for the song. According to Hutton, she had disapproved of countless offers before, but said yes to Arnold's because she thought that the scene would be believable—it would be a scenario in which people would listen to her brother's music.
But while the ad was released as envisioned, not all parties were pleased with the result.
"The spot was hugely popular," Hutton said. "But socially? This was before social media, thank god, because we killed a sacred cow. I mean, we used Nick Drake's music in a commercial."
Hutton and his co-workers received more than their share of hate-mail for their decision. The community that had long since treasured Drake's music were vocal in their disdain for the ad.
"Most people who say they learned about Nick Drake from that commercial are probably the honest ones, but even though it's a small minority, there still were a significant amount of people out there who had this deeply personal relationship with Nick Drake, and it's like, 'I'll share anything else in my record collection with any of my friends, but not this.'" Hutton said. "My feelings were really hurt and I felt really bad about it at first. It's important to all of us to maintain the integrity of any of the music that we put up."
Hutton's anxieties were calmed when he read an Entertainment Weekly article shortly after the commercial's release in 2000. Joe Boyd, Drake's producer and friend responded to the ad by saying, "Nick would've thought it was funny. He would've seen the irony in it because he always wanted to be famous."
And while one small community was critical, a much larger one was put onto Drake's music for the first time.
In her 33 ⅓ book about Drake's album Pink Moon, author Amanda Petrusich cites Nielsen Soundscan data when saying, "Sales of Drake's album increased nearly 500 percent during the first ten weeks of 2000, when Drake shifted more than 4700 copies of Pink Moon, compared to 815 in the same period in 1999. With album sales further bolstered by the addition of tiny 'AS FEATURED IN THE VW AD' stickers to the front of CDs, annual sales (as reported by The New York Times in 2001) jumped from about 6,000 copies a year to over 74,000."
Sad or beautiful as it may be, this minute-long piece of film was instrumental in getting Drake the attention that he long deserved, albeit more than 25 years after his death. Other songs of his were subsequently used in such films as Garden State, the Grammy award-winning soundtrack of which was also instrumental in launching other artists. Rolling Stone even named Pink Moon 320th on its list of the 500 greatest albums of all time—a feat that may not have been accomplished if not for the singer's renaissance.
As for the commercial, not only was it a huge success in building Volkswagen's brand, but it helped to shift television commercials into an era of tastemaking through advertising. According to Jensen, the trend of spending millions on Michael Jackson songs began taking a backseat to commercials featuring lesser-known artists. "Milky Way" was named one of the top 10 car commercials of the past 25 years by The One Club in 2012.
Arnold's four-man team look back on the commercial with pride, and both Hutton and Jensen regard it as among their finest work.
"Everybody can appreciate the emotional state that song puts you in, within seconds," Jensen said. "Sometimes the stars align and things just come together."