Music
Broadway-turned-TV star Aaron Tveit is coming to the House of Blues. Expect a very different performance.
You may hear pop, rap, indie-folk, and maybe even early '00s emo music from the guy with the piercing voice and long, curly wig in 'Les Miserables.'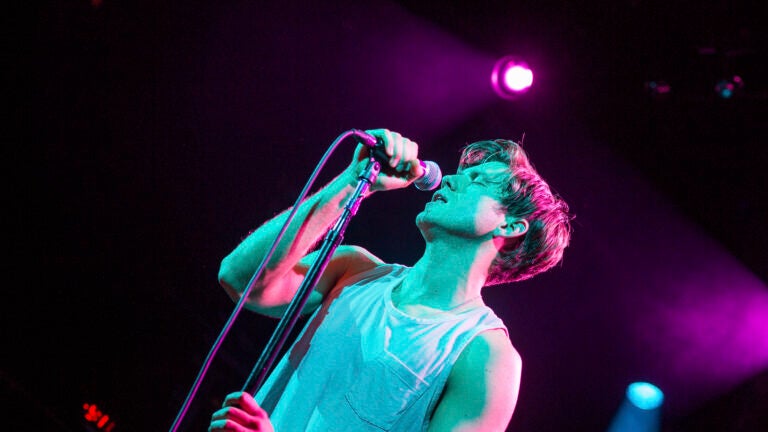 Want fun things to do in Boston, delivered to your inbox every Thursday? Sign up for the BosTen newsletter, our weekly roundup of 10 not-lame events in the city. You can also out our events calendar at boston.com/events.
Aaron Tveit is a die-hard Yankees fan, but you should still give him a chance.
"There's just no possible way I could ever side with the Red Sox — it's the greatest rivalry in baseball history," said the actor-singer, known for starring in the Pulitzer Prize-winning Broadway musical Next to Normal and playing Enjolras in the Hollywood blockbuster Les Miserables.
All that said, when Tveit performs at the House of Blues on August 27, he'd actually love to walk across the street to Fenway Park.
"It's on my bucket list of things to see a game at Fenway," the 32-year-old said. "I do respect the tradition and beauty of the stadium and what the Red Sox have done for Boston."
You might recognize Tveit from his musical theater work (he's also starred in Broadway's Catch Me If You Can and, most recently, Fox's Grease: Live!), or perhaps from his TV roles (The CW's Gossip Girl, USA's Graceland, and CBS's brand new series BrainDead). This year, he starred in Undrafted, a recently released baseball movie. Next up is Better Off Single, a "funny, out there" take on the romantic comedy genre that's hitting theaters in October.
And just as he has with his career trajectory, Tveit wants to keep you on your toes throughout his House of Blues set list. He's planning a mish-mash of unabashed pop, rap, indie-folk, and maybe even early '00s emo music like that of Dashboard Confessional, drawing inspiration from "all over the map."
"I have so many different styles of music that I'm listening to at any given moment," he said. "I listen to country music in the car, and on rotation now I have the new Kanye, the new Drake, Chance the Rapper, but then also the new Band of Horses. I'm dying for this new Bon Iver album to come out, and really looking forward to the new Frank Ocean."
Back in June, Tveit gave a concert in New York City. The pièce de résistance of that show: a cover of Taylor Swift's "We Are Never Ever Getting Back Together," which he first performed in his Broadway-focused 2013 concert series at Broadway supper club 54 Below in Manhattan.
"It's easy to go up there and sing ballad after ballad after ballad and emotional theater songs, so I wanted to offer a little bit of levity within the program," Tveit explained. "It ended up being one of the most fun and successful moments in the show…for me to perform it and hear the audience react and sing along."
It should be noted that the June performance in New York City, this upcoming one in Boston, and an opening slot for Gavin DeGraw and Andy Grammer in upstate New York on August 28 aren't part of a larger tour. In fact, Tveit specifically decided to ship up to Boston.
"I've always loved the city of Boston. I got to tour there in both national tours [Rent and Hairspray], and it's just always a city that I've really, really enjoyed," Tveit said. "I worked at the North Shore Musical Theater when I was younger, my brother went to school at Boston College, and I have a lot of fun memories and ties to the area."
When he gets here, his first stop will be "popping into Legal Seafood downtown." He loves all local food — eating as "much seafood" as he can, "especially Ipswich clams."
Another Boston favorite that Tveit appreciates? Even though he normally roots for the Dallas Cowboys, he's a "big Tom Brady fan."
"Any time the Patriots are playing, I find myself looking with one eye, rooting for the Patriots," Tveit said. "And I get a lot of crap from all my friends because they basically just call me a front-runner. I just appreciate Bill Belichick and Tom Brady, and I really respect what they've been able to do over the past 15 years or so."
Tveit isn't just doing a juggling act with sports team appreciation — he's also trying to figure out which direction his career will veer toward.
"I'm dying to do another musical," he said. "I never had a plan to just jump away from theater. I want to be able to do theater and musical theater for the rest of my life."
He also won't say "never" to the possibility of original music.
"An album of original music is such a hard road and a thing that would need 100 percent of my attention," he said. "I feel like I don't have the time to devote to it. That's not something that I would want to do halfway because I just don't think that that is fair, but I would never say never."
Nothing's really for certain in Tveit's future career plans, and he likes it that way.
"I've been very, very lucky to freely walk between stage and television and film for the last eight or so years. If you said to me that, for the next 10 years, I basically just get to keep doing that, that's all that I want. I don't really have a plan," he said. "I work on stuff that I was moved by and good scripts, no matter what genre or what avenue they are."
Tickets to Aaron Tveit's August 27 show at the House of Blues are on sale now on LiveNation.